Solving Sha Tin's dirt puzzle: A (difficult) day in the life of a pro punter
This week our Hong Kong analyst talks us through a tricky mixed surface card at Sha Tin in which he found an edge amid some seemingly unpredictable dirt races.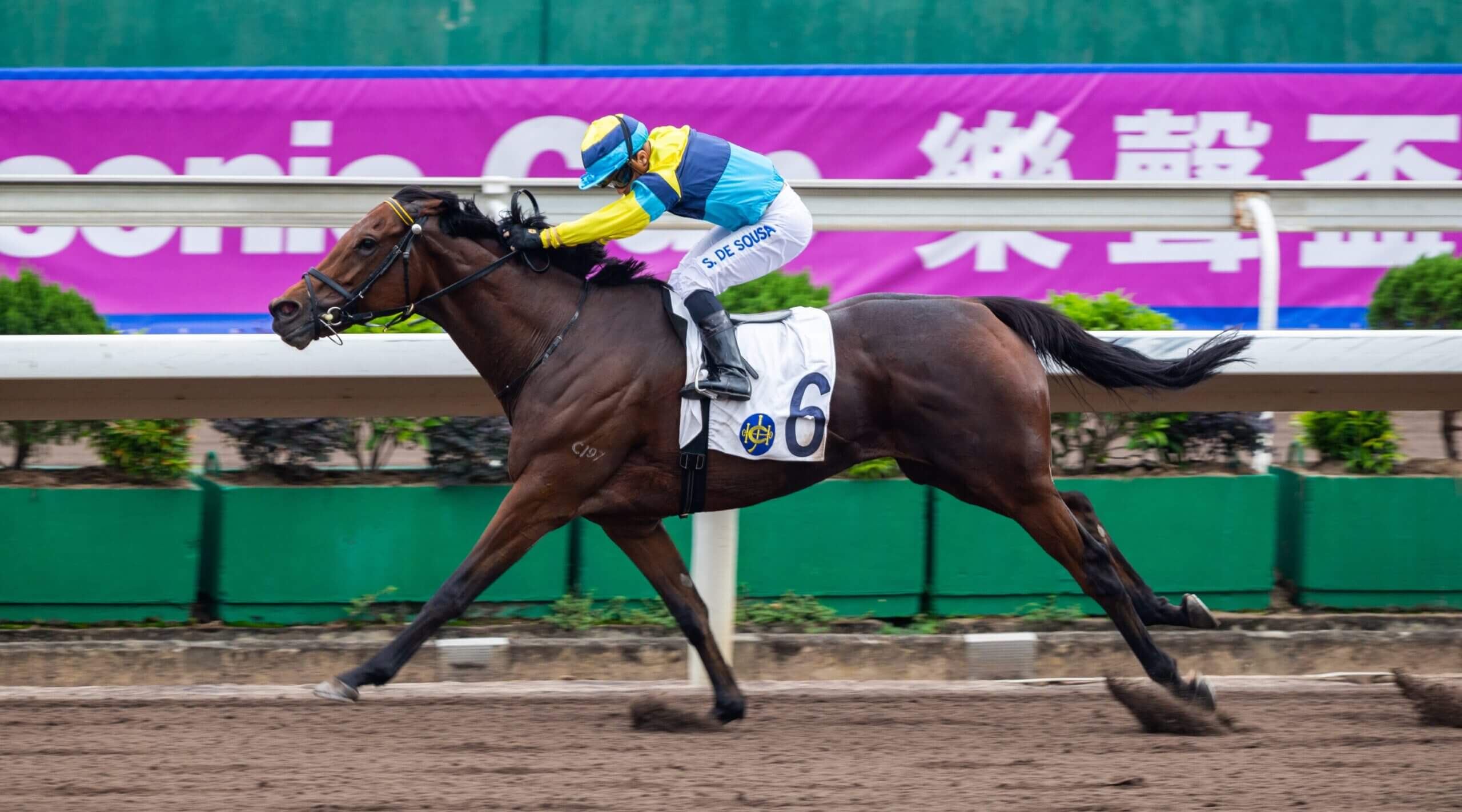 Sha Tin's All-Weather Track presents a complex challenge for Hong Kong punters. (Photo by Lo Chun Kit/Getty Images)
Sunday's meeting at Sha Tin was one of those days. A day when a combination of the turf 'C+3' rail position and races on the 'All-Weather Track' can play havoc with a punter's mind, but also offer opportunities if you manage to keep your head and stay on task.
Some puzzling early results on the All-Weather Track had the day looming as a dirt disaster, but as Albert Einstein said "In the midst of every crisis, lies great opportunity" and there if a pattern could be found among the apparent randomness.
A day of betting for a pro punter isn't simply a case of 'set and forget' – that is, we cannot just rigidly stick to our pre-race assessments and must be willing to be flexible when the unexpected occurs. This is especially true on Sha Tin's All-Weather Track, which is actually a dirt track; it can play to leaders, or sometimes swoopers, and it is important to keep a watch during the meeting for signs of bias. 
Let's have a look at how Sunday played out. 
Race 1 on the dirt track saw The Multiplier run away for an easy victory and while it was no surprise to see him win, the ease of the win had my attention. He seemed to find another gear inside the last 300m when four or five horses from the inside rail. The runner-up Gold Comet also got going when he moved to four wide in the last 50 metres.
The sectional breakdown suggested a solid early pace with the first 400m section, three lengths inside standard. The speed certainly didn't hurt horses running on, but it didn't explain everything. Was the dirt track favouring run-on horses? 
I waded into Race 2 quite cautiously. Again, on the dirt, I didn't see a lot of early speed in this race and my selections were mostly on-pace types likely to be nearer the rail. I played very lightly and while watching the race I took a particular interest in where the main chances were in the run and how they finished off.  
The race turned out to be messy, 'a dog's breakfast' as Australians like to say.  There was a solid pace early, but still early moves from the 750m and horses four-wide challenging on the turn. The final result saw Run Des Run come from back in the field and finish wide over Daily Beauty, who had sat three-four wide after an early move. Speed Force ran on from the tail for third.
All 1,496lb of him! 🤯 Run Des Run nails Daily Beauty in a thriller on the dirt to continue trainer Benno Yung's red-hot run on the surface… @JerryChau15 #HKracing pic.twitter.com/ChfYh0OMXM

— HKJC Racing (@HKJC_Racing) December 4, 2022
I checked the sectionals of the race and again the pace was solid early, so the run-on horses got their chance, but the way they were finishing had me suspecting the dirt track was favouring run-on horses. 
Over to the bicycle track – the very narrow turf C+3 course – for Race 3. United We Stand leads all the way and hangs on over 1200m for the first time. He ran scintillating early sections but still lasted. Not a massive surprise and the turf (C+3) looks like it will play as expected: On-pace advantage.  
Back to the dirt for Race 4 and this race will likely seal my fate for the day. If I sense the run-on advantage continuing, I have a plan for the day. If not, the inconsistency will make betting on the remaining dirt races a lottery and we will have to abstain. 
Stand Up, the tight favourite, won't really be disadvantaged either way, but what happens around him should tell the story. Watching Race 4, my eyes lit up when Ice Legend grew wings four or five wide from the rear of the field to claim a convincing victory. "So there is a run-on advantage on the dirt," I thought.
Two runners, two winners! 💯

Benno Yung now has eight wins on the dirt from 20 runners this season as Ice Legend roars from the tail of the field under Derek Leung… 🔥 #HKracing pic.twitter.com/hsfSVb00MU

— HKJC Racing (@HKJC_Racing) December 4, 2022
Horses four and five wide were finishing stronger than all else: this strip of track had become an 'autobahn' while it was as if those on the inside were stuck in a Kowloon traffic jam. A definitive pattern had been identified and solving the puzzle could now provide an edge. 
Four races down on the card, my bets had been minimal, but at least now I felt I had all the information I needed. Race 5 (again on the dirt) to my eye now had two main players. Righteous Doctrine (barrier 12) and Son Of Makfi (barrier five). Righteous Doctrine had won twice on the course and distance and had reached a much higher rating than today's 54. There was not much between him and Son Of Makfi on the last run.
Righteous Doctrine is being heavily penalised by the market due to his barrier, but now I think it is an advantage. He opens $6.50 on the HKJC tote and given the factors explained, I now believe this to be enormous value.
Sometimes the 'Zac tax' can work in your favour, and the presence of Purton means Son of Makfi is backed into $3.40. I thought there was sure to be a solid pace in the race with Shanghai Dragon, Skyey Supreme and Mission Bravo all heading forward. This will set the race up for a run-on horse.
Nothing went to plan: the field slowed mid-race and my outlay looked shot. When they sprinted from about the 600m 'The Doctrine' was left flat-footed and my belief was gone. At the 300m it seemed he was going to run an honest sixth.
It wasn't until 100m from home, when he found himself in the '4-5 wide' fast lane, that I reclaimed my ticket from the bin. He stormed home late to claim victory in the shadows of the post. Nothing like I expected but victory, nonetheless.  
😮 Silvestre de Sousa manages to get a big finishing kick from RIGHTEOUS DOCTRINE!!#HKRacing | @SilvDSousa pic.twitter.com/v9etdAXL46

— Hong Kong Racing (@HongKong_Racing) December 4, 2022
Although the leaders ran well in the race, I still felt the all-weather express lane line was the best on the dirt track. With two more races on the surface, it was a case of "load up". 
There were no spoils about the $2.50 available for Handsome Twelve in Race 7 but he was the one horse going to be in the right position on the day. True Legend led and ran another solid race. That showed the fence was definitely on the improve, but he couldn't stave off the powerful finish of Handsome Twelve, who charged right down the centre-track freeway. 
One race to go on the dirt and Super Win Dragon would have an advantage. He finished too strongly for the brave Campione. Galaxy Witness found the right lane as well, but too late.  
So what looked like a very competitive race-day, was made a lot easier by an unexpected bias on the All-Weather Track. Selective betting made a profit for the Prophet.
While track bias is not always clear cut, sometimes it fluctuates and the pace of a race can have a huge bearing. However, it is something to be aware of, and consider it each time you place a bet to ensure your horse, at the very least, is not at a disadvantage. 
'Prophet Of Probability' is a professional punter with specialist knowledge of Hong Kong racing. Due to professional considerations, he does not wish to be named.
How to avoid paying the 'Zac Tax': Purton drawn outside is no barrier to success