30 years on: Greg Hall on the most famous Cox Plate of all
Jockey Greg Hall recalls an owner's bizarre instructions prior to Super Impose's famous victory in the 1992 Cox Plate, to this day regarded as the greatest-ever field assembled in the iconic race.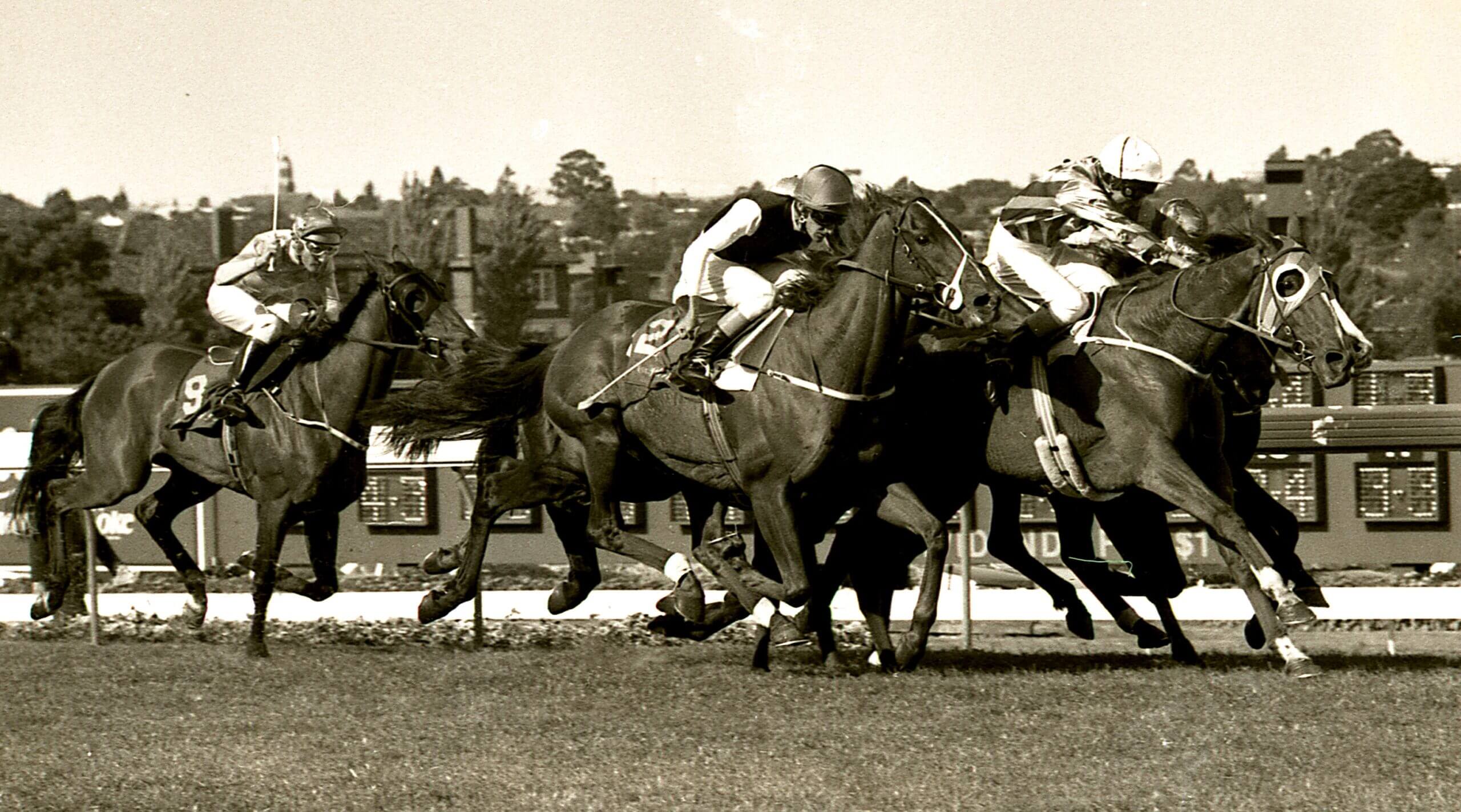 Greg Hall and Super Impose level up to Let's Elope in the 1992 Cox Plate. (Photo by Colin L. Bull)
The first time Greg Hall laid a finger on Super Impose was on October 24, 1992, the very same day the champion jockey won the Cox Plate on the by-then ageing superstar miler. 
"I'd never patted him, rode him trackwork or even touched him," Hall told Asian Racing Report, 30 years on from what is widely considered the greatest Cox Plate of all time. 
It was a partnership that would never have been formed, however, had Hall been successful in his cheeky, concerted campaigning of master trainer Bart Cummings to try and get a Cox Plate booking on champion mare Let's Elope. 
"I did manage to speak to Bart once and said, 'I'll win on your mare,' and he said 'oh you think so son?', and then he kind of left it at that."
But the jockey known simply as 'G' wasn't done yet, tracking the visiting 'Cups King' to his Melbourne accommodation at Bourke Street's Southern Cross Hotel, the same lodgings that famously housed the touring Beatles in 1964.
"I drove Bart mad trying to get on Let's Elope. I was calling his hotel – the same place where The Beatles stayed – and paying the concierge to get notes put under his door," Hall recalled. 
"A journalist I knew had also suggested to Bart that he put me on. Bart said, 'he likes to party a lot, that kid', to which the bloke replied, 'well that may be so, but one thing with 'G' is you won't die wondering if you put him on'."
With the race fast approaching and having still not heard back from Cummings, Hall accepted another offer to ride Super Impose, a richly talented horse more celebrated for achieving a historic 'Double Double', winning both of Randwick's famous mile handicaps, the Epsom and Doncaster, in consecutive years, than for his prowess over 2000 metres. 
Sure enough, no sooner had Hall accepted for Super Impose, his phone rang again. This time it was trainer David Hayes, with an offer to ride another champion warhorse, the Cox Plate and Japan Cup winner Better Loosen Up.
"In those days loyalties were everything and I said to David, 'You wouldn't believe it, I just took a ride in it,'" said Hall. 
The equine talent which faced the Moonee Valley starter that year remains the stuff of legend, with the 14 contestants already having amassed $28 million in prize money going into the race. 
Joining Let's Elope, Better Loosen Up and Super Impose – champions all, retiring with 20 career Group 1 wins between them – were gallopers the ilk of iconic Kiwi Rough Habit, star fillies Slight Chance and Burst, Caulfield Cup winners Sydeston and Mannerism, and classy performers Kinjite and Prince Salieri. And then there was the hot favourite Naturalism. 
Up against a field like that, and with Super Impose in the twilight of a storied career, Hall's initial assessment had his mount competing for the minor money only. No eight-year-old had won the Cox Plate before, and the backmarker Super Impose was likely to be conceding too big a start to a high quality line-up.
A pre-race conversation with 'The Enforcer' Mick Dittman, who had the plum ride on Naturalism, changed that.
"Mick used to sit next to me in the jockeys room when he'd come down from Sydney and he said 'Listen G, 'I was on Super when he won the Canberra Cup the start before and he won like a three-year-old, don't think you're not going into the race without a chance.' My confidence level went through the roof because Mick and I are very close mates," said Hall.  
Hall's newly-found buzz was just as quickly diminished however, when it came time to be legged aboard the eight-year-old. 
Super Impose was trained by the all-conquering Freedman brothers – Lee, Anthony, Richard and Michael  – who like Liverpool's 'fab four' were another celebrated, if slightly less globally-recognised, quartet. And like any good super group, Freedman Brothers Inc were blessed with a cast of contrasting personalities.