Prophet's post-mortem: 'un'-Lucky Eight looks winner-in-waiting
Lucky Eight spearheads three horses to follow out of Happy Valley's December 28 meeting, while The Prophet couldn't split two jockeys for 'Ride of the night' honours.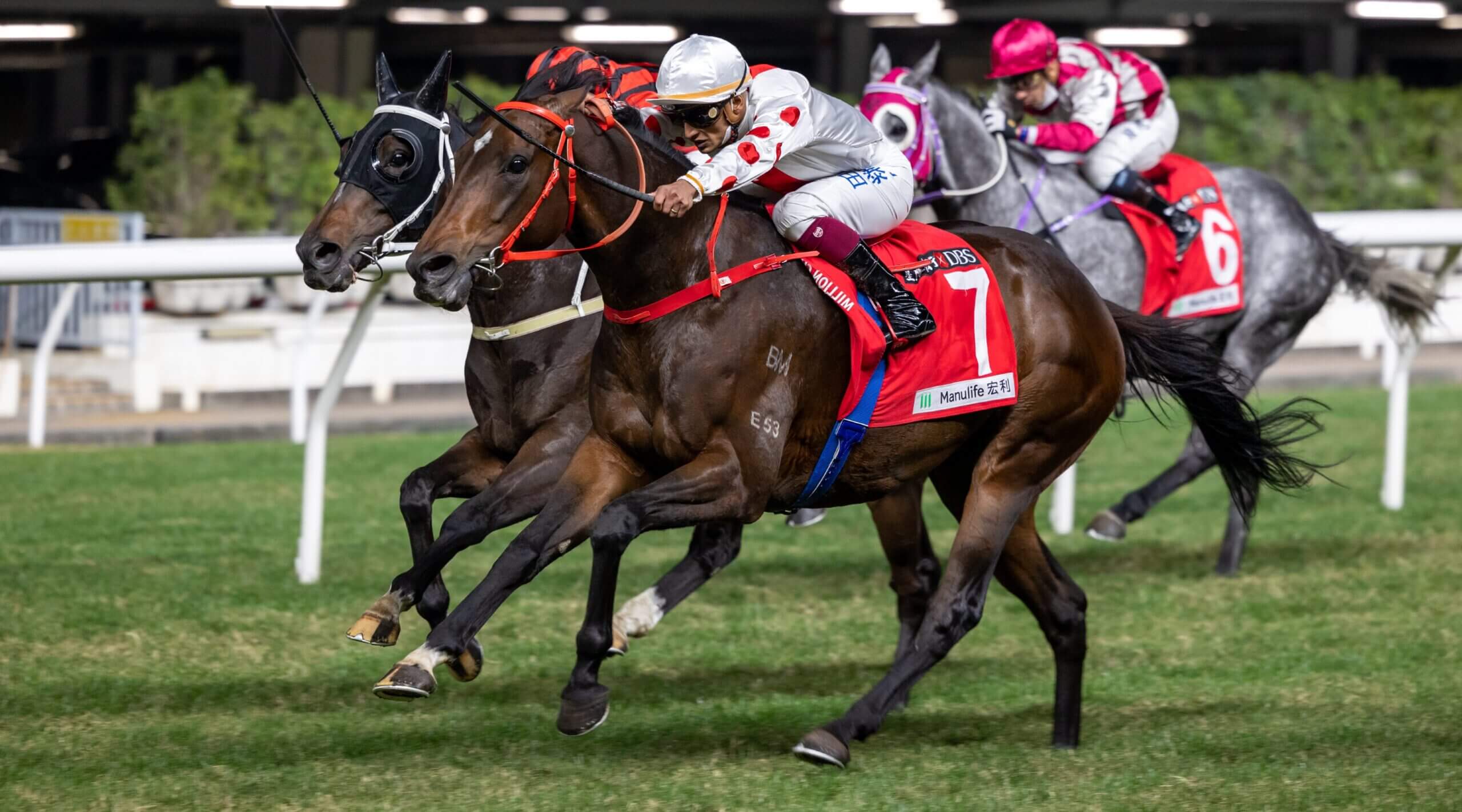 Karis Teetan took riding honours with a treble. (Photo by Lo Chun Kit/Getty Images)
Happy Valley, Wednesday December 28
Summary/track condition: Heading on to the "C + 3" we thought we knew what to expect, but rather than a track that favoured on-pace runners, winners came from everywhere. 
From the first race on it was difficult to get a read on tempo: Race 1 was expected to have slower-than-average pace, but they went fast, and the first five placings were filled by backmarkers. It was that kind of night.
Blackbook
R5 No.3 STAR CONTACT (4YO; David Hayes)
2nd of 7 (beaten a short-head); Class 4 – 1650M – (60-40); Win Odds: 2.1
The speed map looked ideal for Star Contact but when Chiu Chow Brother was a raceday scratching, it took the pace out of the race. Even though the race was not run to suit, Star Contact did everything but win, and it took an inspired ride from Karis Teetan aboard Perfect To Great to nab him right on the line. Give him another chance.
He was almost in the Beer Garden!

Perfect To Great sweeps down the outside to seal a @KarisTeetan double at the Valley. ✌️#HappyWednesday | #HKracing pic.twitter.com/EyoS0zgHnD

— HKJC Racing (@HKJC_Racing) December 28, 2022
R7 No.8 VANTASTIC CHOICE (4YO; Dennis Yip)
6th of 12 (beaten 3.25L); Class 4 – 1200M – (60-40); Win Odds: 24
This looks a strong form race overall. The first three – Rattan Kingdom, Harmony N Home and Son Pak Fu – are all worth following, but look for Vantastic Choice if he heads back to the bigger track at Sha Tin, he might sneak under the radar.
R8 No.8 LUCKY EIGHT (4YO; Ricky Yiu)
3rd of 11 (beaten 1.25L); Class 3 – 1200M – (80-60); Win Odds: 25
One of the unlucky runners on the night, Lucky Eight made a welcome return to form, he looks a winner-in-waiting. Drawn 11, he was taken back and burst home in the fastest final 400m sectional of the night. 
Protest sustained! Humble Star wins it on protest over California Cible who shifted out over the concluding stages. @JerryChau15 #HappyWednesday | #HKracing pic.twitter.com/fAnAHS4pJX

— HKJC Racing (@HKJC_Racing) December 28, 2022
Treat with caution
R1 No.1 FOREVER GLORIOUS
This race was run in a way that was made for a horse to finish over the top of them late. In the right race at the right time was Forever Glorious, who went past some weakening rivals that had been on-pace but were walking late. Led home a 7,400-to-one Tierce. Flattered.
R3 No.7 HARDLY SWEARS
This race looked suspect on paper and an examination of the sectional times suggest it will be. Hardly Swears had the dream run from barrier two and needed it.
Ride of the night
KARIS TEETAN, R5 No.10 Perfect To Great
Teetan summed the situation up early and kept his cool. Rather than wasting energy early by chasing Sunny Delight, he waited, before playing the "C + 3" turn to perfection. Took an inside run, then shifted out after straightening, he was able to nail the race favourite Star Contact late. 
MATTHEW POON, R9 No.11 Loyal Baby
Honours shared this week after what was an inspired ride in the last by Poon. Loyal Baby was "green lamped" into $17, but Poon found himself stuck-wide early. He didn't panic and simply slipped to to the lead at the 800m, set a solid pace, then kicked away from the 500m and held on to deliver a big payout for the punters. 
Best training performance
PIERRE NG, R8 No.11 Humble Star
It was one thing getting Hardly Swears to win after more than three years in the wilderness, but  producing Humble Star first-up in Hong Kong, albeit under protest, gets the nod for best training effort of the night. Ng continued his solid first season, and now has 18 wins after 31 meetings and sits seventh in the trainers' rankings. 
Prophet's post-mortem: Further wins in store for Size three-year-old