Sha Tin post-mortem: Wind plus 'C + 3' equals caution
The Prophet of Probability warns that conditions for last Sunday's fixture on Sha Tin's "C + 3" make future form assessments out of the meeting a minefield.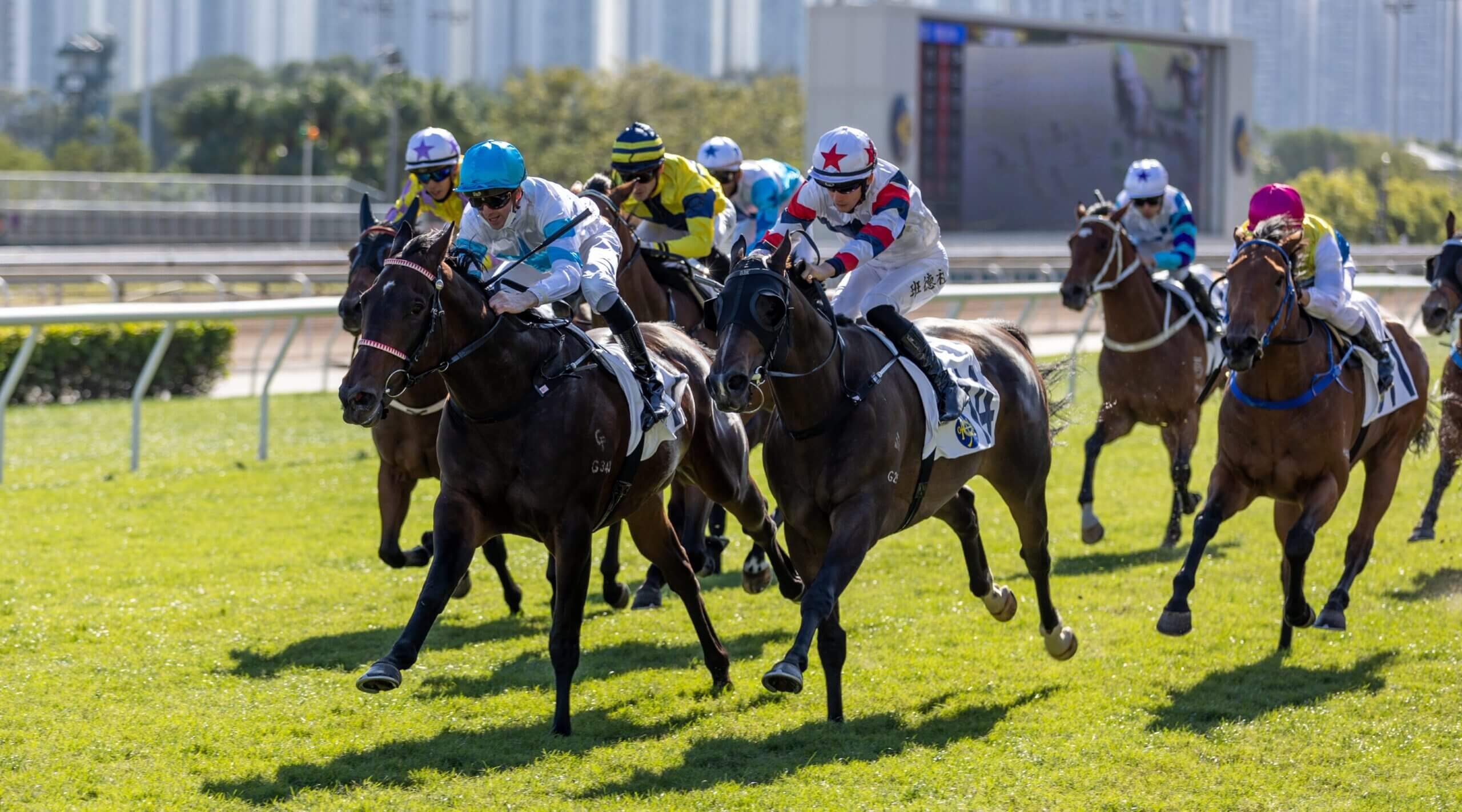 Excellent Fighter (blue cap) scored in determined fashion for Jye McNeil. (Photo by Lo Chun Kit/Getty Images)
Sunday's meeting on the tricky 'C + 3' course was always going to be challenging, but then there were 15 first starters and another five Hong Kong debutants. If that wasn't enough, a blustery northerly played havoc with results. Let's break down what to take – and what to leave – from the eight turf races. 
For the newcomers, let's start with an intro to the 'C + 3', the smallest circuit that can be raced on at Sha Tin. The rail is moved out 12.2 metres and leaves just 18.3 metres of track to race on. Unlike the Sha Tin 'A' course, or 'true' position, leaders and on-pace runners often have an advantage. Unless of course something peculiar occurs. 
Sunday was one of those peculiar days. The weather bureau forecast was ominous: fine but cool with fresh to strong northerly winds, occasionally up to gale force on high ground and offshore. It was to play a significant part in reversing the usual pattern, and the signs came early. 
The punters got the first race right when Joyful Genius ($2.60 fav) powered home out wide. The placegetters also ran on from rearward, but both were well in the market, so there were no real surprises there. The sectional times were more revealing. The early sections were slick –  six or seven lengths above standard – but the last two 400m sections were slow. The last 400m was more than a second outside of standard – that equates to more than six lengths. 
Easy as you like! Joyful Genius romps in the opener at Sha Tin for @zpurton and David Hall. #HKracing pic.twitter.com/UpJv4T9p9p

— HKJC Racing (@HKJC_Racing) December 18, 2022
This pattern was to continue for the first seven races on the card. The forecast winds caused a headwind in the straight and it was clear that leaders and horses close to the speed were at some disadvantage, and horses running on after racing with cover were suited. 
So what do we take away from this? I would suggest there are some horses who may have looked disappointing at face value, but it may pay to be kind to them for their performance from the weekend, and some I would suggest you be careful with next time. 
So what to make of some of the winners and disappointments? There is a lot to break down as far as the first-starters are concerned. 
There were six newcomers in race two alone, and one of them, Holy Power, provided a much-needed breakthrough for first-year trainer Jamie Richards. 
Richards made no secret that he was going to ease into Hong Kong racing and his forecast that "come December we should be starting to hit our straps" is proving quite accurate. After a slow start Richards has now trained four winners from the last ten meetings, and his patience obviously paid off with Holy Power.