Keiba Diary: Tokyo stage set for Lemon Pop, Almond Eye delivers second foal
Adrian Webber's weekly look at all things JRA, including Almond Eye's much-anticipated second foal and an update on the Japanese contingent being aimed at the lucrative Saudi Cup meeting.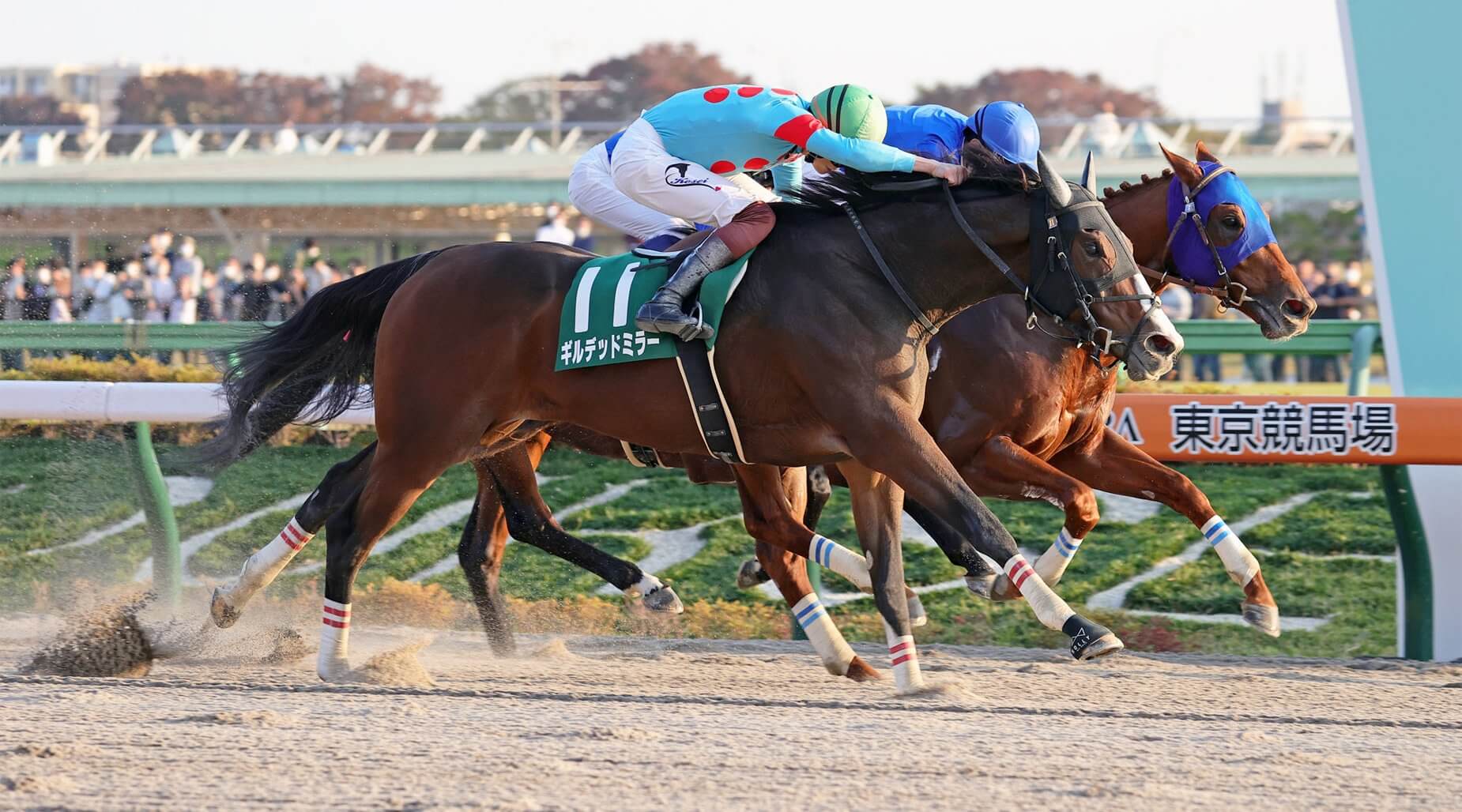 Gilded Mirror just shades Lemon Pop in the G3 Musashino Stakes. (Photo by JRA)
A severe cold front is expected to envelop the entire Japanese archipelago this week, threatening to disrupt training schedules at both the Miho and Ritto training centres, but it's to be hoped that the weather relents in time for the three JRA race meetings to go ahead.
Tokyo stages its first meetings of the year over two days this weekend and the feature is the G3 Negishi Stakes, run on the dirt track on Sunday. A race considered to be a good lead up to next month's G1 February Stakes, it will be contested by Godolphin's Lemon Pop, a son of Lemon Drop Kid, who is unbeaten over 1400 metres at Tokyo and will be making his first appearance of 2023. Taking him on again will be the Mikio Matsunaga-trained Gilded Mirror, who just got the better of Lemon Pop when they met last time in the G3 Musashino Stakes last November.
The G3 Silk Road Stakes is the feature race at Chukyo on the same day and the sprint handicap is expected to feature some runners from last year's G1 Sprinters Stakes.
Namura Clair is one of them, and as a four-year-old filly will get to run off a mark of 56.5kg, while Win Marvel, second in the Sprinters, will be looking to maintain his form in sprint races – he has finished first or second in four starts since last May but has been given top weight of 59kg, which makes this look like a tough ask.
Seina exceeding expectations
Jockey Seina Imamura is more than happy with her current place in the competitive world of Japanese racing. 
The popular jockey took a look back recently at a 'profile book' she wrote some time ago. "When I was in the first year at the horseracing school, I wrote down some questions that I thought would be important to look back on later," said Japan's leading female rider. Questions she posed to herself were 'What do you think of your present situation?' and 'Would you want to be born again?' Another one was 'Can you achieve 15 wins or a graded win in your first year?' 
Her answers were that she's done better than expected and that now is perfectly fine. Her 51 winners and a Group 3 victory last year have proved she was being quite conservative, and already this year she has managed four wins. Together with the other three female jockeys riding under JRA licenses, the quartet look like a force to be reckoned with.
It's a boy!
Cute foal pic time! Nine-time Group 1 winner Almond Eye gave birth to her second foal on January 15. Both mother and son are doing fine at Northern Farm in Abira-cho, Hokkaido. It's now two boys for the former superstar of the track. 
2023/1/15に誕生したアーモンドアイの2番仔が放牧地デビューしました!すっかりお母さんの表情となったアーモンドアイに優しく見守られ、元気いっぱい放牧地を駆けまわっていました。#ノーザンファームからのお便り pic.twitter.com/WW79Jk3oQ1

— ノーザンホースパーク (@northern_horse) January 23, 2023
Last year Almond Eye produced a foal by Epiphaneia, but this time around the proud papa is Maurice. If all goes well the latest colt should be making his debut in the summer of 2025 and that's something everybody will be looking forward to.
Japan's formidable squad for Saudi Arabia
Having taken out four of the six Group races at last year's Saudi Cup meeting, Japan is once again sending a strong team in a bid for yet more overseas glory. Last year's easy winner of the G3 Riyadh Dirt Sprint, Dancing Prince will put on his skating shoes and attempt to make it three wins in a row for Japan, after Copano Kicking's win in the race in 2021. Remake is also entered for the dirt sprint, and it will be his first time overseas, while his jockey Yuichi Fukunaga will be making it one of his last rides before he takes up his new role as a trainer later this year.