From the saddle straight to the trainer's stand, Yuichi Fukunaga will walk away in top form
Only three jockeys have won more than the two-time champion rider and he now has his sights on training after completing the tough JRA exam process.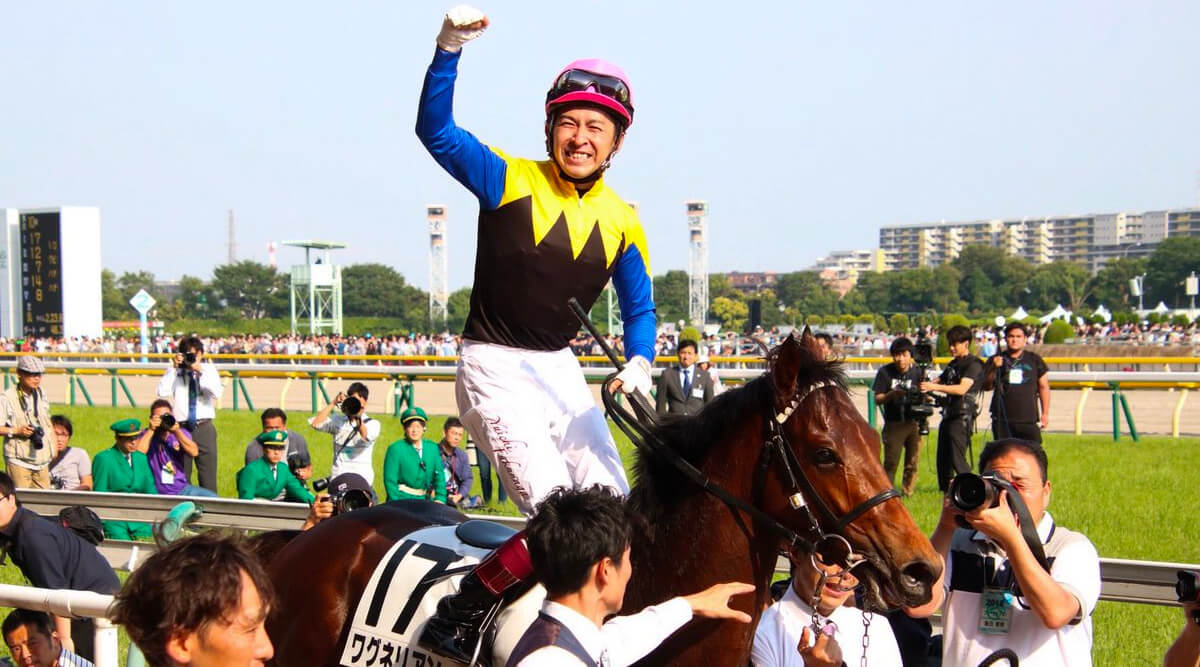 Yuichi Fukunaga celebrates winning the Tokyo Yushun aboard Wagnerian in 2018. (Photo by @kabosu7222)
Star Japanese jockey Yuichi Fukunaga will walk away from riding at the top of his game and transition into training early next year after he announced that he had passed the Japan Racing Association's licensing exam. 
A two-time champion rider, Fukunaga is third all-time for most wins in the JRA with 2613 and holds the record for most consecutive seasons with 100 wins or more at 12. That streak is set to extend to 13 at the end of this month, he is currently sixth in the season standings with 96 wins, 
The announcement was made at a press conference on Thursday, one day before the jockey's 46th birthday, and approaching the end of a season in which he added two more Group 1 wins to a glittering 27-year resume. 
"I have only one life," he told the press. "I have to do what I want to do." 
When Fukunaga began his career it seemed he would always be in the shadow of his legendary father Yoichi – who won nine consecutive JRA titles – but he has carved out his own place in Japanese racing history. 
Fukunaga has been aboard for some famous victories by Japanese horses abroad. In 2005 he won the American Oaks on Cesario, he won three times in Hong Kong on Eishin Preston and won the 2014 Dubai Turf on Just A Way. He also won the 2014 International Jockeys Challenge at Happy Valley. 
An utterly dominant display from Eishin Preston in the 2001 Hong Kong Mile, with Hong Kong's Horse of the Year Electronic Unicorn unable to match the Japanese raider's awesome late acceleration. 😤🎌#HKIR #エイシンプレストン pic.twitter.com/hgOXr1KitZ

— Asian Racing Report (@AsianRacingRep) December 5, 2022
Fukunaga's last ten years have arguably been his best and in 2022 he won the Satsuki Sho on Geoglyph and the February Stakes on Cafe Pharoah. Last year he won the Japan Cup on Contrail, the colt that in 2020 became just the third undefeated Triple Crown winner in Japanese racing history. That year he also logged a career high of 134 wins, and 14 of his 34 career Group 1s have come in the last five years. So, why retire now? 
"The attraction of becoming a trainer outweighed the motivation to continue as a jockey," he told reporters. "I had no worries as a jockey, as the year before last was a career high and my motivation has not decreased, it was just that I was discovering new things less and less. Listening to trainers, it seemed interesting to discover things, and my desire to become a trainer grew stronger. That's why I started studying in earnest.
"I decided that if I was going to do it, I was going to take the exam this year."