Keiba Diary: Lane bows out as Takarazuka Kinen comes into view
Adrian Webber shares his latest observations from the JRA as Damian Lane's successful short-term stint ends on a bitter-sweet note, Equinox readies for a return, and a jockey with pedigree catches the eye.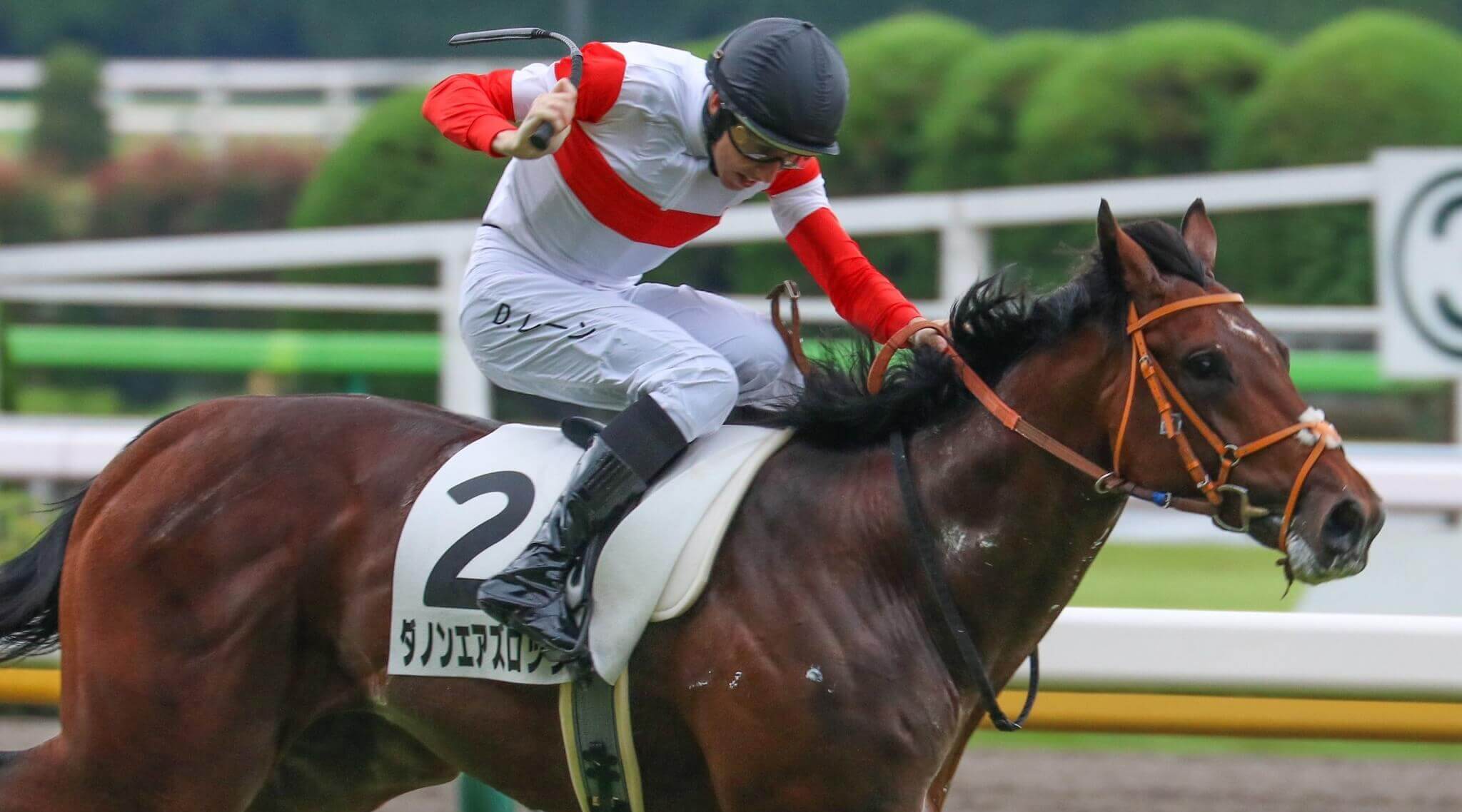 Damian Lane drives home Maurice x Mosheen colt Danon Ayers Rock. (Photo by @kabosu7222)
There was no 'last hurrah' in terms of graded race wins for Damian Lane and there was a sting in the tail on his final weekend riding on his latest short-term licence in Japan, as he missed out on the Group 3 Epsom Cup at Tokyo and received a ban that will stop him from riding in Japan until next year. It was still a five-winner weekend and his haul of 35 winners from April until last Sunday speaks volumes for the Australian ace. 
Over the last two weekends alone, Lane rode the winners of all five two-year-old newcomer races at Tokyo, including the latest one on the appropriately named Danon Ayers Rock, a son of Maurice and trained by Noriyuki Hori. Connections would have been relieved that the colt who cost close to ¥500 million at the 2022 Select Sale kicked off his career with a win. 
— Team Iwata (@JayRAye02) June 11, 2023
The highlight for Lane during this short-term stint would have no doubt been Derby Day, when he not only rode Tastiera to win the G1 Tokyo Yushun, but also won the G2 Meguro Kinen on Heat on Beat just over an hour later. He has now amassed a total of 146 JRA wins in Japan, with a win strike rate of 24 percent. The Tokyo Yushun win had qualified Lane for another two years of eligibility, but after exceeding the 30-point penalty threshold for riding offences, the JRA's stiff rules mean it looks like he will not be eligible to come back until June 2024.
Horizon creeps closer for Takarazuka Kinen
The big race on June 25 is not far off now and all eyes are already on Equinox, the world's highest ranked horse, who garnered 216,379 votes for the fan-voted race that finishes off the big JRA action for the first half of the year. 
Equinox has already transferred from Miho to the Ritto Training Centre, so any worries about long-distance transportation to the track are not part of the equation. The horse completed his first work on the woodchip course at Ritto last week, clocking a six-furlong time of 84.2 seconds and closing out the final furlong in 12.2 seconds. 
— Team Iwata (@JayRAye02) June 8, 2023
Trainer Tetsuya Kimura commented on his stable star: "Things have been smooth so far in getting him to adjust to things away from his usual environment. We're just letting him get a feel for where he is now and we'll get down to the serious planning soon."
In other news on the race, Yutaka Take is set to ride Geraldina (third in the fans' vote), while the only three-year-old nominated, Dura Erede – who lost his jockey at the start of the Derby – will this time be ridden by Hideaki Miyuki. 
New boy keeping it in the family
This year's leading rookie, Kanta Taguchi, has already ridden seven JRA winners and is hoping things will continue on an upward path. His father Teruhiko rode 288 winners as a jockey at Kasamatsu Racecourse in Gifu Prefecture and now trains there, while his mother Hiromi was the first ever female jockey at the same track and rode 120 winners. Kanta however wasn't always destined to be a jockey. 
"When I was younger, I was interested in playing baseball, but it was only when I went to the racetrack that the big crowds and atmosphere turned me on to racing," the young rider said.
The 19-year-old is based at the stable of Yuki Ohashi and seems to be thriving on his experience there. 
"Even though I still have things to learn, I'm so grateful to Mr. Ohashi and the staff at the stable for how they have helped me. I want to try and win 30 races this year," added the JRA's leading newcomer.
Nice Nature's legacy lives on
Although he sadly passed away in May just after his 35th birthday, Nice Nature will soon be represented (albeit in a slightly complicated way) by a two-year-old called Rice Nature, who is expected to make his debut this summer at Kokura. Rice Nature is out of the mare Omusubi, who is in turn out of a mare called Gekkeijyu, a half-sister to Nice Nature.
The similarity doesn't stop there as Nice Nature notched three wins in a row at Kokura in 1991, including the G3 Kokura Kinen, so trainer Masahiro Matsunaga (who also rode Nice Nature) is hoping that Rice Nature can get his career off to a flying start at Kokura too.
This weekend's racing
There are a couple more Group 3 features on the cards at Tokyo and Hanshin this coming Sunday. Leading trainer Mitsumasa Nakauchida looks to be represented in both races. American-bred Great Sand Sea takes on Perriere (fourth in this year's G2 UAE Derby) in the Open Class Unicorn Stakes over a mile on dirt at Tokyo, while Big Ribbon (a full-sister to Kiseki) goes for the Mermaid Stakes, a handicap over 2000 metres at Hanshin. 
With a number of horses running off lighter weights in the latter, it might make Big Ribbon's task a bit tougher, but her second place finish in the recent G3 Fukushima Himba Stakes should stand her in good stead.  
'He was a machine': Christophe Lemaire on the record-breaking Equinox