'He was a machine': Christophe Lemaire on the record-breaking Equinox
Star jockey Christophe Lemaire has witnessed the boy-to-man transformation of Equinox first hand this year, and he paid credit to trainer Tetsuya Kimura after the colt's spectacular coming-of-age display in Sunday's Arima Kinen.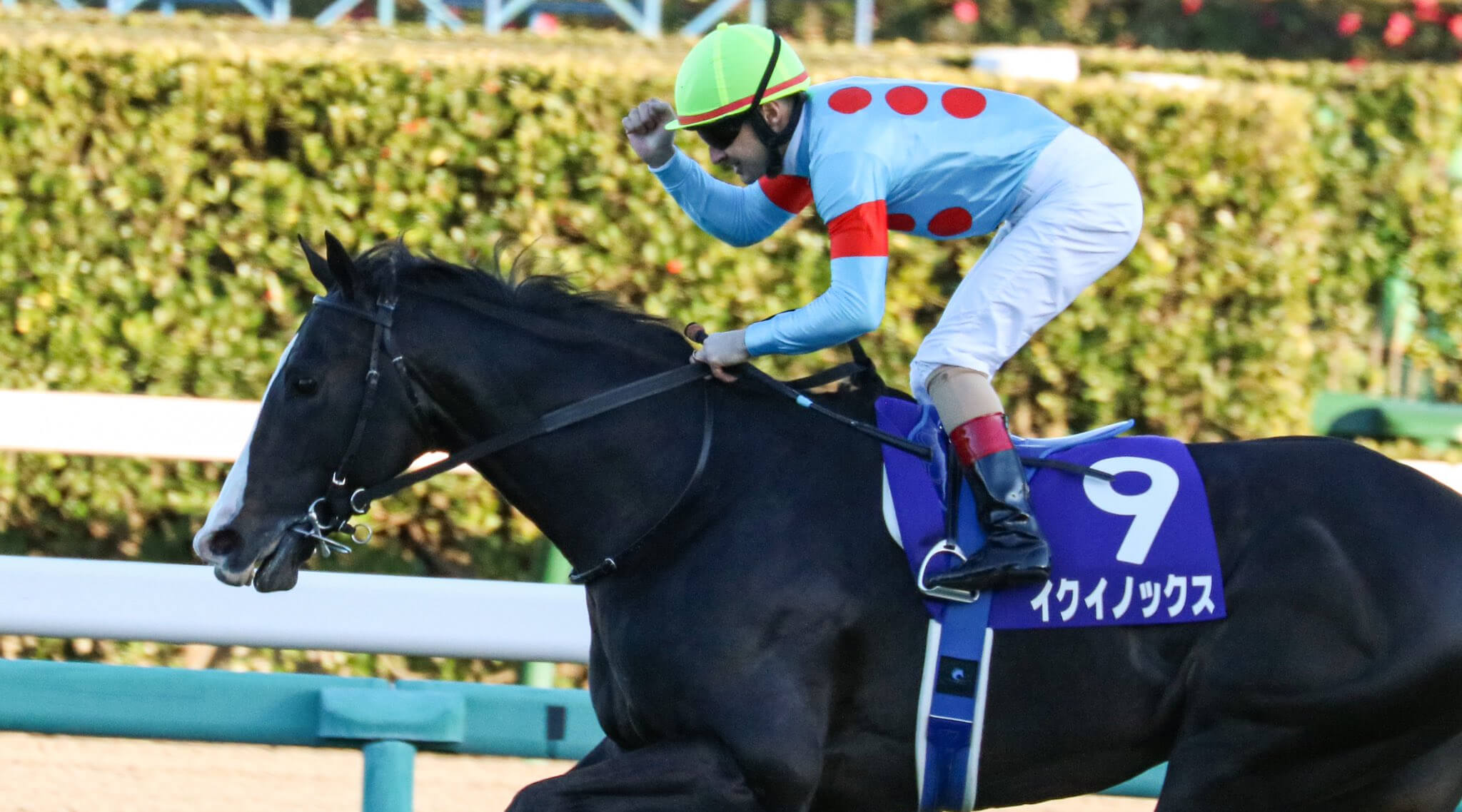 Christophe Lemaire celebrates Equinox's dominant Arima Kinen win. (Photo by @kabosu7222)
The fans forced to watch the Arima Kinen from the hill above the 'fourth turn' at Nakayama may have missed out on the best seats in the house, but they were closest to witnessing two moments that summed up Equinox's ascent to superstardom. 
The first time Equinox went past them he was a raw colt still learning a new aspect of racing, but by the time he came into view again – looming up three wide and looking every bit a monster – it was clear he was now the dominant horse in Japan. The Japan Racing Association's marketing slogan for its G1s "Hero is Coming" suddenly had a re-brand: "Hero is Here." 
A runner-up in both the Satsuki Sho (2000 Guineas) and Tokyo Yushun (Japanese Derby), Equinox had broken through for his first G1 in the Tenno Sho Autumn in late October. As tough as it was, it was a win of raw ability – all lungs and legs – and there was still a question: did he have the racecraft to deal with the tight turns, short-but-uphill Nakayama straight and intensity of an Arima Kinen so early in his career? 
The question was answered emphatically, in the affirmative, on Sunday. 
From barrier nine, Lemaire had Equinox two wide and just worse than midfield entering the home straight for the first time. Jockey Kosei Miura was to his outside on Last Draft, a six-year-old entire but 214-1. As the pace slackened there was a stride or two during which Equinox, in an awkward spot and keen for galloping room, could have easily over-raced. 
The crowd on the home turn hill  – most of them clutching tickets with Equinox on top  – murmured with concern. But Lemaire has hands made for these key moments, and he was able to slip Equinox a millimetre-perfect amount of rein and make up a crucial couple of lengths.
From same spot, first time around, key moment.

Equinox is travelling strongly, perhaps on the verge of over-racing as pace slows, and Christophe Lemaire is able to slide into the 3w line to maintain rhythm. #有馬記念 pic.twitter.com/DB0W7TXZOr

— Asian Racing Report (@AsianRacingRep) December 25, 2022
His racing rhythm assured by his unflappable French pilot, Equinox moved from worse than midfield to better than midfield with a three-wide trail, with a lap to go. 
The three-year-old may have won anyway – "He was just too good today," Lemaire told Asian Racing Report later  – but in scoring in such arrogant fashion, the colt's adaptability was also noted. 
Equinox – who had come from last on the turn in the Derby to finish second, and over-raced sitting wide before that in the Guineas – showed he now has the temperament to match that of his classy rider, and the mindset to decide his own fate in a race. 
"He was a bit keen with that horse pressuring from his outside, but the staff did well to train him with some pressure so he was ready for it," Lemaire said. 
The pre-race workout on Tuesday was an example of the work Tetsuya Kimura had put into making the inexperienced colt battle-ready for one of world racing's toughest tests. 
Equinox was wedged between two older open class gallopers in his final fast work, the riders on either side of the budding superstar instructed to place him under race-like pressure. 
— Team Iwata (@JayRAye02) December 21, 2022
The intense workout was a make-or-break test that Equinox gobbled up and spat out. Five days later the striking son of Kitasan Black turned up in the cauldron-like Nakayama Parade ring steely eyed and looking like he was ready to eat again. 
The preparation had him ready for the challenge on the first lap – racing between horses and behind a slowing speed – and his ability took care of the rest. 
Equinox gunned down runaway leader Panthalassa in the G1 Tenno Sho at his fifth career start to make him one of the JRA's many poster horses, but this imperious victory against the best stayers in Japan at start six puts him in a league of his own and almost certainly secured Japan's 'Horse of the Year' title. 
No horse in history has been able to capture Nakayama's 2500m end-of-season test in so few starts and a "relieved" Lemaire – the horse had jumped a dominant 2.3 favourite – was confident the colt still had some serious upside. 
"We saw a machine today," Lemaire said late on Sunday. "He is a great horse with still a lot of potential."