Keiba Diary: Kikuka Sho provides a classic puzzle
A look at an intriguing G1 Kikuka Sho, the retirement of two dirt stars and a date for the re-opening of Kyoto Racecourse all form part of this week's Keiba Diary.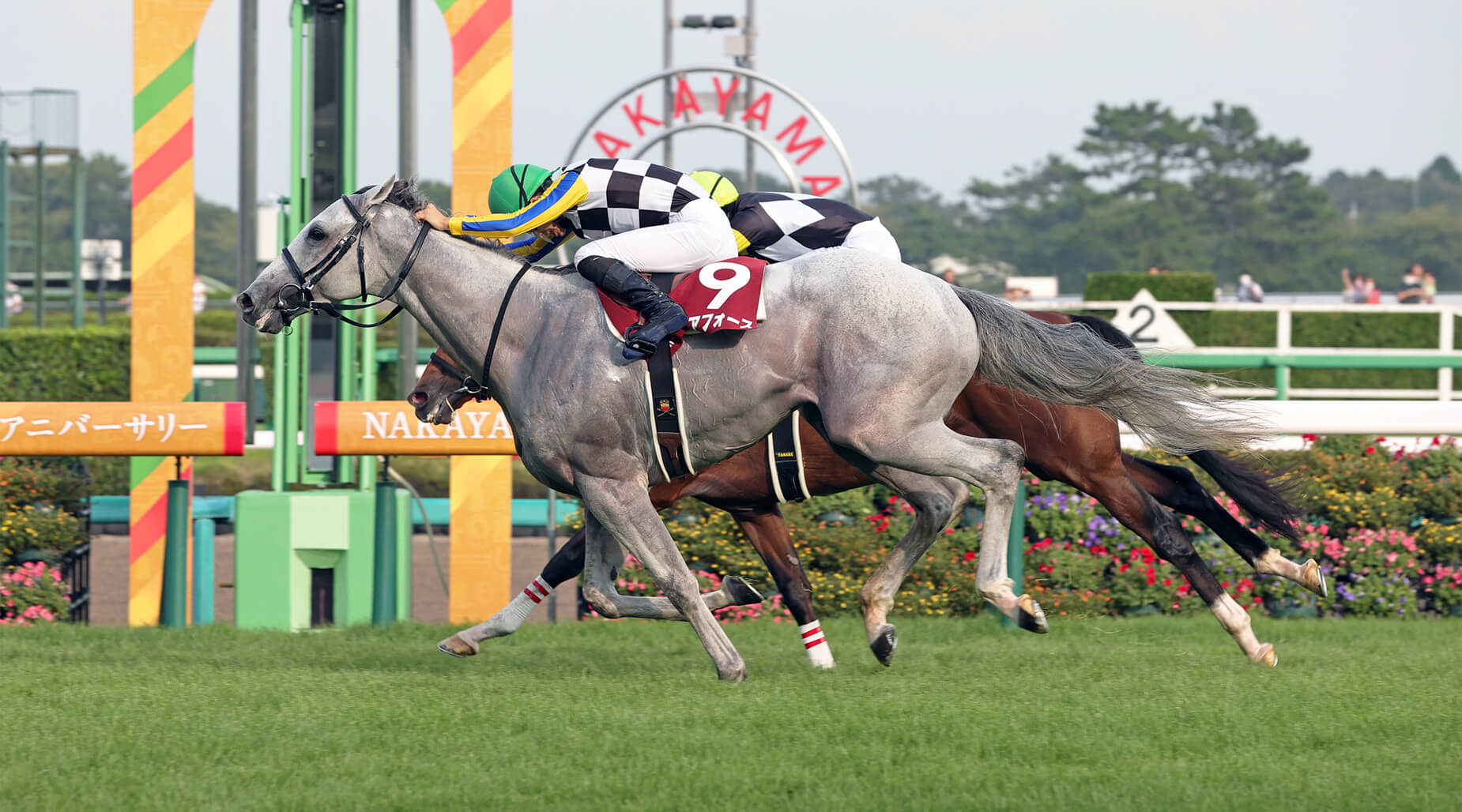 Gaia Force wins the G2 Asahi Hai St. Lite Kinen. (Photo by JRA)
After Stars On Earth's somewhat unlucky defeat in last weekend's Shuka Sho downed her Triple Tiara attempt, there will be no 'Triple' anything from the classic crop this year. The last piece of the jigsaw puzzle for this year's Triple Crown races will be put in place at Hanshin on Sunday when a full field of 18 is likely to contest the G1 Kikuka Sho, the Japanese St Leger, but the Triple Crown dream perished in May when the G1 Satsuki Sho victor Geoglyph was beaten in the G1 Tokyo Yushun behind Do Deuce.
Neither of those classic-winning colts will contest the season's final classic, with both being aimed instead at other races this autumn: Do Deuce, bogged down in the Arc at Longchamp two and a half weeks ago, is aiming to notch a famous win in the G1 Japan Cup next month. The stage is therefore set for another colt to grab the headlines.
The G2 St. Lite Kinen winner Gaia Force is the big improver, and the striking grey by Kitasan Black – the 2015 Kikuka Sho hero – won't be a big price on the day.
#ガイアフォース よく差し返したねえ#セントライト記念 pic.twitter.com/XJAlnBkN0W

— Satoshi Nakamura (@hena_cho_ko) September 19, 2022
Ask Victor More was a head behind Gaia Force in the St. Lite Kinen but he has the pick of the classic form, having finished third in the Tokyo Yushun, and he likes nothing more than to be up with the pace, fighting out a final furlong finish. Justin Palace is open to further improvement after his impressive win in the G2 Kobe Shimbun Hai last time. And trainer Teruhiko Chida will be relying on the 'Kikuka Sho otoko', Yutaka Take, to use his great skill and experience to guide Yamanin Zest through the 3000-metre contest. Take has won the race a record five times, including aboard the great Triple Crown winner, Deep Impact.
Xenoverse on the rise
Deep Impact was responsible for last weekend's J-G2 Tokyo High Jump winner, just to remind everyone of the late phenomenon's versatility as a stallion. His five-year-old son Xenoverse, bred at Paca Paca Farm, is typical of all-Japanese jumps horses, being a flat runner turned jumper, and he put in a great performance to beat the in-from Hokko Mevius by two lengths.
After the first two home, there was officially a 'distance' back to the next horse, and the old fella Oju Chosan could only manage ninth. The 11-year-old is Japan's greatest steeplechaser but age is catching up and after his laboured ninth, connections announced that he will retire after December's G1 Nakayama Daishogai, which he has won three times previously.
That same afternoon, another of Japan's most popular horses, the all-white Sodashi, was nutted out right on the line in the G2 Ireland Trophy Fuchu Himba Stakes. Yasunari Iwata's 'flailing limbs' action in a finish was enough to get Izu Jo no Kiseki up to win, and earned him a big bear hug from owner Ichiro Izumi. And Stunning Rose lived up to her name in the G1 Shuka Sho at the expense of Stars On Earth, giving jockey Ryusei Sakai his first JRA Group 1 win, which he thoroughly deserves as one of the best young jockeys in Japan right now.
Off to greener pastures
Last week saw the retirement of two of Japan's top performers in dirt races. Arctos, who made the Mile Championship Nambu Hai (Jpn1) his own race, winning it twice in consecutive years and setting the record time of 1 minute 32.7 seconds for the race in 2020. Owner Koichiro Yamaguchi couldn't praise the horse enough: "Arctos was going for a third win in the Mile Championship Nambu Hai this year, but with his age and a layoff of eight months, he wasn't able to do it. He's been a great horse for me, but we'll retire him now."