Keiba Diary: idols in the vending machine but Liberty Island is the real deal
Adrian Webber takes a look at the Satsuki Sho prospects and has news of the injured and returning, along with a well-known jockey's daughter starting out at the JRA school.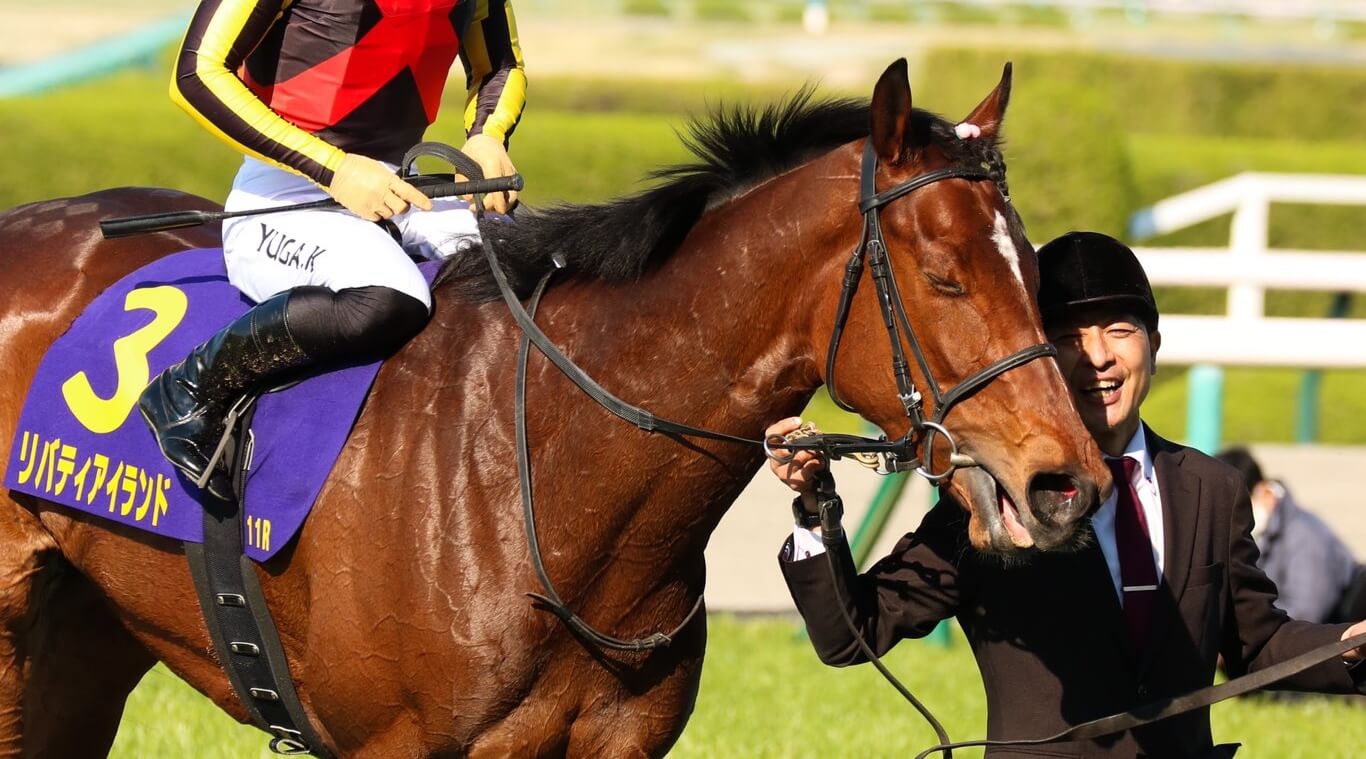 Japan's latest 'idol horse' looking pleased with her Oka Sho effort. (Photo by @kabosu7222)
Anyone visiting Japan for the first time can't help but be taken by the proliferation of vending machines, noticeably out on the street, stacked with all sorts of things from snacks to cans of ready-to-drink coffee. With that in mind, a story last week which quickly flew around the world's media was one about a bear meat vending machine in one of the northern prefectures. It's hard to see that catching on at the racecourse but then you never know, maybe racegoers could do with chewing on a piece of bear meat while they trawl through the form. 
Realistically though, the only machines of interest at the track would be the betting ticket dispensers and preferably ones that will spill out cash a few minutes later. Having said that,  some popular machines appeared outside the Turfy merchandise shop at Hanshin last weekend that offered a miniature 'idol horse' (36 of them available in total) for the price of a cup of coffee and a quick flip of a handle, although it was down to chance which horse popped out of the machine.
Island in the sun
Talking of 'idol horses', Liberty Island became one herself last Sunday when taking out the G1 Oka Sho in quite spectacular fashion. Good conditions prevailed on the day but Yuga Kawada found himself well back just after they jumped and had to be content to stay there until turning for home.
The heart rates of the filly's supporters would have jumped considerably with the situation looking quite dire for some time, and being the widest of the runners on the final turn, there were some that probably thought it was an impossible task. There are few better sights in racing though than a horse that's brought with a perfectly timed run to pick off its opponents one by one and claim a famous win. Hardly surprising then that Kawada said he was 'relieved' by getting Liberty Island to do just that.
— Team Iwata (@JayRAye02) April 9, 2023
Stop, thief!
Looking to next Sunday, the G1 Satsuki Sho is the first Classic race for the colts and it's hard to tell which one of the expected 18 runners will prevail over the tight 2000 metres at Nakayama. Christophe Lemaire will be looking to steal the race aboard Phantom Thief, whose only defeat came in last year's G1 Hopeful Stakes when he drew gate one and just slipped slightly at the start.
Damian Lane flies in for another stint in Japan and will ride Hrimfaxi for trainer Naosuke Sugai, while the Yokoyama family have quite a grip on things, with Takeshi riding the unbeaten Kitasan Black colt Sol Oriens, Kazuo teaming up with Ho O Biscuits, and dad 'Nori' looking to be at his sharpest on Top Knife. May the best horse win.