Keiba Diary: Gentildonna's girl gatecrashes the show, big weekend ahead
JRA broadcaster Adrian Webber unpacks all the latest happenings in Japanese racing, as eyes turn to Longchamp and Nakayama.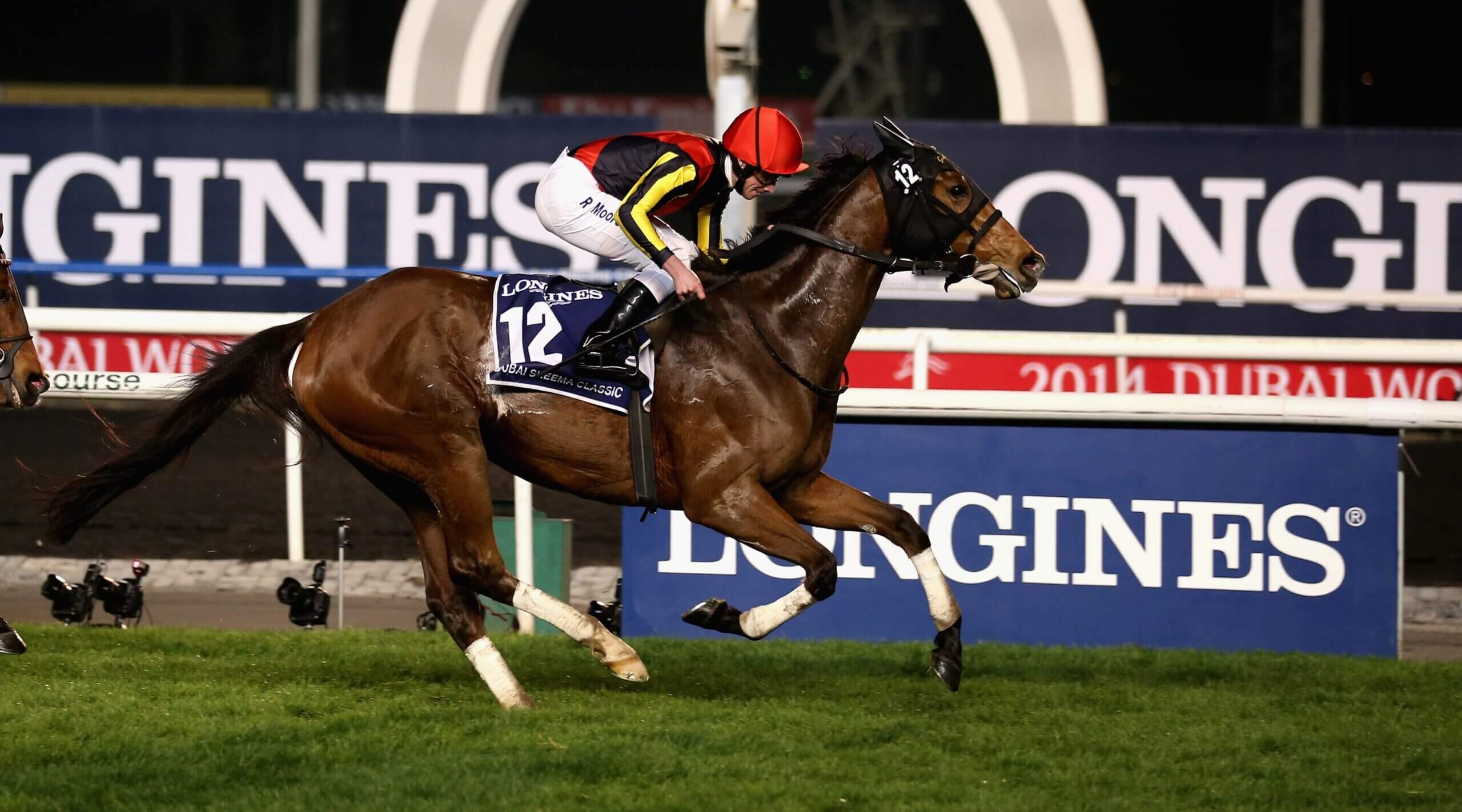 The great Gentildonna takes out the Dubai Sheema Classic for Ryan Moore. (Photo by Warren Little/Getty Images)
There is a big weekend of Japanese action to look forward to in Europe and at home with the Prix de l'Arc de Triomphe and Sprinters Stakes sharing the Group 1 spotlight, but looking back, last weekend's Group 2 action in Japan produced two exciting winners with top-level aspirations. 
Neither the All Comers at Nakayama nor the Kobe Shimbun Hai at Chukyo went the way of the market leaders as Gentildonna's daughter Geraldina won the former at odds a shade bigger than 18-1 and Justin Palace took the latter as a 10-1 chance. Both were impressive.
Past Triple Tiara heroine Daring Tact was the beaten favourite in the All Comers over 2200 metres and could only finish sixth. Plans are on hold for her but the G1 Autumn Tenno Sho beckons for Geraldina who stunned her rivals with a late burst of speed under a great ride by Takeshi Yokoyama. The jockey settled the powerful four-year-old in a railside tracking position before shifting out late and galloping on by. 
Geraldina🇯🇵 (Maurice @ArrowfieldStud – Gentildonna, Deep Impact) (2018) wins the All Comers G2 over 11F and becomes the 7th and the 10th GSW for her sire respectively in Japan and internationally. Her dam is 7-time G1W, Gentildonna.pic.twitter.com/71VyFtPVD3

— Toshi Onikubo (鬼窪峻大) (@toshionikubo) September 25, 2022
After the victory, Yokoyama said, "She's taken a bit of time to get this result. It was my first time to ride her, so I wasn't sure how she might handle the distance and the pace, but she did it very well, and was impressive at the end going through the narrow gaps we had." Earlier in the weekend, Yokoyama scored his 400th JRA career win, and his 100th of this year.
Meanwhile, at Chukyo, the Kobe Shimbun Hai went the way of Justin Palace, who powered home down the straight to leave the more fancied runners flat-footed, including the well-regarded favourite Parallel Vision who was well back in seventh. 
JUSTIN PALACE is SW190 for Deep Impact in the Gr2 Shimbun Hai.

1/2 bro to Gr1 Palace Malice Gr2p Iron Barows.@SELECTSALE_eng @satomifletcher @LongBallToNoOne @netkeiba @JUN_HorseRaces @tospo_keiba @JRAVAN_info pic.twitter.com/UU1u1yMG6g

— Pedigree Update (@pedigreeupdate) September 26, 2022
It was another first time ride for jockey Katsuma Sameshima, who found it hard to hide the satisfaction he got from the three and a half-length win. "I'd ridden the horse quite a lot in work recently, including during gate practice. The stable staff gave me confidence and things went according to plan. He got a good early position in the race and showed a strong turn of foot on the run for home." Justin Palace looks to have a future after this performance.
The Ritto rounds
The Ritto Training Centre is one of two JRA training bases along with Miho. Ritto, located in the west (Miho is east of Tokyo), is home to some 2,000 horses, and about 100 trainers have their stables there. The thoroughbreds are often sent to training farms after their races as trainers are only allowed a limited number of horses in training at their designated stables at any one time. But it's to Ritto (or Miho) and their trainers that they return, usually about a month before their next race, in order to reach peak fitness again. 
Two of Japan's leading trainers, Naosuke Sugai and Takayuki Yasuda, are based at Ritto. Sugai's 'superstar' filly Sodashi recently returned to her stable and worked with a two-year-old stablemate on the centre's woodchip course. She seemed relaxed and picked up well to cover the last two furlongs in 23.2 seconds.