Keiba Diary: another Classic stunner as Sol Oriens shines
JRA broadcaster Adrian Webber recaps all the weekend action and picks through recent happenings, including the reopening of the revamped Kyoto racecourse.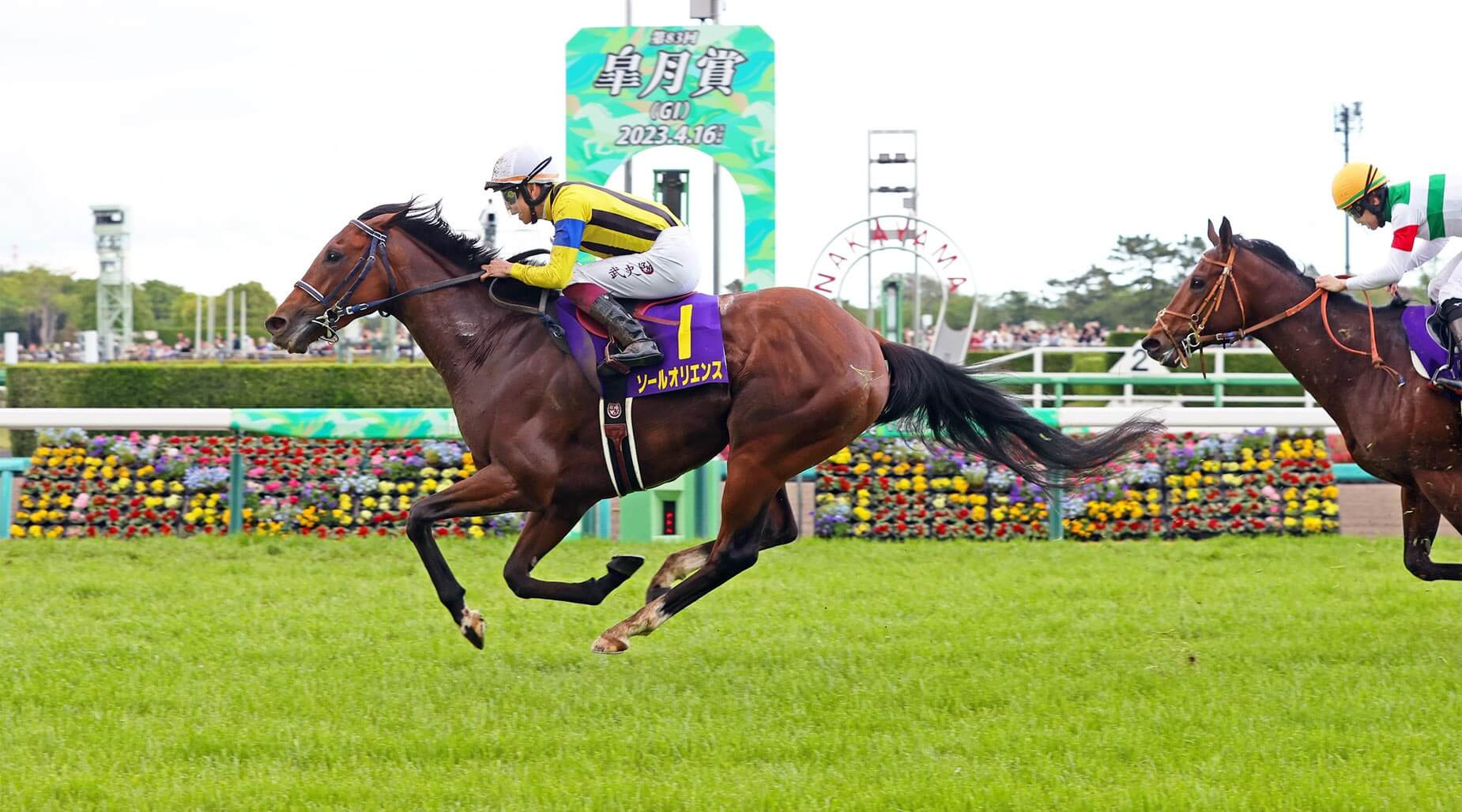 Sol Oriens charged home to win the G1 Satsuki Sho at just his third start. (Photo by JRA)
The first two Classics of the year in Japan are now done and dusted, and it really wouldn't be a foolish notion at all to think the winners of the Oka Sho and the Satsuki Sho can now go on and win the Oaks and Derby respectively. We could have two genuine champions on our hands.
Sol Oriens on Sunday was just as impressive as Liberty Island had been the week before when he took out the G1 Satsuki Sho in somewhat similar fashion to her sensational Oka Sho victory. Jockey Takeshi Yokoyama was just a little bit coy about the Kitasan Black colt before the race (unlike after it) but it was as if he didn't want to give too much away. 
The rider was winning the 2000m race for the second time – having won it with Efforia in 2021 – and he was tactically at his most astute when sliding over from his number one draw soon after the start to avoid the stickiest ground on the inside. Work had to be done, come the home straight, and Kohei Matsuyama on Tastiera probably thought the race was his but the final burst of sheer speed, class, guts and determination from Yokoyama and Sol Oriens is something well worth watching again.
Other weekend highlights were Irogotoshi winning the J-G1 Nakayama Grand Jump by a margin of a 'distance' and the late-maturing Promised Warrior living up to his name with a good win in the G3 Antares Stakes on the dirt at Hanshin, and in the process claiming his second graded win.
And we also had Damian Lane, who strode into town and kicked off his latest stint in Japan with six winners from fourteen rides, proving that he's going to be a force to be reckoned with yet again in the coming weeks.
Mikio's fillies
Back in his riding days Mikio Matsunaga had a number of Group 1 wins on fillies, such as the 1997 Oka Sho winner Kyoei March and the 2005 Autumn Tenno Sho heroine Heavenly Romance, to name just a couple. Nowadays he is into his 17th year as a trainer and it is worth noting that five out of his six Group 1 wins have been achieved with fillies, most notably Lucky Lilac, a four-time Group 1 winner. 
When it comes to colts, one of his better results as a jockey came aboard Cyclennon Sheriff, who finished third in the 1993 G1 Satsuki Sho. But while he has enjoyed G2 successes with the likes of the madcap Lani, Mondreise and Lion Lion, it seems that as a trainer, too, his colts haven't yet matched the girls and come up with a Group 1 for him. 
Lion Lion could only manage 15th in the 2019 Derby and last Sunday Ras Hammel finished 16th of the 18 runners in the big race. But there will be another day and Matsunaga will be hoping the strapping colt by Silver State improves as the season progresses to give him a shot at a big win with one of his boys.
Rolling Hills
The North Hills operation led by owner Koji Maeda celebrated 20 years of its Tottori Prefecture Daisen Hills farm on the 11th of this month. Around 350 guests attended a reception to celebrate the anniversary and the occasion was blessed with fine weather. 
"Things take time in horse racing and proof of that was the 14 years it took to get an Oka Sho winner. I'll be looking to my two sons to continue the business and hope that the farm here can continue for another 80 years and more," said the enterprising owner, whose operation is famous for the likes of the Triple Crown-winning champion Contrail and the Derby winner Kizuna.
Super baby
The 2020 G1 Takamatsunomiya Kinen winner Mozu Superflare (now an eight-year-old) gave birth to her first foal a month or so ago at the Tanikawa Stud in Hokkaido. The colt is by Yoshito Yahagi's top-class miler Grand Prix Boss and the young fellow is looking like he can grow into a big horse with good balance and plenty of speed. Back in her racing days, mum was mixing it with the likes of Gran Alegria and Danon Smash, so that will certainly be one of the youngster's big salespoints.