Hong Kong's 'hero' horse: Stanley Chan on owning Golden Sixty
Stanley Chan talks about the pleasure, and pressure, of owning Hong Kong's best horse, his pride in sticking with local jockey Vincent Ho and the possibility of tackling an overseas Group 1.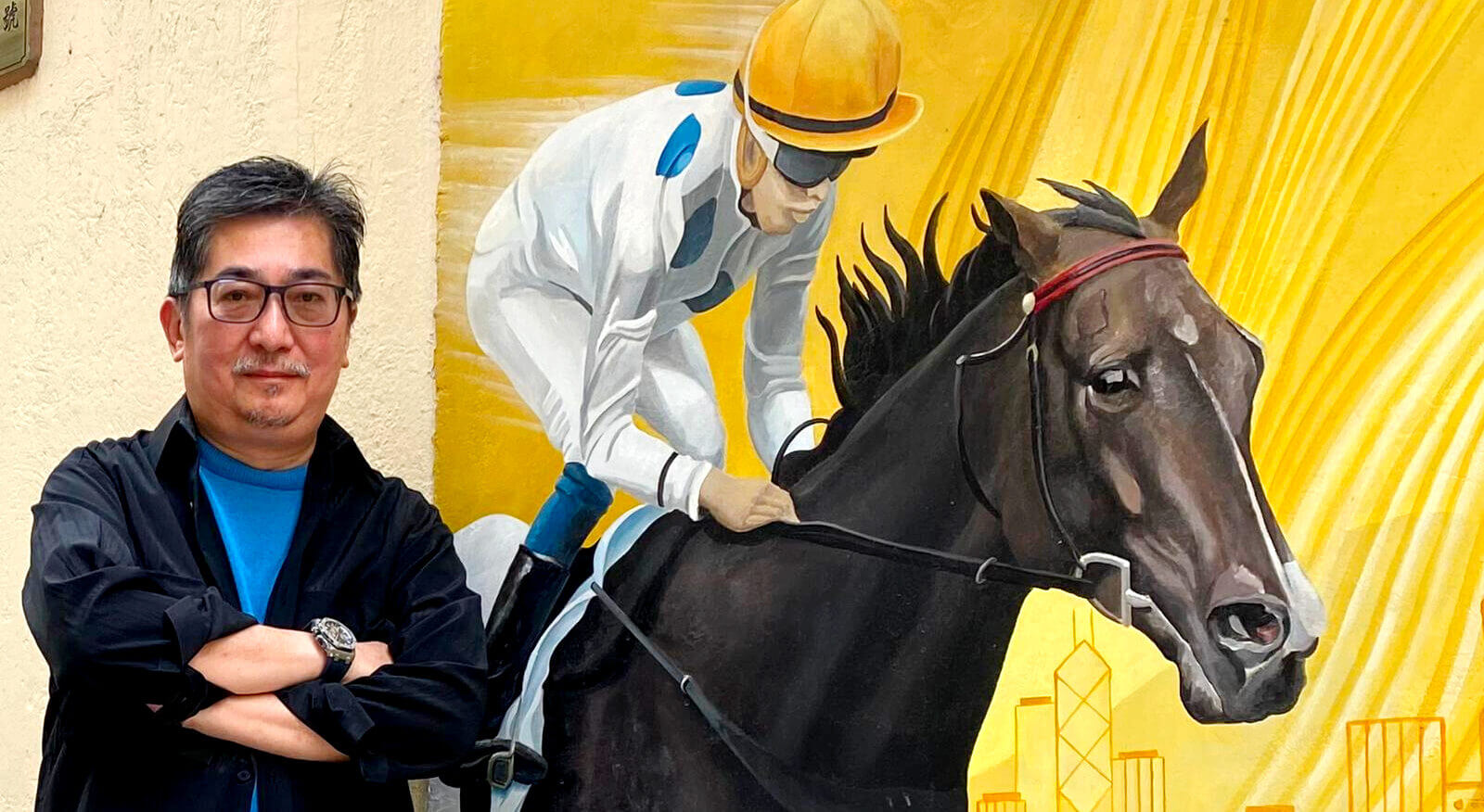 Owner Stanley Chan alongside a mural of his champion horse Golden Sixty. (Photo by Asian Racing Report)
Owning the best horse in Hong Kong has plenty of upside. Stanley Chan is kicking back in a cafe in the hip neighborhood of Tai Ping Shan, admiring a striking piece of street art of his horse Golden Sixty painted on the laneway wall opposite. 
The shop next to the mural, the upmarket equestrian tack store Horse & Hound, is selling limited edition Golden Sixty designer jackets and vests. 
Then there is the HK$113,400,600 million (US$14.4m) Golden Sixty has banked through a career in which he has won a Hong Kong Derby, six Group 1s and at one time went more than two whole seasons without defeat.
It all seems like a dream to a lifelong racing fan like Chan, but there is a flipside to the fun – like the nerves that kick in when his horse regularly starts a very long odds-on favourite. 
"I am not betting on my horse, because he is 1.1 or 1.2, but my heart is still thumping," he says. "I am worried that something will go wrong in the race, some sort of accident, and when he gets past the winning post, I can relax. It is a relief." 
Then there was the time Golden Sixty's winning streak was snapped at 16 – one short of the Hong Kong record set by Silent Witness – when the horse's price was "money back", 1.0 –  but more on that later. Fortunately for Chan there have been more good days than bad: 21 great days out of 24, to be precise. 
Hong Kong owners can get a bad rap for lacking sentiment or a sense of romanticism for the sport, but when Chan's eyes fill with tears while recalling Golden Sixty's 2020 Hong Kong Derby win, it is clear that this is about much more than prize money or fame. 
"From last horse to first, it was really something, I can't explain the feeling," he says. "For Hong Kong people, and the horse racing fans, the Derby is the once-in-a-lifetime race. If you miss your chance, that is it."
Chan grew up a tram stop away from Happy Valley in Causeway Bay and by the age of seven he was a racing fan. His idols were Tony Cruz, Eddie Lo and Co-Tack. 
There is an immense sense of local pride for Chan and Golden Sixty's all-Hong Kong team of trainer Francis Lui and jockey Vincent Ho, who has ridden the horse in each of his 24 starts. 
It isn't that remarkable that Golden Sixty started with a local trainer and jockey, but one of the oldest stories in Hong Kong racing is the horse that starts with a local and is transferred to an expat trainer, or the jockey replaced by a club rider, or both. 
When Golden Sixty was defeated in consecutive Group 1s at odds of 1.0 and 1.2 last season, Ho's tactical decisions were the subject of media scrutiny – never mind the fact he had ridden the horse to victory in 19 of its previous 20 starts. 
"Of course I want to support the local jockey, each season we have less and less local jockeys. If we do not support the local jockeys then maybe in five years it will just be the gweilos," Chan said, good naturedly using the Canto slang term for an expat. "Vincent was the jockey from day one, he was on the horse in trackwork in the morning right from the start, so why should I change the jockey?
"Even before Golden Sixty, we had built a relationship with Vincent through our other horses."