Hong Kong's five greatest equine enigmas
Beauty Joy's bewildering yet brilliant display at Sha Tin on Sunday had social media users all of a flutter with comparisons to Pakistan Star's famous long-way-last-to-first debut run. But where does Hong Kong's latest enigma figure in the city's top five gallery of loveable rogues, reluctant heroes and bet-breaking villains?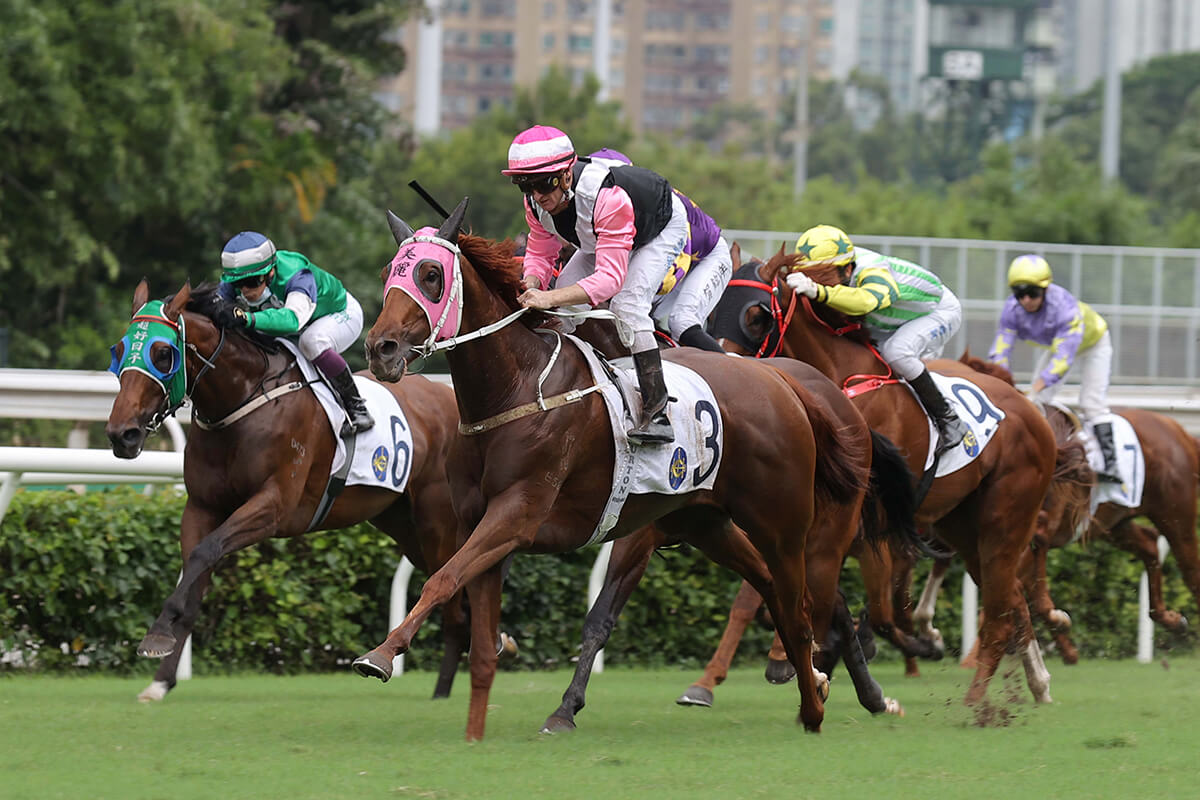 Beauty Joy has elevated himself to elite enigmatic company after his win on Sunday. (Photo HKJC)
5. Beauty Joy
Well, he's straight in at number five, and, to be honest, it was touch and go as to whether or not the Tony Cruz-trained galloper made the list. The doubt, as to the level of his enigmatic ways, lies in his remarkably consistent record of five wins and two placings from seven starts this season, and four from four when racing as Talladega in Perth.
But come on: this is a horse that just pulled off the best impersonation of Pakistan Star ever seen. His antics might not have affected his winning ability – yet – but they certainly make him a puzzling character and it will be fascinating to see what he does in the future..
His Group Three Premier Cup win saw him throwing his head high every time he closed in behind a horse, just as he had done in his previous races. But this time he added to his repertoire an awkward gait that had Zac Purton looking down to see if he was lame as he trailed along five lengths adrift of the pack. When asked to forge on, he rounded the field and stormed home to win with a swift closing split of 21.83s.
Watch this space.
4. Willie Cazals
Willie Cazals had class enough to finish one place ahead of the subsequent champion European mare Danedream when second in the 2011 Italian Derby. But when he moved to Sha Tin later that year, the intense environment seemed to frazzle his mind.
The Cruz-trained grey was a disaster in barrier trials and looked more like a wayward bronco than a racehorse, veering markedly left from the gate and losing lengths, then tracking wide on the turn before making late headway. Jockeys were wary of taking the ride.
When he did make it to the track for his debut in a Class 2 over 1600 metres, he was lathered in sweat and over-raced but kept on to finish fourth. Strangely, a couple of tendon injuries seemed to help him by cooling his fire, yet still he had to be switched off at the tail and allowed to run home at his own pleasure.
He won a Class 2 at Happy Valley that way and also placed second in the Champions & Chater Cup and the Hong Kong Vase from 16 races, before more leg trouble in February 2015 saw him sent to New Zealand. His reformation was complete when he wound up winning the Group One Livamol Classic as a nine-year-old for trainers Lance O'Sullivan and Andrew Scott, nailing a subsequent Group One winner named Humidor with a typical late-closing charge in October 2016.   
3. Divine Calling
Great expectations followed Divine Calling when he made the move from Gai Waterhouse's Sydney yard to Tony Millard's Sha Tin stable. The gelding was already proven as a high-calibre athlete in Australia thanks to a Caulfield Guineas placing. But his Hong Kong debut was the stuff of dreams.
When Zac Purton cruised three-wide to join the front-running Beauty Flame – a Britannia Stakes winner and subsequent Group One performer – in that October 2014 Class 2, the HKJC's race caller Darren Flindell couldn't help but rhapsodise. 'Have you seen a win like it?' he asked, as Purton maintained a tight hold down the length of the home straight. Divine Calling seemed to be purring in third gear.
But that was as good as it got. His next three starts had him placed third, second and second at odds of 1.4, 1.6 and 1.7, including when second in the Hong Kong Classic Mile. He failed to win in 11 races for Millard and then Caspar Fownes after that incredible debut.
The ability was there but the big red hearts emblazoned on his blue silks were about all the heart Divine Calling had when the chips were down.
2. Thewizardofoz
If you want the definition of puzzling, look no further. Thewizardofoz seemed to have the world at his feet: by champion sire Redoute's Choice out of the Group One-winning mare Princess Coup, John Size's galloper ended his debut Hong Kong campaign unbeaten after three races.
The magic didn't last, of course, though flashes of brilliance were sighted now and then. He was beaten at odds-on in his first two races as a four-year-old, redeemed himself with a win at start three, was fifth when favourite for the 2016 Classic Mile, yet bounced back with a superb Class 1 win. After withdrawing lame from the Group One Queen's Silver Jubilee Cup, he returned to finish a dull tenth in the Group One Chairman's Sprint Prize.
That profile of flimsy flattery reached fulfilment the following season. After three solid efforts in defeat, Thewizardofoz posted a brilliant triumph that had almost all and sundry believing he could yet make the Group One grade. Shouldering 133lb in the Group Three Premier Cup over 1400 metres, the ever-blinkered gelding blitzed from the tail to win by three and half lengths, eased down, through a stunning closing split of 21.68s.  
But that was it. Thewizardofoz raced nine times more and failed to make the top three.
1. Pakistan Star
Who else could have taken the number one spot? The writing was on the wall when, at the breeze-up for the Hong Kong International Sale, the introverted German-bred entered the track and refused, for the best part of 10 minutes, to go faster than a walk.  
Pakistan Star's incredible tailed-off-last-to-first winning debut a few months later 'broke' horse racing's corner of the internet. Yet he was the 'nearly horse' of the 2017 four-year-old crop, running second to the ill-fated Rapper Dragon in both the Classic Cup and Hong Kong Derby.
Then came the infamy: Pakistan Star, reluctant at times in barrier trials, pulled himself to a stop during an actual race, the Group 3 Premier Plate (the very same afternoon that Thewizardofoz was kidding us on with his Premier Cup blitz). He was the 1.2 favourite, of course, and was booed loudly as he galloped home in isolation. Theories abounded, ranging from memories of that breeze-up morning to an appearance by the ghost of the recently deceased Rapper Dragon.
Pakistan Star's brilliance peaked the following year with back-to-back Group One wins in the QEII Cup and Champions & Chater Cup. But his subsequent 11 puzzling runs in Hong Kong saw him tested at distances from 2400 metres down to 1200 metres and brought a switch from the Cruz stable to Paul O'Sullivan. Finally, his owner, the late Kerm Din, moved him to Dubai where he raced twice: fourth at Meydan and pulled-up at Abu Dhabi. He now resides at Living Legends in Melbourne.