Deep connection stretches all the way to Australia
With Deep Impact's daughter Glint Of Hope aiming for a second Group One win in Saturday's Queensland Oaks, Bren O'Brien takes a look at the late, great Japanese champion's impact in Australia.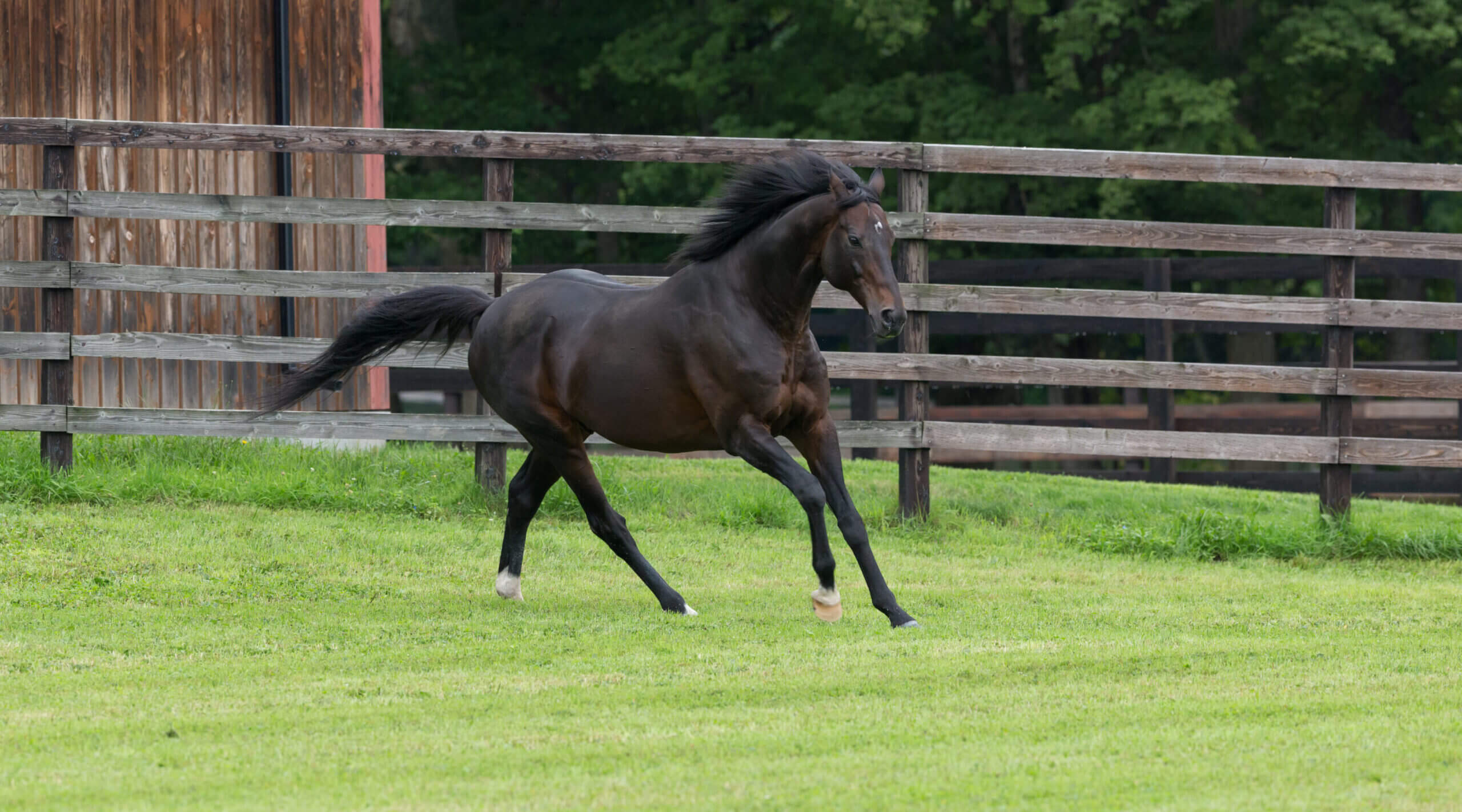 The great Deep Impact at Shadai Stallion Station in Hokkaido. (Photo by Lo Chun Kit)
The legend of Deep Impact, the superstar Japanese racehorse turned champion stallion and breed shaper, has arguably become greater since his death three years ago, particularly as his influence has grown globally.
His daughter Glint Of Hope, one of the leading chances in Saturday's Queensland Oaks, recently became his fifth individual Group One winner in Australia, a remarkable achievement given he has had fewer than 50 runners in the country.
In Japan he is a national treasure, much missed since his death in 2019. On the track, he won eight Group One races, including the Japanese Triple Crown and the Japan Cup and then doubled down on that with a stunning post-race career at Shadai Stallion Station.   
He has produced 187 stakes winners from 1694 foals to race, with his progeny earning just short of AU$1 billion. Included among that collection is his remarkable record in the Tokyo Yushun, the Japanese Derby, a race he won himself in 2005 and which has seen seven of his sons victorious since. He has been Champion Sire of Japan for ten consecutive years and leads in the race to make it 11.
Such an imposing record, both home and abroad, on the track and in the barn has created an aura around Deep Impact that conjures an image of a giant of a thoroughbred, leaving his stamp on everything.
But like the 20th century's most influential global stallion, Northern Dancer, Deep Impact's physical size belied the myth that has grown up around him. He was 15.3 hh, which sits in contrast to a global era of largely big, powerful breed-shaping stallions.
Arrowfield Stud has been the pioneer when it comes to Japanese bloodlines in Australia and its long association with the Yoshida family, sparked by its desire to support Deep Impact's own sire Sunday Silence, led to Arrowfield getting access to Deep Impact during his pomp.  
Over four seasons it bred 16 foals to him, sending champion mares such as Alinghi, Miss Finland, Alverta and Stay With Me. Also among them was Honesty Prevails, a Group Three winning daughter of Redoute's Choice.
The result was Profondo, a colt that not only topped the Magic Millions Yearling Sale when he sold for $1.9 million, but became Deep Impact's first Australian-bred Group 1 winner when he won the Spring Champion Stakes at just his third start last October.
For Arrowfield Stud's bloodstock manager Jon Freyer, the success of the somewhat diminutive Deep Impact as a stallion globally speaks to the differing approaches of Japanese and Australian breeders.
"He was not an imposing individual but certainly a great horse. It's one of the mantras of the Japanese breeders and Shadai in particular, that how these horses perform on the racetrack is how they should be judged as stallion" he told Asian Racing Report.
"For us in Australia, it's more of a beauty contest, but in their view, if a horse is a great horse, that's what they ought to be seen as. They don't take the fact he wasn't a big horse too much into account."
Breeding for a commercial Australian market, there were some considerations that Arrowfield needed to make in supporting Deep Impact, in terms of matching the right mares physically, but it backed in the quality of the sire to shine through. 
"Putting our Australian hat on, we sent bigger, stronger, scopier mares, but it is often the way that the best race mares here have that type of physique anyway," he said.
"They are the ones we bred and we got some super looking horses out of them. Profondo was the best of them. You wouldn't find a nicer looking horse than him. He was a magnificent looking yearling and is a magnificent looking racehorse now."