Champions of the track and breeding barn – Top Five mares who shone as racehorses and as broodmares
With two-time Japanese Horse Of The Year Gentildonna becoming a Group 1-winning producer thanks to her daughter Geraldina's victory in the Queen Elizabeth II Cup on Sunday, we have ranked the Top Five champion racehorses across the world who went on to become star broodmares.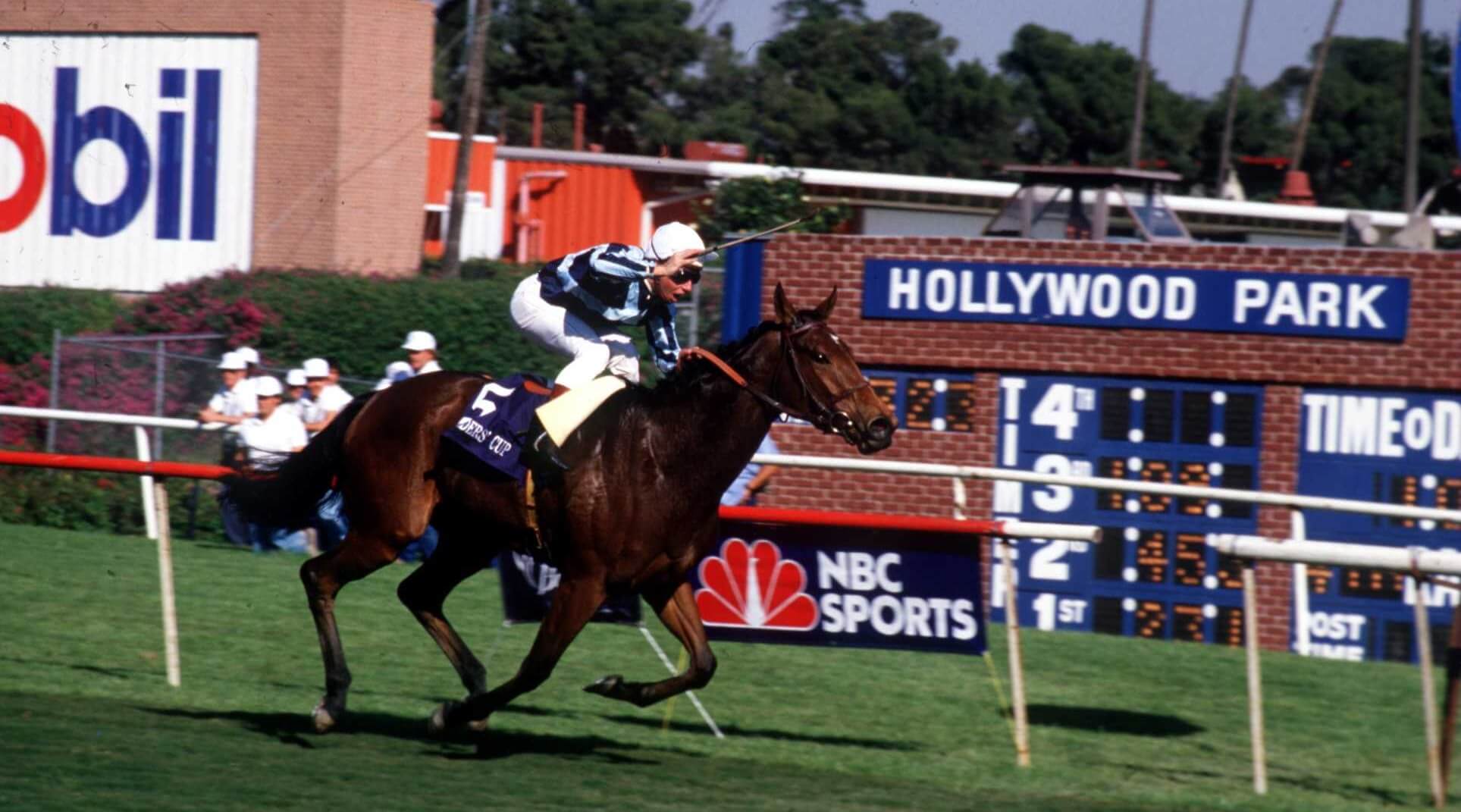 Miesque winning the 1987 Breeders' Cup Mile. (Photo: Allsport/Getty Images)
There is a myth in thoroughbred breeding circles that champion racemares don't make champion broodmares. Statistically it is very hard for even the best credentialled race filly or mare to produce a foal which can equal their achievements on the track, despite having access to the best stallions in the world.
But occasionally there is one who can defy the stats and the scepticism and make one, or two, or three in their image.
We have gathered a list of the Top 5 elite fillies or mares on the track (plus a host of honourable mentions), who were able to produce elite success from the breeding barn and further their legacies through their sons and daughters.
5. Air Groove
Air Groove was a Japanese star in the 1990s, winning the G1 Yushun Himba as a three-year-old before going on to win the Tenno Sho (Autumn) the following year, 1997, when she was voted Japanese Horse Of The Year.
She then retired to Northern Farm and immediately produced multiple Group 1 winner Admire Groove, a dual winner of the Queen Elizabeth II Cup, who would become the dam of Tokyo Yushun winner Duramente. Rulership, the G1 Queen Elizabeth II Cup winner in Hong Kong, was also out of Air Groove, as were the Group winners Forgettable and Gullveig.
4. Marwell
As a racehorse under the eye of Sir Micahel Stoute, Marwell was a sprinting filly of rare talent. She was unbeaten in five starts as a two-year-old culminating in her victory in the Cheveley Park Stakes under Lester Piggott. Her first race defeat came in the 1981 Thousand Guineas but reserved for sprinting trips, she then reeled off wins in the King's Stand Stakes, the July Cup and the Prix de L'Abbaye.
Retired to stand as her birthplace, Edmund Loder's Eyresfield Stud at The Curragh, Marwell would produce eight winners in total, including two standouts. The first was Caerwent, the winner of the Irish National Stakes and the second was the mighty filly Marling, who won four Group 1 races. She emulated her dam by winning the Cheveley Park Stakes in 1991 and the following year won the Irish 1000 Guineas, the Coronation Cup and the Sussex Stakes. Another of Marwell's daughters, Littlefeather, was Group 1-placed.
3. Cesario
Cesario broke new ground both on the track and in the breeding barn. Her racing career under trainer Katsuhiko Sumii only featured six starts, but in that time not only was she able to win the 2005 Yushun Himba, but she was also able to become the first Japanese-trained horse to win an American Grade 1 race, claiming the American Oaks by four lengths.
As a broodmare she would do even more remarkable things. Her third foal, Epiphaneia, would become a star, winning a Japan Cup and a Kikuka Sho. He then went on to a successful career as a sire. Cesario also foaled Leontes, who won a G1 Futurity Stakes and also became a stallion of note while her third Group 1-winning son to go to stud was Saturnalia, a winner of the Hopeful Stakes and Satsuki Sho.
2. Miesque
As a race filly and mare, Miesque was among the best of the 1980s, winning 10 Grade/Group 1 races across the United States, France and England. Bred in Kentucky by the Niarchos family, she won at the top-level at ages two, three and four, and in 1988 she became the first horse ever to win consecutive Breeders' Cup races, in her case the Breeders' Cup Mile.
She retired to the Niarchos' Kentucky farm where she produced 14 foals, six of them winners. That list included Kingmambo, a triple Group 1 winner who became an influential sire, and her star daughter East Of The Moon, also a winner of three Group 1 races. Miesque remains a hugely important influence in global pedigrees and among her maternal descendants are Japanese-bred Group 1-winning stars Loves Only You, Real Steel and Karakontie.
1. Urban Sea
Urban Sea's greatest moment of her racing career came in the 1993 Prix de l'Arc Triomphe, when she caused a major upset, shooting through on the inside of White Muzzle and Opera House to claim victory at odds of 37-1 for trainer Jean Lesbordes and jockey Yves Saint-Martin in the colours of her Hong Kong-based owner David Tsui. She won seven races in all, all at stakes level.
Greater things were to come from the breeding barn. Her second foal, Galileo, a son of Sadler's Wells, won the G1 Epsom Derby, Irish Derby and King George VI and Queen Elizabeth Stakes before going on to become one of the most successful sires of all time. Then followed Sea The Stars, who won six Group 1 races, emulating his dam by winning the 2009 Prix de l'Arc Triomphe, and also having a massive impact from the stallion barn. Urban Sea also produced Group 1 winners Black Sam Bellamy and My Typhoon and through her sire sons has become the most influential broodmare of the 21st century.