2023 Tokyo Yushun Rankings: Sol Oriens presents daunting Tokyo test in G1 Japanese Derby
Ahead of this Sunday's G1 Tokyo Yushun our expert panel presents their final Derby standings, as we take a detailed look at the top contenders vying for ¥432,000,000 in prizemoney in the second leg of the colts' Triple Crown.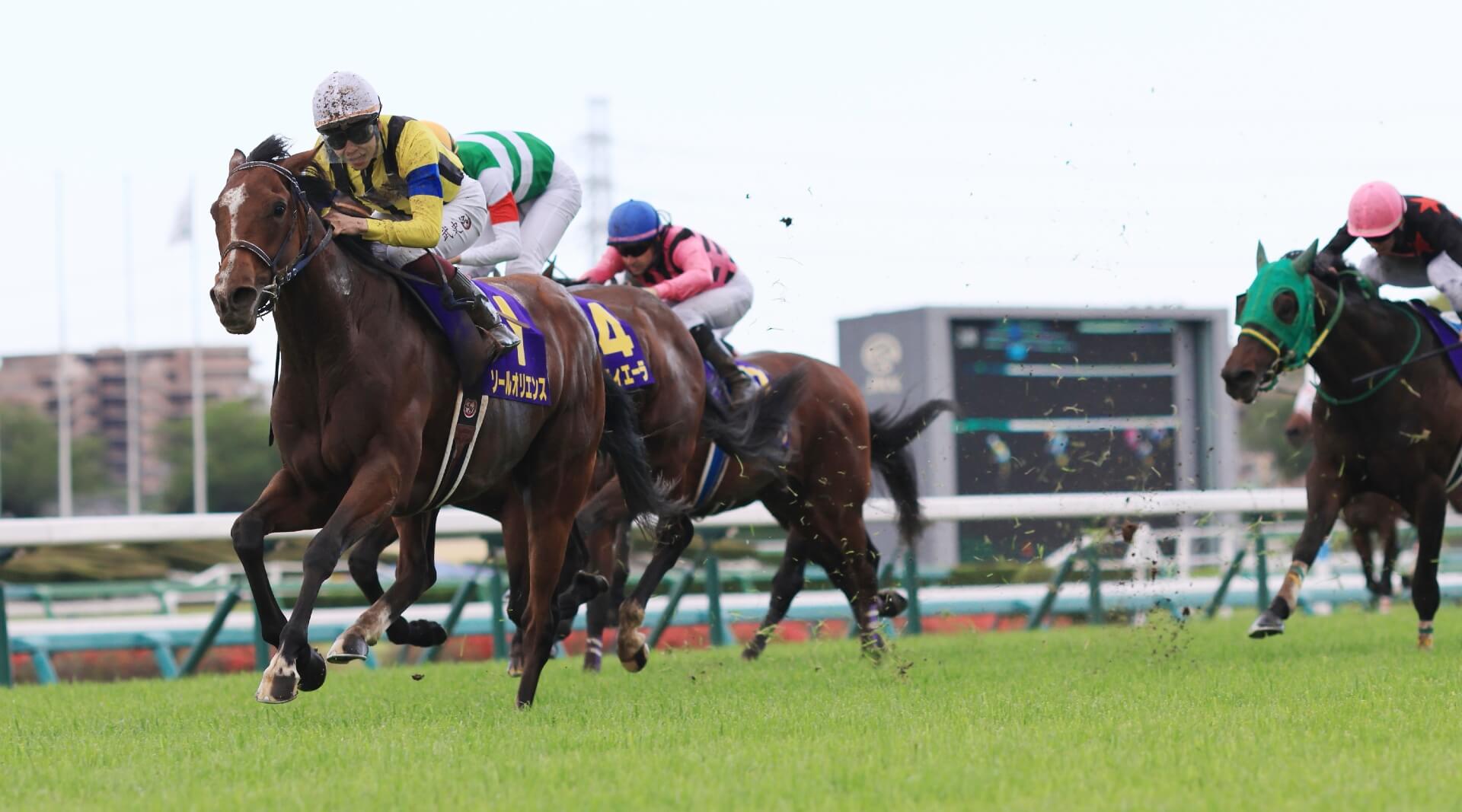 Sol Oriens was a devastating winner of the G1 Satsuki Sho. (Photo by Shuhei Okada)
Sol Oriens will jump a worthy favourite in Sunday's G1 Tokyo Yushun as the standout son of Kitasan Black seeks to emulate freak filly Liberty Island in winning the first two legs of their respective three-year-old Triple Crowns.
Undefeated in three career starts, Sol Oriens retains his place at the top of Asian Racing Report's Tokyo Yushun Rankings – an ongoing series that has tracked Japan's best male staying prospects since the first iteration was released on March 3 – heading into Sunday's 2,400 metre stamina test.
Starting off as the number two seed behind last year's G1 Asahi Hai Futurity Stakes winner Dolce More, Sol Oriens was elevated to top billing following a dazzling swooping win in the colt's Triple Crown first leg G1 Satsuki Sho on April 16 at Nakayama, and has remained entrenched at the top since.
As part of our expert panel's final rankings release, we assess the top four chances set to compete in the world's richest Derby.
1. Sol Oriens ソールオリエンス
Sire: Kitasan Black
Trainer: Takahisa Tezuka
Record: 3 starts: 3 wins
Sol Oriens has an opportunity to cement his legacy at Tokyo on Sunday, which is a somewhat lofty achievement for a horse that will be having just his fourth race start. But victory in the Derby will vault the son of Kitasan Black into rarefied air: only seven colts in history have won both the Satsuki Sho and the Derby while 'unbeaten'.
And unbeaten Sol Oriens is from his three starts, despite still having much to learn about the racing caper. Incredibly green in his first two victories, Sol Oriens still showed some signs of newness when spectacularly rounding them up from the tail in the G1 Satsuki Sho.
Out to 2400m and the spacious surrounds of Tokyo – a left-handed track that should aid in his tendency to roll out when running right-handed – Takahisa Tezuka's colt should have every chance to unleash his monstrous sprint. Very much the one to beat.
Watch the G1 Satsuki Sho: 
2. Phantom Thief ファントムシーフ
Sire: Harbinger
Trainer: Masayuki Nishimura 
Record: 5 starts: 3 wins – 1 placing
Phantom Thief has shaped as a class colt since winning his first two starts as a two-year-old and has been entrenched near the top of the 2023 Tokyo Yushun Rankings since the first release.
Beaten as second-favourite when fifth behind longshot winner Dura Erede in last year's season-ending G1 Hopeful Stakes, the son of Harbinger returned to the winner's list as a three-year-old with a smart on-pace performance in the G2 Kyodo News Hai, defeating Touch Wood, Danon The Tiger and Tastiera.
Strong to the line when third in the G1 Satsuki Sho, Phantom Thief was unable to match the finishing burst of Sol Oriens in the first leg of the colts Triple Crown, despite being slightly favoured in the market. Victory on Sunday would give legendary rider Yutaka Take a seventh victory in Japan's most significant race.
3. Tastiera タスティエーラ
Sire: Satono Crown
Trainer: Noriyuki Hori
Record: 4 starts: 2 wins – 1 placing
While Sol Oriens may be brilliant but unpredictable, the honest and consistent Tastiera might more fall into the category of 'you know what you're going to get'.
From the first crop of Satono Crown, who himself won this race in 2015, Tastiera was a brilliant winner of a Tokyo Newcomer as a two-year-old last November for none other than Ryan Moore. Fourth behind Phantom Thief at his first run of 2023, Tastiera has since produced his best to take out the G2 Deep Impact Kinen (1800m) before running a gallant second behind Sol Oriens in the Satsuki Sho.
The Carrot Farm-owned colt was be far the best of the on-pace brigade in a race dominated by the swoopers, sticking on strongly for Kohei Matsuyama albeit no match for the winner.
— Team Iwata (@JayRAye02) May 24, 2023
His final fast work for new rider Damian Lane was strong (above, inside horse), finishing off his last furlong in 11.1s.
Watch the G2 Deep Impact Kinen:
4. Skilfing スキルヴィング
Sire: Kitasan Black
Trainer: Tetsuya Kimura
Record: 4 starts: 3 wins – 1 placing
One of the 'out-and-out stayers' on the Derby trail, Skilfing has put together three straight wins including the latest two over the Derby course, the 2400 metres at Tokyo. A hefty son of Kitasan Black weighing in at 524kg at all four race starts, Skilfing will have the services of five-time JRA champion jockey Christophe Lemaire in the Derby.
Closed extremely strongly to win the G2 Aoba Sho (Derby Trial) for Lemaire in the quick time of 2.23.9 and the Carrot Farm-owned colt could well be one to challenge Sol Oriens at the business end of the race. 
テレビ東京杯青葉賞 G2
2着までダービー優先出走
1着⑪番スキルヴィング
2着④番ハーツコンチェルト
3着②番ティムール pic.twitter.com/v0tEqS9qfT

— れいぽん (@Being__withYou) April 29, 2023
2023 Tokyo Yushun Final Field and Barrier Draw:
1. Bellagio Opera
2. Skilfing
3. Ho O Biscuit
4. Top Knife
5. Sol Oriens
6. Shona Basshiit
7. Hrimfaxi
8. Metal Speed
9. Gurner Green
10. Shazzan
11. Hearts Concerto
12. Tasteria
13. Season's Reach
14. Phantom Thief
15. Nocking Point
16. Pax Ottomanica
17. Dura Erede
18. Satono Granz
2023 Tokyo Yushun: Final Rankings
1. Sol Oriens
2. Phantom Thief
3. Tastiera
4. Skilfing
5. Metal Speed
6. Shonan Bashitto
7. Shazzan
8. Top Knife
9. Satono Glanz
10. Dura Erede
11. Hrimfaxi
12. Season Rich
13. Bellagio Opera
14. Hearts Concerto
15. Pax Ottomanica
16. Nocking Point
17. Gruner Green
18. Ho O Biscuit
Fan power drives Japan's Racing Club phenomenon