Tiger Roar carries confidence into the Singapore Derby but trainers still seek direction
There are hints of positivity in Singapore racing as Derby day approaches but the Turf Club remains guarded about its long-range strategy.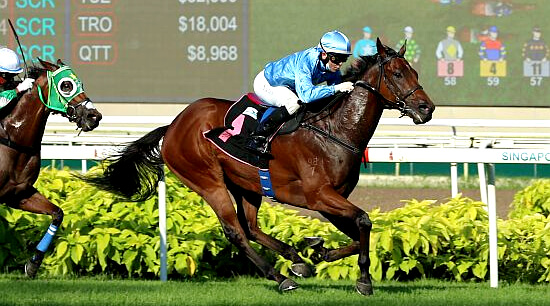 Tiger Roar winning over 1200m at Kranji on June 4. (Photo by Singapore Turf Club)
Michael Clements is confident about the prospects of his stable's Tiger Roar in Sunday's Singapore Derby at Kranji but the Singapore Turf Club's (STC) reticence to reveal its post-Covid recovery plan has left him and his fellow trainers uncertain about how quickly the sport in the Lion City might roar back from the body blows the pandemic dished out.
Tiger Roar will compete for a $400,000 (AU$419,640) purse this weekend, well down on the $1 million (AU$1.49 million) pre-Covid Singapore Derby prize fund in 2019, after the STC faced up to the pandemic's financial effects by cutting back the elite race programme and its purses.
But the Derby remains a prestigious event and Clements is aiming to follow-up his 2020 success when Top Knight landed a Guineas-Derby double. Tiger Roar, a son of Wandjina, has had only two starts this term but the latest brought an eye-catching third in the Group Two Stewards' Cup.
"I'm pretty confident that he's the horse to beat in the race," Clements said. "If you look back to the last run, he was the only horse making ground and he made considerable ground."
Tiger Roar will meet again the first and second from the Stewards' Cup, Relentless and Lim's Kosciuszko. Clements' charge closed readily from a deep position, having hit a flat spot on the turn.
"It was a mile last time and stepping up to the 1800 metres is a positive: the trip is a question mark for his two main rivals whereas I think it won't be a problem for Tiger Roar," Clements continued.
"We're on the long course this time as well, it's an extra couple of hundred metres run-in, which will suit him; he does take a bit of time to wind up and get going. Last time we were on the short course over a mile."
Clements was left to make the best of a situation after Tiger Roar had surgery for a knee injury late last year. The four-year-old went nine months between races before he returned in June to win a 1200-metre Class 3; his Stewards' Cup effort came three weeks later under his Derby rider Bernardo Pinheiro.
"He definitely hasn't had the ideal preparation," Clements said. "We really took our time with him getting him back into training and racing again. I'd have liked to have got a bit more legs into him with a couple more races but I'm happy with how he's going."
Shinn set for Singapore stint on way back for Melbourne spring
Seeking direction
As Clements has given Tiger Roar the time necessary to recover from his setback, so the STC appears to be proceeding carefully in its approach to racing's health; but whereas the trainer had a known goal of getting his horse to the Derby, there is little known publicly about what the STC's long-term strategy for the sport might be.
In April, Singapore's trainers met with STC management in the hope that they would be shown some clear direction. That meeting came about after the trainers – Clements is head of the trainers' association in Singapore – sent a letter to management requesting clarity on what their future might look like.
"We understand racing will go on, there's no doubt about that, we're almost guaranteed that, it's not that racing is in jeopardy of stopping," said Clements.
"It's just what sort of model of racing or adjusted model of racing will we have compared to what was happening previously? That is what we're all waiting to try and get a handle on so we can then start to be able to work around it."
After Covid hit Singapore in early 2020, the government enacted a series of measures, notably a circuit-breaker lockdown between April and June. Racing shut down before restarting in July of that year but racegoers were locked out for more than two years, until the end of April of this year.