The 'Colt from the Coalfields' who remains a cult hero in his home town
Luskin Star is considered an all-time great but was sent out at generous odds when he completed his dominant two-year-old Triple Crown sequence of wins and it seemed like everybody in his home town of Newcastle took advantage.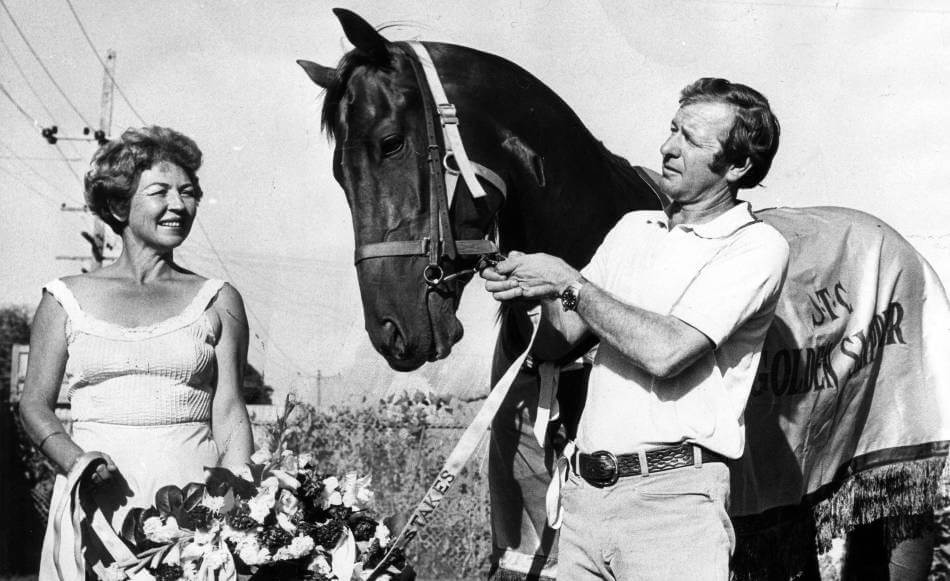 Max Lees and Luskin Star with the colt's owner Mrs Balcomb. (Photo: Supplied)
There are few better people to tell the tale of Luskin Star and how the horse bought a town–wide windfall than Group 1-winning jockey turned media man, racetrack 'clocker' and raconteur Alan 'Jock' Gollogly.
Gollogly had a decorated and colorful career in the saddle that included a win in the 1972 Doomben 10,000, a stint in Hong Kong and even a Port Moresby Cup on his way to a jockeys' premiership in his adopted hometown of Newcastle.
It was there in what was a booming steel town by the sea that Gollogly got to gallop the best horse he was ever associated with and a colt many argue is the greatest two-year-old of all-time.
"I've never driven a Formula 1 car but I reckon I know what it feels like having ridden Luskin Star," Gollogly told Asian Racing Report this week.
Passed-in at the sales, from unfashionable breeding and with a turned-out 'pigeon foot', Luskin Star was purchased out of the paddock on a lower Hunter Valley farm by Newcastle trainer Max Lees.
Regular jockey John Wade didn't let Luskin Star too far out of his sights but when unavailable Lees would turn to a trusted set of hands in Gollogly.
Gollogly, who is now times horses in trackwork for Lees' son Kris at the same track, was first legged aboard Luskin Star for a barrier trial after he won the second division of the 1976 Breeders' Plate by 12 lengths on debut.
"They would have barrier trials on a Sunday at Newcastle to raise money for the local Mater Hospital and there would be thousands of people there," Gollogly said. "John Wade was away so I was on board and I was trying to give him an easy time. I was strangling him the whole way, just holding him the best I could but he still won by at least ten lengths.
"I had ridden some pretty good horses – I had ridden the 1970 Slipper winner Baguette in work – but this was another level, I just said to Max "you have got a machine here" … he kept getting better too, he was phenomenal."
Maybe it was because Luskin Star was prepared at a provincial track by a then relatively unknown trainer and ridden by a low-profile jockey, but he was seriously underrated by betting markets throughout that two-year-old season. Word had obviously spread about the speedy chestnut in Newcastle though and the 'Colt from the Coalfields' was soon a cult hero.
Those thousands at the Sunday trials and plenty more Novocastrians backed Luskin Star next start when he jumped even money equal favorite in the Silver Slipper Stakes and cruised to an easy three- length win.
"You could always get a bet on him," Gollogly said. "Of course I was a jockey at the time so I couldn't bet but it is fair to say I got something out of him. Let's just say that my mother Joyce had a lot of big bets during that era."