The 1984 Missile Stakes: Bogged barriers and a 'flagless' flag start
Jockey Peter Miers re-tells the story of his win on Plus Vite in the infamous 'flag start' Missile Stakes of 1984.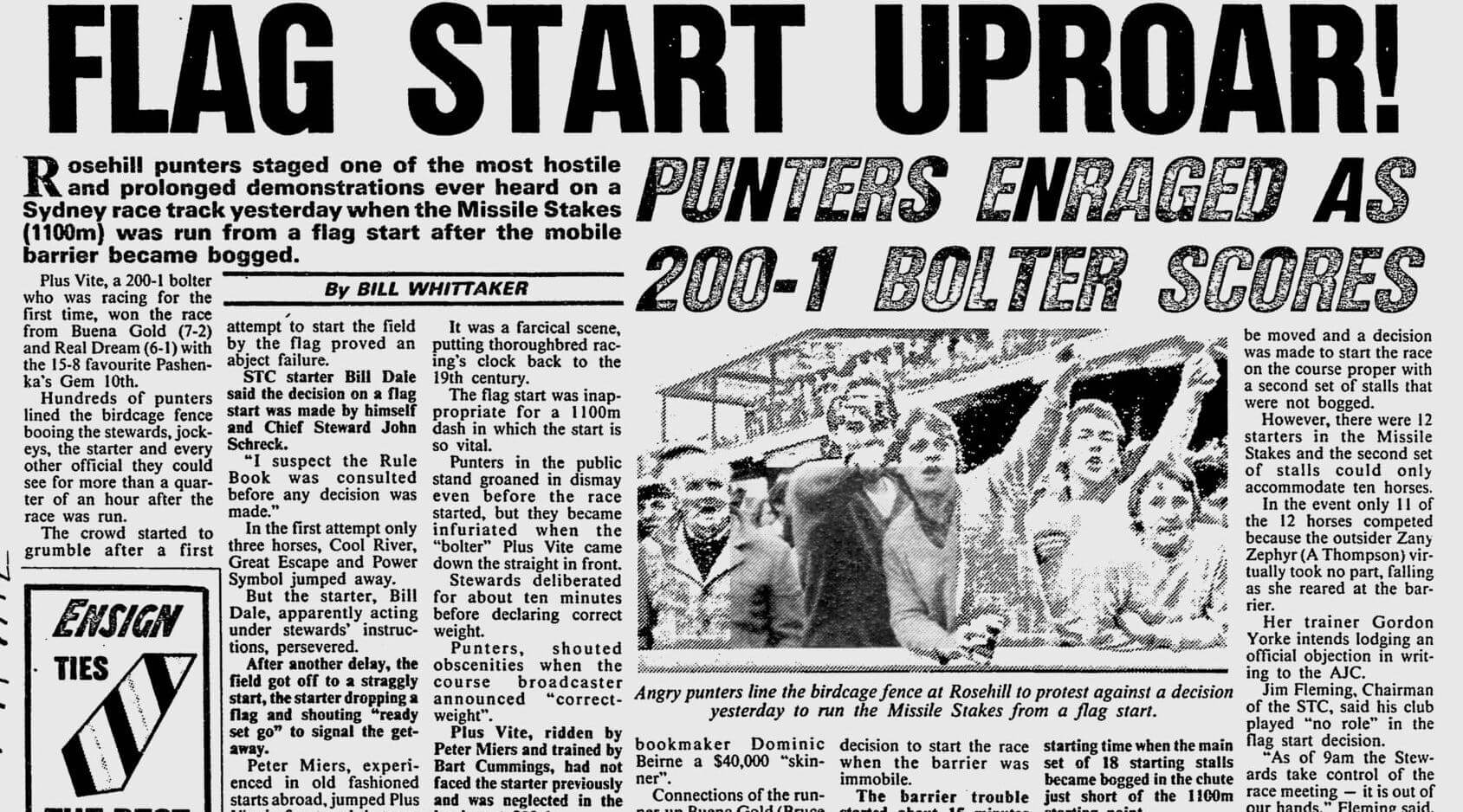 The Missile Stakes made bold headlines back in 1984. (Photo by Sun Herald sourced via Google Newspapers)
Peter Miers didn't expect to win the 1984 Missile Stakes on Plus Vite let alone it be the race that he would be asked about nearly four decades later. 
As Miers approached the start on his 200-1 first-starter, after a heavy downpour at Rosehill, it was clear that this would be no ordinary Group 3 race.  
"Well, first of all when we got around to the start, the barriers were bogged," Miers told The Report. "It was bogged down to the axles. Not only that, it was stuck halfway across the chute."
It was bogged down to the axles. Not only that, it was stuck halfway across the chute.
Rosehill's 1200m chute out of play, the race would be moved to the course proper, but with the barriers bogged, how to start the race?
An old-style flag start was suggested by Miers. But first, the starter Billy Dale had an idea to help get the field away fairly. 
"That is when I started to think the starter had never done a flag start before," Miers said. "He wanted each barrier attendant to walk up to the start with a horse on each hand, and then he was going to drop the flag and we were going to go off, and I said, 'you can't do that, we will kill some of these blokes. When the horses jump they will be like spinning tops, when you say go they will get squashed.' 
"They tried it anyway but it just didn't work, the horses were going sideways, blokes were falling over everywhere, it was a mess."
Miers, with experience riding from flag starts in the north of England, deployed  his well-honed organisational skills and stepped in with some helpful suggestions.