Preliminary challenge for Ireland's Magical Lagoon in Japan
Jessica Harrington's filly misbehaved before the Yorkshire Oaks in August but the trainer hopes that was just a rare off-day as she heads into a tough encounter this weekend in Japan.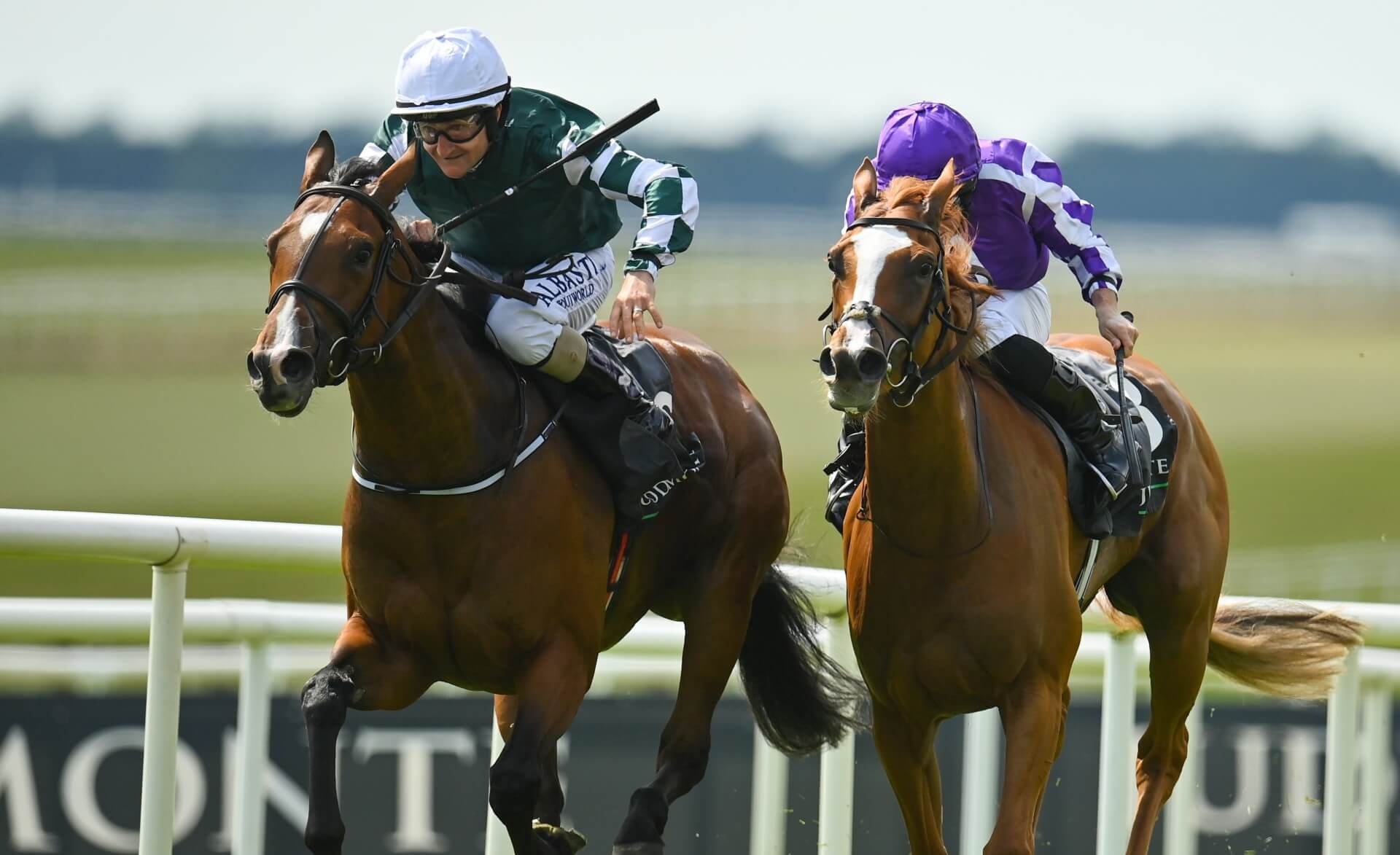 Magical Lagoon, with Shane Foley up, on her way to winning the Juddmonte Irish Oaks. (Photo By Seb Daly/Sportsfile via Getty Images)
Magical Lagoon has the option of the G1 Japan Cup later this month but first of all the classic-winning filly must negotiate a difficult test at Hanshin this Sunday when she takes on some of Japan's best fillies and mares in the G1 Queen Elizabeth II Cup.
A strong line-up featuring top contenders Stunning Rose, Daring Tact, Geraldina, Namur and last year's winner Akai Ito awaits, but Magical Lagoon must also face the challenge of the JRA's pre-race programme: the long period walking around the paddock surrounded by terraces packed with hushed but intense fans, then the extended time at the start, milling around, waiting for the starter to rise up in his 'cherry picker'.
If Magical Lagoon repeats the antics from the last time she went to the races, that might be problematic: the Jessica Harrington-trained three-year-old was one of the first into the pre-parade ring before the G1 Yorkshire Oaks in mid-August and she fly-kicked her way around in a display of agitated displeasure, so much so that the staff leading her opted after a while to cut across the loop midway rather than walk her the whole way around the circuit each time.
"She got very antsy in the pre-parade ring but that's not like her," Harrington told Asian Racing Report. "I don't know whether it was just coming over from the stables on the far side (of the racecourse that upset her), I actually don't know – one of those days."
エリザベス女王杯に出走予定の🇮🇪マジカルラグーンが検疫を終え阪神競馬場に到着しました🐴

MAGICAL LAGOON has arrived at Hanshin Racecourse.#エリザベス女王杯@Jessica_Racing pic.twitter.com/oQfjzKEw2s

— JRA World Racing (@JRA_WorldRacing) November 4, 2022
But, given that display, which included her racing plates striking the rail to the 'oooh' of the gathered watchers and resulted in her fading to an easily-beaten fifth in the race itself, Magical Lagoon will wear a calming aid this time.
"She will be wearing a red hood in preliminaries in Japan," Harrington continued. I think she'll be fine, she coped with Royal Ascot and that's as buzzy as you'll get over here."
Magical Lagoon improved to an impressive peak in high summer, winning the G2 Ribblesdale Stakes at Royal Ascot and the G1 Irish Oaks at the Curragh, both at a mile and a half. Her fifth in the Yorkshire Oaks, although a disappointment visually, is proving to be strong form. The winner, the Japan Cup-bound Alpinista, went on to win the G1 Prix de l'Arc de Triomphe and the runner-up, Tuesday, bagged the G1 Breeders' Cup Filly And Mare Turf last weekend.
"She might have been growing a bit around the time of the Yorkshire Oaks," Harrington noted. "She's a bigger filly now than she was at York, so she might have been having a mid-season spurt and she's had plenty of time (since then). Things just didn't quite work out that day but, you know, she still got put up a pound for running where she did and the form has been amazing."
Not since 2011 when the brilliant British-based mare Snow Fairy won the 2200-metre contest at Kyoto for a second time has a European raider taken on the Japanese distaff ranks in their late-season feature, and Harrington is open to extending her filly's stay through the end of the month.
"If she ran well this weekend, we could easily go on to the Japan Cup because, all being well, she will stay in training next year and she wouldn't run until about June here because I don't think there's any race for her earlier in the season, so she'd have a big break," she said.
The Yuesheng Zhang-owned half-sister to the German champion Novellist – now standing as a stallion at Lex Stud in Japan – has pleased Harrington's travelling staff. The filly touched down in Japan on October 29, accompanied by Harrington's daughter and assistant Kate Harrington, as well as Lauryn Faulkner and work rider Zara Nelson. She arrived at Hanshin racecourse on November 4.
"She travelled over very well, she was in quarantine and didn't do anything wrong," the trainer reported. "She did her stalls test (on Monday) and then a tiny hack on the grass (today). Shane (Foley) is on his way out there and he'll give her a breeze on Thursday. She's put back on the weight she took off during the journey so we're quite happy with her."
Japan usually provides firm going and that was a prime consideration when connections looked at the autumn options for Magical Lagoon.
"We decided to go to Japan with her because she likes quick ground and when we saw that the Arc weekend looked like being very soft, she doesn't like it, and we just thought this was a good option. It's a right-handed track and she loves going right-handed," Harrington revealed.
The filly vied for the lead at York and tracked the leader in second on her way to winning the Irish Oaks but Harrington is conscious of the hot pace that often eventuates in Japan's top races and believes Magical Lagoon has shown that she has enough versatility to handle it.
"Shane will just find a position," she said. "He just sat in behind them when she won at Ascot too."
Japan is still an option for Arc heroine Alpinista