Pinarello stays in black and gold as Hong Kong offers are rebuffed
Pinarello will not be following the same path to Hong Kong as previous winners of the Queensland Derby after Cambridge Stud rejected multiple offers, determined he will fly the flag in its black and gold colours in Australia's best races.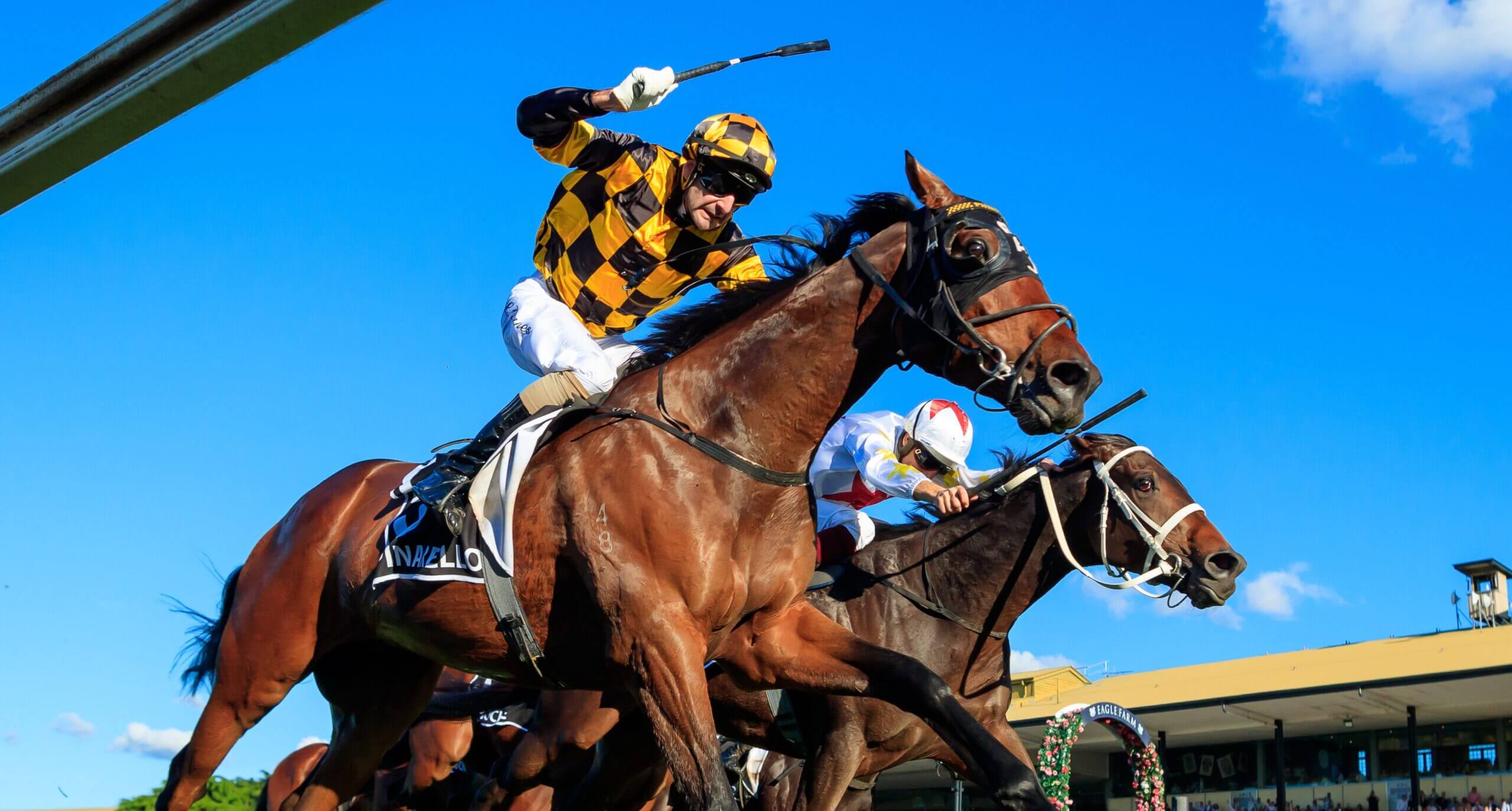 Pinarello (NZ), ridden by Leith Innes, winning the Queensland Derby. (Photo by Grant Courtney)
That Cambridge Stud CEO Henry Plumptre's phone was kept busy by potential suitors after Pinarello's hard-fought victory at Eagle Farm on Saturday should be no surprise. Three of the previous five winners of the Queensland Derby have headed to Hong Kong in the aftermath, as well as a host of others who have contested the race in recent years.
Plumptre, who represents Cambridge Stud owners Brendan and Jo Lindsay in their bloodstock dealings, has received two significant offers for Pinarello, both well into the seven-figure range but said the 'not for sale' sign was firmly up.
"It's a pretty short conversation," Plumptre said of the offers. "We have got plenty of that family, with (half-sisters) Vernazza and Bavella as well. They are a bit like the Royal Family at Cambridge and you don't sell members of the Royal Family.
"He's a bit like Probabeel, they are absolute sacred cows. He's a Group One homebred horse and he'll never be sold. I don't think we will sell anything out of (his dam) Zonza."
When it comes to their best horses on the track, there are more important strategies at play than securing short-term commercial gain for the Lindsays, who took over ownership of the legendary New Zealand stud in 2018.
"One of the most important things about the rebuild on Cambridge under a different ownership has been the gold and black colours going around Australian racetracks and being successful. That is what it is all about in terms of rebuilding that brand," Plumptre said.
"These horses are such fragile creatures that if you get one that is good enough to be a Melbourne Cup horse or a Cox Plate horse, you want to keep them. Those are aspirational races for Brendan and Jo and the stud.
"It improves families, it gets these colours out there on a big raceday and it keeps everybody engaged on the farm as well."