OPINION | It's time to pension the Tony Cruz Award
Tony Cruz is a living legend in Hong Kong but the award that carries his name does not do justice to the jockeys for whom it was created.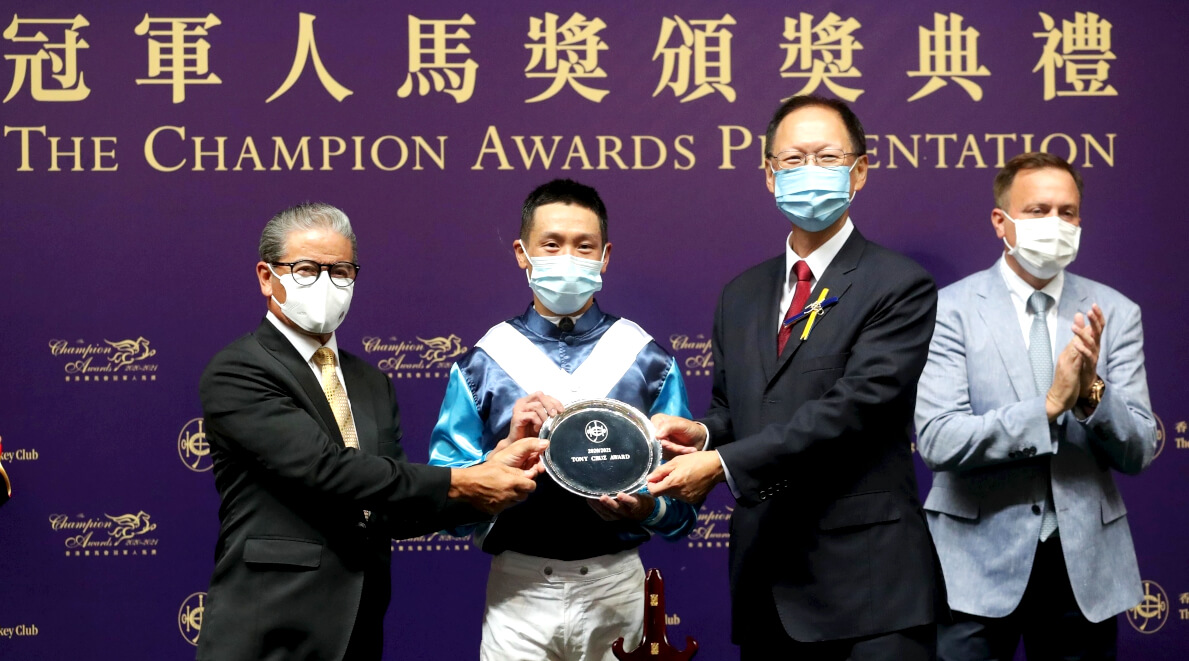 Tony Cruz (L) and HKJC Chairman Philip Chen present jockey Vincent Ho with the Tony Cruz Award for the 2020/21 season. (Photo by HKJC)
Hong Kong's season ends this weekend after 10 and a half intense months but before the participants can jump on a plane for a long overdue getaway, there is the flaunty matter of the Hong Kong Jockey Club's (HKJC) end of year Champion Awards.
The handing out of those 13 accolades is a big deal in Hong Kong: the prestigious Horse of the Year statuette is given at a glitzy function for owners, jockeys, trainers and dignitaries, and has gone to most of the city's greatest thoroughbreds down the years including Golden Sixty, who appears to be in a head-to-head this time with the Hong Kong Derby hero Romantic Warrior.
Rewarding excellence is the widely-promoted premise and the top awards tend to achieve their goal: but alongside each divisional champion – miler, stayer etc. – and the mightily important business of champion trainer and champion jockey, is the rather incongruous Tony Cruz Award.
That is not to say Tony Cruz is out of place in having his name attached to an award: the great jockey and outstanding trainer's name fits well with any pursuit of excellence. The problem, rather, is with the award's root concept.
The Tony Cruz Award is given to the season's leading 'local rider' – which is code for Hong Kong raised and educated through the apprentice jockeys' school – and such exclusivity makes it very much a secondary concern to the champion jockey award. That being so, the question is begging to be asked: Why is it given at all?