Keiba Diary: Take brothers in Classic quest, few clues besides
Adrian Webber brings us this week's latest from the JRA including some inconclusive Classic trials and news of Group 1 stars Do Deuce and Pixie Knight.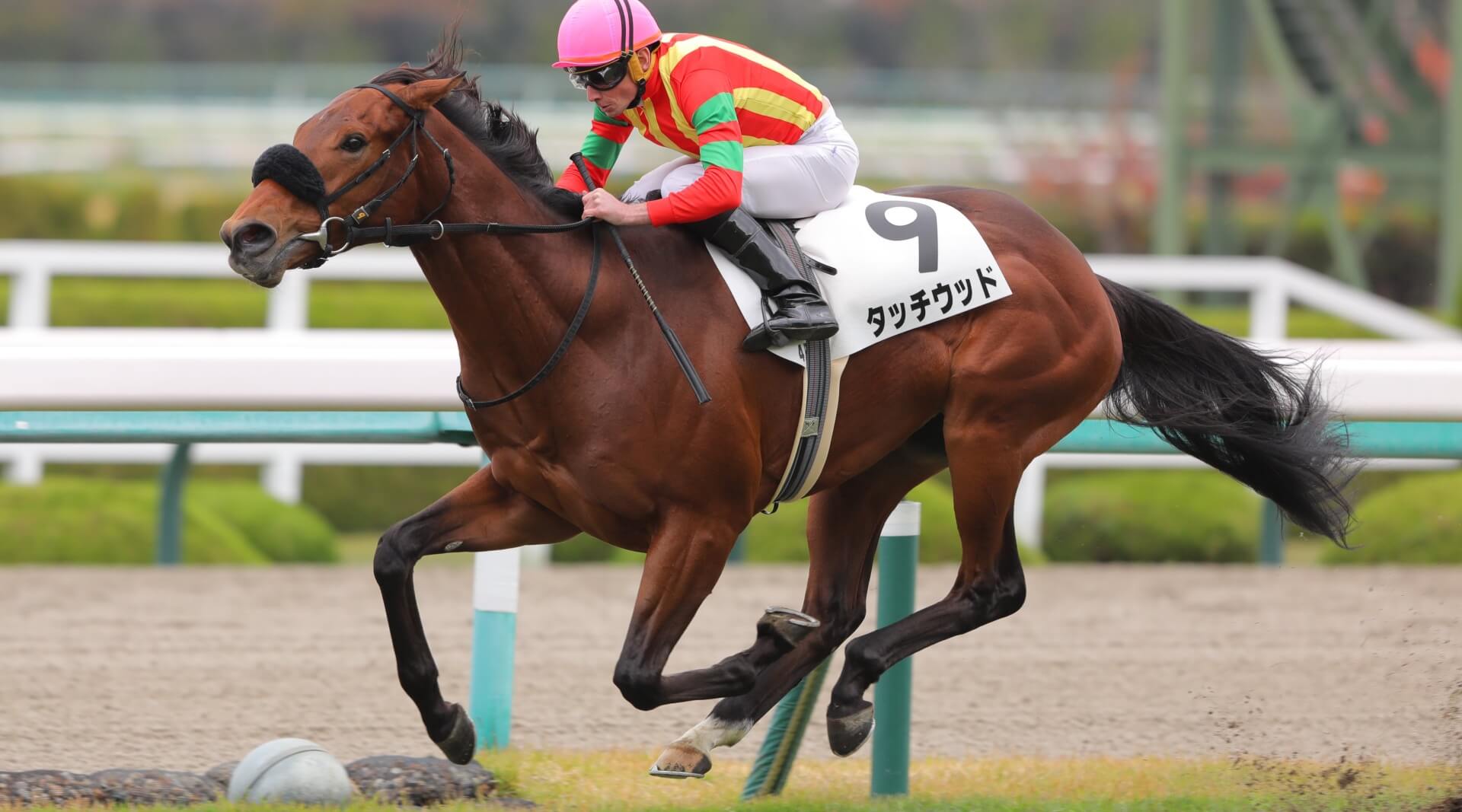 Satsuki Sho-bound Touch Wood was an impressive debut winner for Ryan Moore. (Photo by @s1nihs)
Japan's greatest jockey, the living legend Yutaka Take, and his brother, the trainer Koshiro Take, are set to team up for this year's first two Classics. Koshiro has booked his brother to ride Light Quantum and Touch Wood in the G1 Oka Sho (1,000 Guineas) and G1 Satsuki Sho (2,000 Guineas) respectively. The siblings combined last year in the first big race for fillies when Water Navillera was a game second to Stars on Earth.
The classics are creeping closer but we didn't really see any standout pointers last weekend in the trial races. Mozu Meimei, a daughter of Real Impact, was given a good front-running ride by Yutaka Take (will he change his mind for the big one?) to score in the G2 Tulip Sho over 1600 meters at Hanshin, a race that included just a couple of fillies in the line-up from last year's G1 Hanshin Juvenile Fillies failing to make an impression.
チューリップ賞GⅡ
1着⑨モズメイメイ
2着⑬コナコースト
3着⑰ペリファーニア pic.twitter.com/ONzhLy7GXg

— れいぽん (@Being__withYou) March 4, 2023
But it was hardly enough to worry the connections of the exciting favourite for the fillies' Classics, Liberty Island, who goes directly to the big race in April. 
This coming weekend sees another trial race for fillies, the G2 Fillies' Revue, for which 28 have been nominated, and there's always the hope that something will leap out and impress as a potential Oka Sho winner.
In the colts' department, Tastiera put in a workmanlike performance to claim the G2 Yayoi Sho at Nakayama on Sunday, though, to be fair, he still looked a little immature and jockey Kohei Matsuyama thought it was a good run. 
"He needs to be kept up to the task, but he knows what to do and responded well enough to win in the end," said the rider after the race. 
Tastiera is by Satono Crown who won the G2 Yayoi Sho in 2015 before going on to finish third in the Derby the same year. This time around, G1 Hopeful Stakes second Top Knife was not disgraced in finishing second again. The well-regarded Grande Venus missed the race with a slight setback and Meiner Laulea remains sidelined with a stone bruise, so it's still up for debate whether any of the above horses can claim this year's first colts' Classic in the third week of April.
First-up pressures
It was debut time for a number of new JRA jockeys last weekend, and it was 17-year-old Miku Kobayashi who so nearly made it a win on her first day riding when she finished third on Clean Dream in the final race at Nakayama on Saturday. Beaten by just a neck and a nose, the youngster from Niigata could feel good about her first rides. 
"I was half excited and half anxious, and felt some pressure from staff at the stables and from my family too, so I wanted to try my best," she said of her start in racing.
What the Deuce?!
With Dubai looming, last year's Derby winner Do Deuce was out on the training track on March 2 and impressed both trainer Yasuo Tomomichi and rider Yutaka Take with the manner of his work. 
"I was surprised by how fast he went, but he didn't go too fast," Take said, alluding to the ease with which the colt travelled.
It was probably another modest statement from the legend as Do Deuce (blue cap) managed to post one of the fastest ever recorded final furlong times of 10.6 seconds at his Ritto base.  
— Team Iwata (@JayRAye02) March 2, 2023
The four-year-old's next run in the G1 Dubai Turf will hopefully show just how good he is, and perhaps leave his opponents thinking "we'll always have Paris." After a brief stint in quarantine he'll depart Japan for Dubai on March 14.
Change of face
With plenty of coverage in Asian Racing Report on Yuichi Fukunaga's last days as a jockey, his time of transition to life as a trainer seems to be going smoothly, except for one thing. Yuichi doesn't like the photo that is to be used on his JRA trainer profile. 
"I was quite shocked by it and want to have it retaken," the new handler said of the mugshot. 
Despite that, his final day at Hanshin last weekend saw him don a top hat and ride one of the lead-out horses prior to the feature race. There was also an emotional retirement ceremony attended by his mother and father. Good luck in your new life as a trainer Yuichi and don't worry too much about that photo.
Brave Knight
The 2021 G1 Sprinters Stakes winner Pixie Knight remains on target for the G1 Takamatsunomiya Kinen later this month despite a small setback that has meant no trial race for him. He had a slight lymph problem in his left hindquarters that was causing some discomfort, but the swelling has now gone and he's fine once again.