Keiba Diary: mysteries at home but no surprise as Panthalassa and co move on to Dubai
Deep Impact features heavily in this week's Keiba Diary as his mother celebrates her 32nd birthday, a son is shipped off to stud in Turkey and high-class colt Top Knife makes his season return in Sunday's G2 Yayoi Sho (Deep Impact Kinen).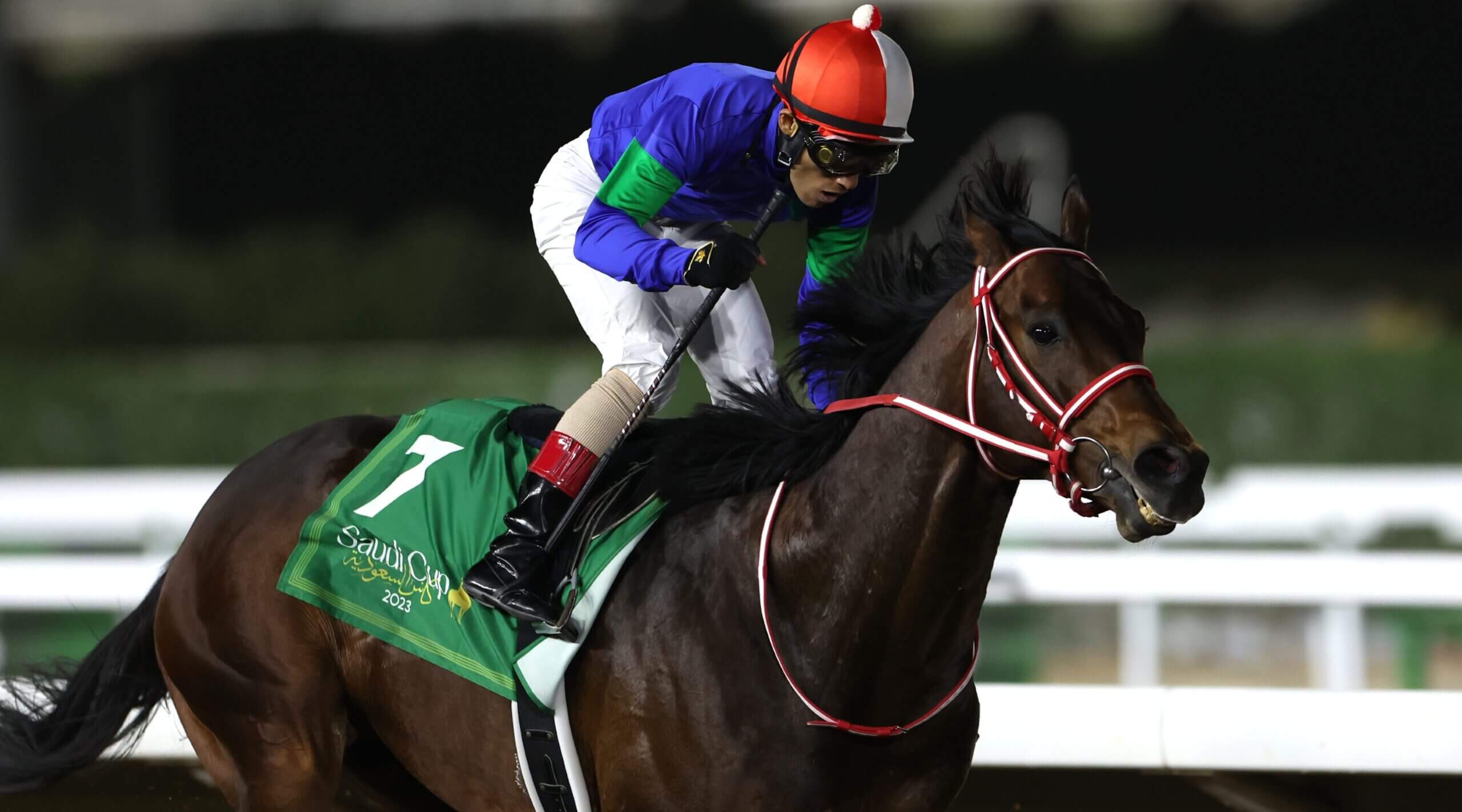 Panthalassa makes all to win the $20 million Saudi Cup. (Photo by Francois Nel/Getty Images)
Aside from 'spy' balloons in the sky, we had a couple of other mysterious occurrences in Japan last week. A spherical object washed up on one of the southern beaches and caused quite a stir, until it was identified as a buoy that had broken loose in the sea; then there was the discovery of ¥10 million ($74,000) in banknotes at a recycling centre in Sapporo – the owner has 90 days to come forward and claim the loot.
There were a couple of racing mysteries as well, as the fancied runners in the weekend's main races didn't quite live up to expectations. In the G2 Nakayama Kinen, So Valiant and Danon the Kid finished well down the field and the latter has been suspended from racing for a month after his (well-known) unruly behaviour at the gate, meaning he will miss Dubai and have to stay home and do his homework. The winner, Hishi Iguazu, gave trainer Noriyuki Hori some compensation for Café Pharoah's defeat when third in the G1 Saudi Cup. 
Then, in the G3 Hankyu Hai, Grenadier Guards failed to fire a shot having raced a little wide throughout the trip and trainer Mitsumasa Nakauchida said he'd see how the horse came out of the race. Aguri, who came home the winner, has now put together four straight wins.
Meanwhile, with Yuga Kawada and Christophe Lemaire away in Saudi, the Yokoyamas made sure to take the spotlight. Takeshi had seven winners over the weekend to go joint top of the jockeys' table alongside Lemaire, while brother Kazuo managed four wins and dad Norihiro also had a double at Hanshin on Sunday.
The highlight of the weekend, however, was undoubtedly Panthalassa's big strike in the G1 Saudi Cup, and now 'Team Yahagi' will discuss with owner Naoki Yoneyama about the next mission in Dubai, and early indications are that he will be aimed at the G1 Dubai World Cup on dirt. Panthalassa is one of at least a dozen horses already in Dubai quarantine stables, along with the likes of Cafe Pharoah, Jun Light Bolt and Crown Pride, as they now look to the big night at Meydan on March 25. 
Cutting edge
This week sees the reappearance of the high-class three-year-old Top Knife, who comes out of the drawer for the first time this year to contest the G2 Yayoi Sho (Deep Impact Kinen), after just missing out on a bob of the head when second in last December's G1 Hopeful Stakes. A couple of absentees are Dolce More, winner of last year's G1 Asahi Hai Futurity Stakes who will begin his 2023 campaign in the G2 New Zealand Trophy in April, and Phantom Thief who will go straight to the G1 Satsuki Sho, also in April. 
Another interesting runner taking on the Deep Impact memorial race is Grande Venus, a half-brother to 2017 Japan Cup winner Cheval Grand. The colt by Kitasan Black will be having his first run of the year and the three-year-old pecking order might become a little clearer after this race.
Birthday girl
While on the subject of the late, great Deep Impact, his dam Wind In Her Hair reached her 32nd birthday on February 20. The Irish-bred Wind In Her Hair only had 13 career races which included her second in the 1994 English Oaks and a win in the G1 Grosser Preis von Bayern, which was achieved while in foal.
本日はウインド母さんこと #ウインドインハーヘア の32歳のお誕生日🎂🎉🎉
G1勝ち馬(海外ですが)としては彼女が最高齢馬になりました。
時より飛び跳ねたり走ったりまだまだお元気✨
今年一年も元気に過ごしてください😊 pic.twitter.com/QBej2eRZly

— すず (@suzuma555) February 20, 2023
She became a broodmare at Northern Farm in 1996 and, as well as Deep Impact, produced Black Tide in 2001. The latter sired JRA 2016 and 2017 Horse of the Year Kitasan Black and the latest star from the bloodline is of course Equinox.
Wind In Her Hair currently enjoys her retirement at Northern Horse Park in Tomakomai in Hokkaido, where she has regular visitors and photo sessions. She has already had a very long and happy retirement and probably feels her achievements in the world of breeding champions of the turf entitle her to that.
Turkey trot
Also in February, Deep Impact's son Satono Ares departed Japan to take up stud duties at the Karacabey Stud Farm in the Bursa region of Turkey. The 2016 G1 Asahi Hai Futurity Stakes winner, and hence Best Two-Year-Old Colt of that year, was retired to stud in Japan in 2020 at the Breeders Stallion Station.
This year will see an expected 18 of his two-year-olds make their debut in Japan. With the constant improvement of the thoroughbred stock in Turkey, the Jockey Club of Turkey concluded a deal with the Japanese breeder to add the stallion to its roster, and after a brief stay of quarantine at the Nabekake Ranch in Tochigi Prefecture, Satono Ares left Japan on February 5 to take up his role at the Karacabey Stud.
The stud farm is also home to memorial tombs for two great Purebred Arabian horses, namely Baba Kurus and Baba Sa'd.