Keiba Diary: Liberty Island lights up the juvenile scene
Adrian Webber talks stakes races, David Egan's Turfy presentation and Arima Kinen weekend looming large.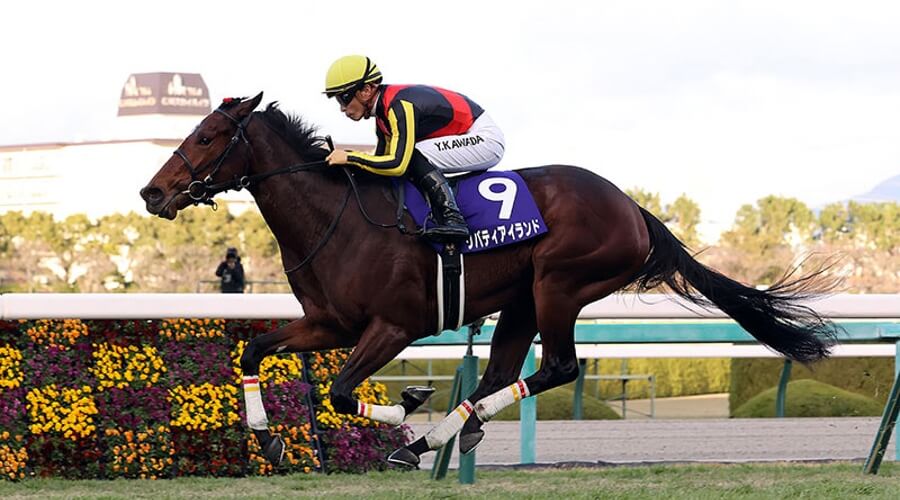 Liberty Island and Yuga Kawada on their way to victory in the G1 Hanshin Juvenile Fillies. (Photo: JRA)
There are plenty of bright Christmas decorations illuminating Japan at this time of year but it was the sparkling performance of Liberty Island that lit up a darkened Hanshin Racecourse late on Sunday.
Liberty Island was dominant in the G1 Hanshin Juvenile Fillies and is now the most-decorated among the two-year-old females in Japan. She can surely claim the best two-year-old filly of 2022 award when the accolades are dished out at the beginning of next year.
Trainer Mitsumasa Nakauchida has scored all five of his Group 1 wins at Hanshin – four of them with two-year-olds – showing just what a knack he has for preparing his runners to excel at the track. Liberty Island was backed into a short-priced favourite locally, so it seemed the word had got out about the filly's powers.
Last weekend was also a good one for the Takashi Saito-trained Killer Ability, with last year's G1 Hopeful Stakes winner finally returning to winning ways when he just got up to win the G3 Chunichi Shimbun Hai, where there could only have been a couple of saddlecloths separating the first seven home. Jockey Taisei Danno had ridden the horse just three times in training and said it was all about finding a good rhythm with him, "It all came right in the race and it was good to get a result," he said.
Now for the boys
Looking ahead to this week: the two-year-old colts now get the chance to show what they're made of, and there are a few interesting ones to look out for in the G1 Asahi Hai Futurity Stakes. If money could talk, the obvious choice would be Danon Touchdown, a half-brother to Danon The Kid (debut win features below). The purchase price for Danon Touchdown was 264 million yen (US$1.95 million) at the 2021 Select Sale, and in this week's race Yuga Kawada teams up with trainer Takayuki Yasuda to try and guide the son of Lord Kanaloa to notch another Group 1 win.
Meanwhile, Nakauchida has the useful-looking Corpus Christi in the race and will rely this time on visiting jockey David Egan. The Englishman got his first ever short-term licence off to a great start with four winners last weekend.
Nakauchida's 44th birthday falls on the day of the race and he no doubt will be hoping to celebrate with a top-level win. But another interesting runner is Frankel's son Labeling, who has just had the one start but won comfortably over a mile at Tokyo in November. Trainer Yuichi Shikato is excited by the colt's prospects: "He has a lot of potential and I'm looking forward to how he runs from now on," he said.
— Team Iwata (@JayRAye02) October 1, 2022
Everyone loves Turfy
Having made only a cameo appearance at this summer's World All-Star Jockeys event, Egan is now back in Japan on serious business.
His short-term licence permits him to ride until December 28.
Egan was impressed by his first visit to the Ritto Training Centre last week, describing it as 'a great environment for racehorses'. It didn't take the 23-year-old very long to ride his first winner in Japan after that and he won by an easy five lengths on Gemology, a filly by Harbinger, in the fifth race at Chukyo on Saturday.
Fellow jockey Danno – Killer Ability's rider – spent last summer in England doing 'warrior training' and at that time got to know Egan, so he was the first to step up and congratulate him on his first win and hand over the obligatory 'Turfy' plushie that is given to a first-time JRA winner.
"I knew I'd get a Turfy when I won my first race, but seriously I'd like to thank the connections for putting me up on this good horse," Egan said after his breakthrough victory.
"It's great to be a part of Japanese racing and you only have to look at the country's wins overseas to appreciate the high level of racing in Japan. I want to continue making good connections here and getting good results at the same time."
Turfy 🇯🇵 x D. Egan🇮🇪 pic.twitter.com/IRRBOOc1rV

— Graham Pavey $8 (@LongBallToNoOne) December 10, 2022
Down to elite sixteen for Arima
The final number of declarations for the Christmas Day showdown is sixteen.
Standing out as a great story is Japan Cup winner Vela Azul (pictured in tweet below). Kohei Matsuyama will take the ride this time, with Ryan Moore back in England and therefore not available for the holiday feature.
Other jockey bookings include Yutaka Take for Aristoteles and Yuichi Fukunaga for Boldog Hos. Japan Cup third Weltreisende will not run again this year and his next race could either be the G2 Nikkei Shinshun Hai or the G2 American Jockey Club Cup in January.
けさのジャパンCホースを。
有馬記念調教ゼッケンは「46」です。#ヴェラアズール#有馬記念 pic.twitter.com/OegsCEL5V6

— 日刊ゲンダイ 競馬 (@gendai_keiba) December 13, 2022
Last run for Oju Chosan
The legendary steeplechaser finally reaches the end of his career when he runs in the J-G1 Nakayama Daishogai on Christmas Eve, the day before the Arima Kinen. There will be a ceremony for him on the same day at 4.30pm at Nakayama and the winner of nine J-G1 races will surely bow out with a lot of respect, illuminations included.
無事の旅立をひたすらに願う… pic.twitter.com/txsxyCdWnc

— 日刊オジュウチョウサン (@oju_love_chosan) December 9, 2022
Liberty Island all class in Juvenile Fillies victory