Keiba Diary: Forget Hong Kong for a minute, the rising stars are out at Hanshin
Adrian Webber shares his observations from Japan with the juvenile fillies' pecking order to be decided this weekend, a Saudi campaign on the agenda, and the latest on the upcoming Arima Kinen.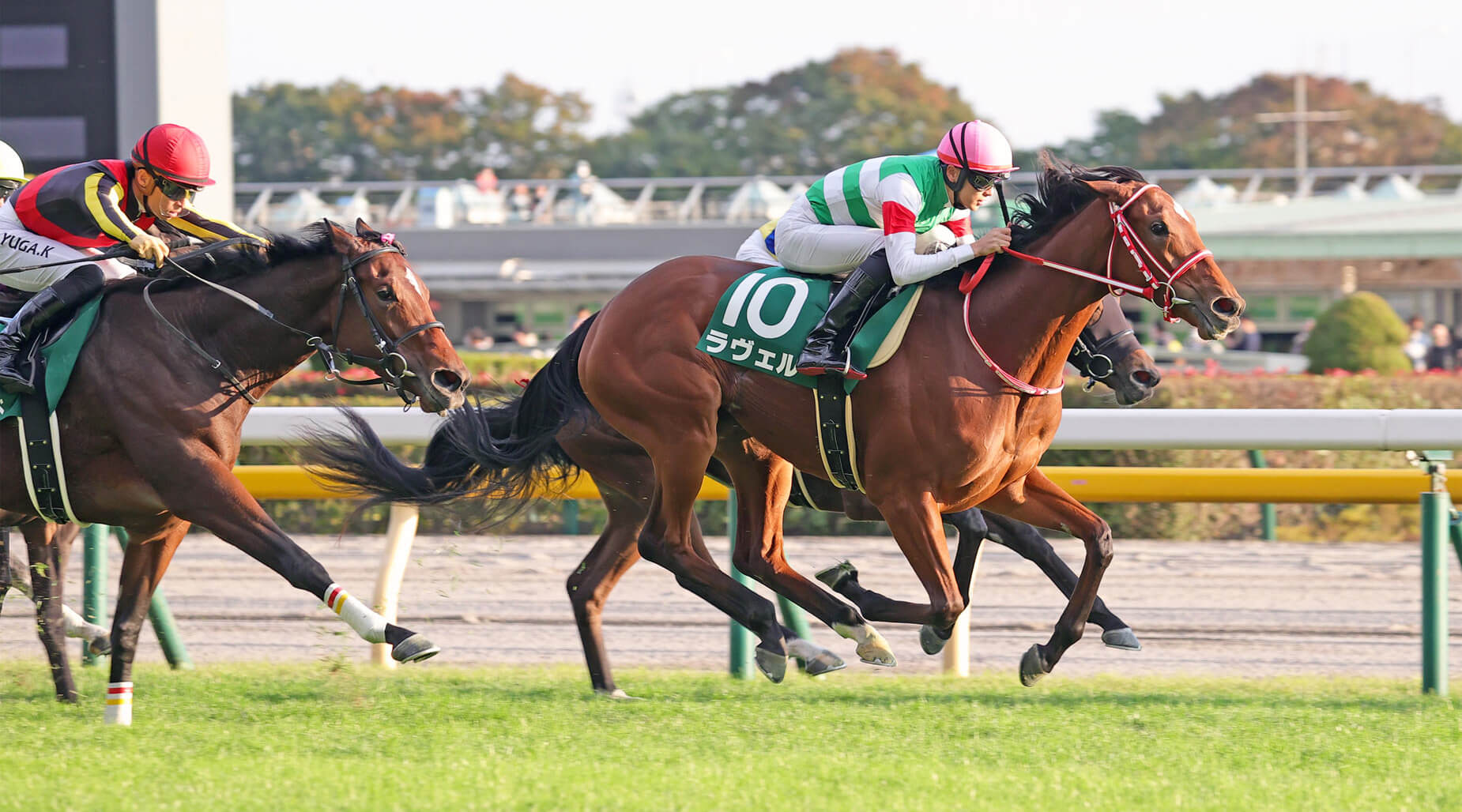 Unbeaten filly Ravel wins the G3 Artemis Stakes at Tokyo. (Photo by JRA)
Hotel rooms the size of broom cupboards were going for a premium in Nagoya last weekend, perhaps due to tourists keen to get a late view of the popular autumnal maple trees changing colour (or maybe there was a K-Pop concert going on). Either way, only 14,130 people made it to Chukyo Racecourse to witness the defeat of T O Keynes in the G1 Champions Cup. 
The odds-on favourite and defending champion once again took a wide berth for most of the trip and it resulted in him falling flat at the end. Jun Light Bolt, in the meantime, was still fully charged in the closing stages and was able to strike at the right time to give 27-year-old rider Yukito Ishikawa his first Group 1 success.
Another highlight of the weekend was Silver Sonic's victory in the G2 Stayers Stakes at Nakayama on Saturday, bringing up trainer Yasutoshi Ikee's 800th JRA win in the process. It seemed fitting that it was achieved by the six-year-old son of Ikee's incredible champion Orfevre, a horse that gave the handler so much success, and a few headaches to go with it. "I couldn't possibly have reached this milestone without all the support from the people involved in the industry, including owners and stable staff," said the son of Yasuo Ikee, trainer of the late Deep Impact.
ステイヤーズステークスGⅡ
1着⑦番シルヴァーソニック
2着⑫番プリュムドール
3着⑨番ディバインフォース pic.twitter.com/o25AGGKSrZ

— れいぽん (@Being__withYou) December 3, 2022
All eyes might be on Hong Kong this coming week, where Ikee will send out Gendarme in the Hong Kong Sprint, but the G1 Hanshin Juvenile Fillies will be the first top-level test for Japan's female two-year-olds. The race might not have the most romantic-sounding name, but a look back at some of the previous winners – Sodashi, Lucky Lilac, Apapane, Buena Vista, Vodka and more – would certainly stir the emotions of those who have fallen in love with some of the former 'juveniles'. 
Sure enough, that man Yoshito Yahagi – top of the trainer standings – enters the unbeaten filly Ravel, a daughter of Kitasan Black, who runs in the Carrot Farm colours. The Mill Farm-owned Kita Wing is another to look out for with her new jockey Ryuji Wada full of praise for the daughter of Danon Ballade. "She's an easy horse to ride and has already won a graded race. There's no problem with her changing leads, so she should run smoothly right-handed this time too," Wada said of his new partner. Umbrail is another unbeaten filly, previously ridden by Christophe Lemaire, but with the Frenchman on duty in Hong Kong, Takeshi Yokoyama steps up to ride the daughter of Lord Kanaloa.
Prince for Saudi again
Dancing Prince continues to dazzle when it comes to sprint races on the dirt and after his recent win in the JBC Sprint, plans are being made once again for him to show his fancy footwork on the overseas stages. The six-year-old won the G3 Riyadh Dirt Sprint last February and he could be waltzing over to Saudi Arabia once more for the same race in 2023, followed by a quick two-step to the G1 Dubai Golden Shaheen at Meydan if everything goes well. 
Trainer Keisuke Miyata said recently of the son of Pas de Trois: "I went to see him at the farm the other week and he looks very well. He'll come back to the stable in January and we'll prepare him for his next task overseas." Dancing Prince boasts 11 wins from 16 races, and let's hope the music doesn't stop for him in 2023.
Arima Kinen vote
Fans have already been marking their ballot papers for the end of year G1 Arima Kinen (Grand Prix) and after the latest round of voting, Titleholder, Efforia and Equinox top the list of candidates in that order and are all expected to run in what's shaping up to be a real Christmas cracker. Efforia returned to his stable at Miho on November 30 from Northern Farm Tenei and trainer Yuichi Shikato noted how the horse had become bigger and now weighed about 540kg.