Keiba Diary: Equinox does things Hanshin style
Adrian Webber shares insights from the Takarazuka Kinen, finds they're keeping it in the family in Kyushu, and brings word of another potential 'white wonder'.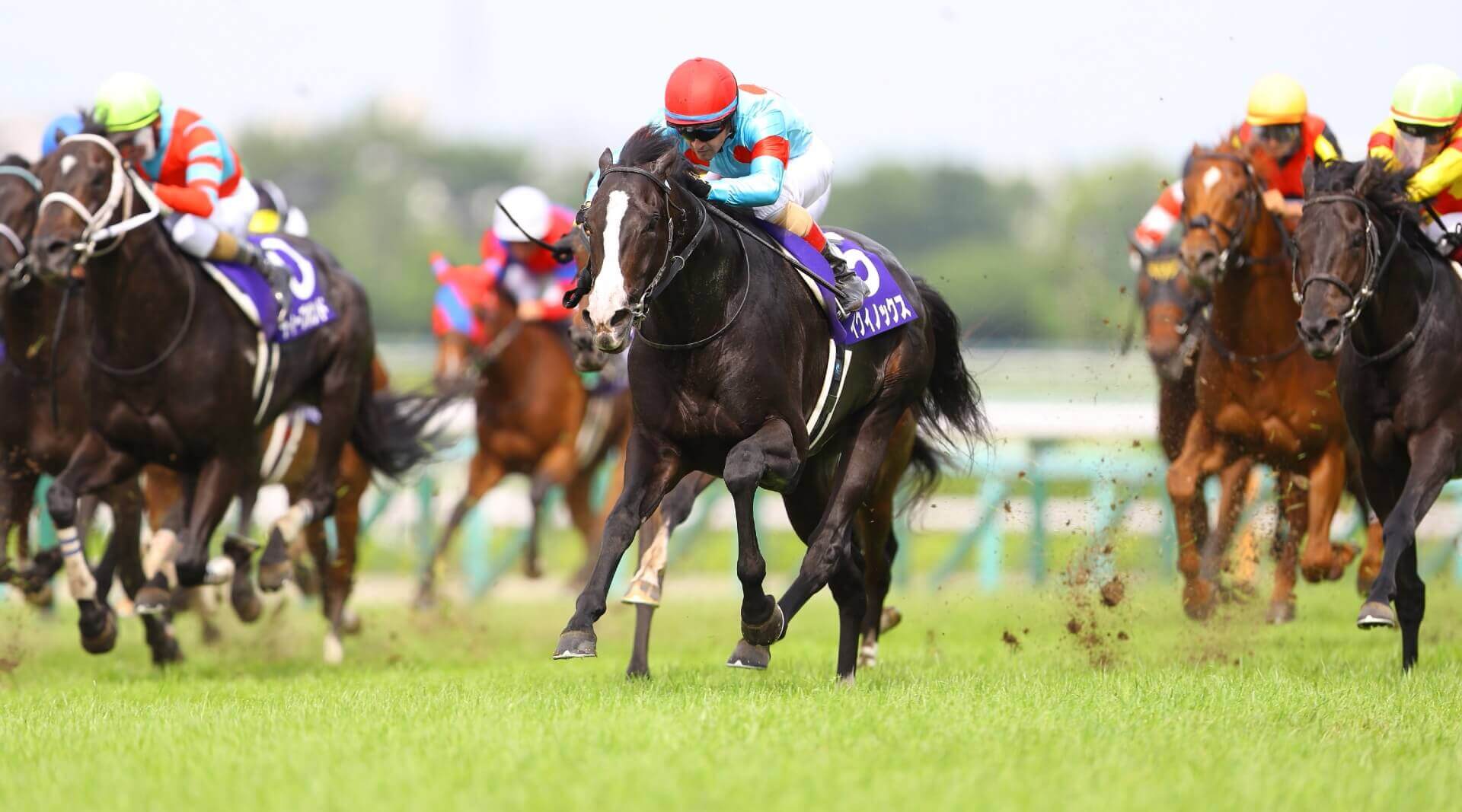 Equinox sweeps home for an extraordinary victory in the G1 Takarazuka Kinen. (Photo by Shuhei Okada)
Hanshin didn't have the top hat and tails vibe of Royal Ascot – that old expression 'there's more beer spilled at Cheltenham than champagne drank at Ascot' came to mind – but racegoers in the Kansai area in western Japan brought their own vibe to last Sunday's G1 Takarazuka Kinen. 
Forget the fancy fashions, the Hanshin faithful did it the way that works for them, and for many, that simply meant donning shirts, football style, in the colours of their favourite horses. Needless to say, a number of them on display were the blue with red spots of the world's top-rated horse Equinox, who didn't disappoint in what was a real humdinger of a race. 
Christophe Lemaire was at his coolest ever on the brilliant four-year-old and explained after the race that because he couldn't get the early position he wanted, he was more than happy to avoid some of the early skirmishes. That meant letting the son of Kitasan Black just slip back through the field, but with his powerful motor purring the whole time.
It seems a common occurrence at Hanshin recently that a fancied horse in a big race finds itself a little undesirably too far back, and that its supporters have to endure some agonising moments before the fates ensure the right outcome. Lemaire masterminded everything to perfection once again though, and knew that he would have all the other horses covered when he engaged overdrive down the home straight, even as the widest of runners.
Equinox. 😤

A swooping win in the G1 Takarazuka Kinen makes it four G1 wins from eight starts for the superstar son of Kitasan Black. #イクイノックス #宝塚記念 pic.twitter.com/hDnYJdS860

— Asian Racing Report (@AsianRacingRep) June 25, 2023
Pity jockey Kenichi Ikezoe on Through Seven Seas who flashed home on the inside to take second and said:"I wanted to win on the daughter of Dream Journey, but we had to take the inside route, which cost us the race." The five-year-old mare holds an entry for this year's Prix de l'Arc de Triomphe, but more news on that is to come.
Putting Kyushu on the map
This year's JG1 Nakayama Grand Jump in April was won by a horse named Irogotoshi, who became the first Kyushu-bred horse to win a JRA Group 1 race. The big island in the south-west of Japan can barely compete with its counterpart in the north, Hokkaido, but this was a great achievement and was recognized before the start of the Kyushu yearling sale in Kagoshima on June 20th when a presentation was made to all the connections of Irogotoshi.