Keiba Diary: Arc washout and Sprinters shock, Japan's autumn season is here
JRA broadcaster Adrian Webber on all things Japan, with a three-day weekend coming up off the back of last weekend's Group 1 action at home and abroad.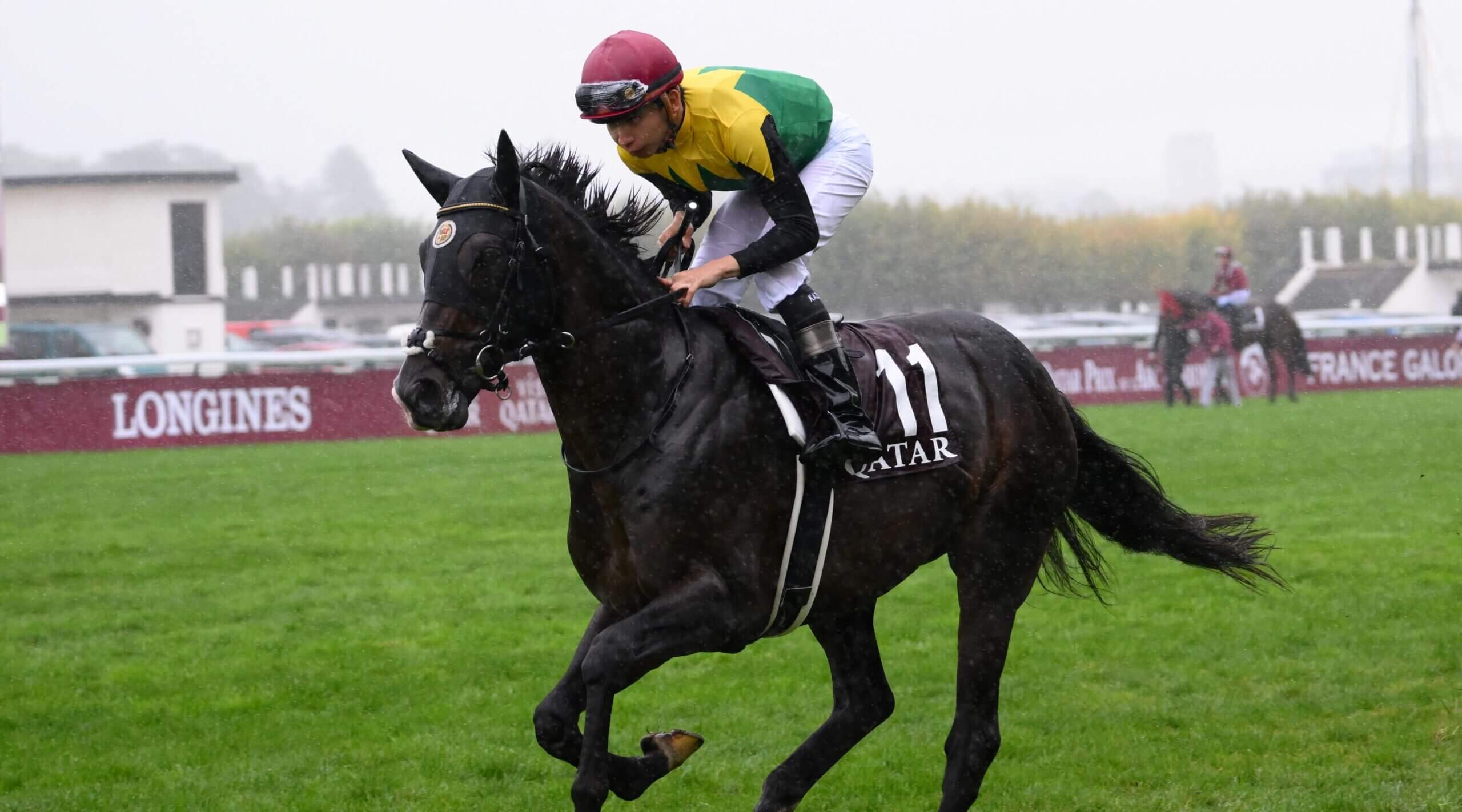 Titleholder failed to handle the wet conditions at Longchamp. (Photo by Anne-Christine Poujoulat/Getty Images)
It is looking like Titleholder will head to the G1 Arima Kinen in December after his brave attempt to make all the running in the Prix de l'Arc de Triomphe in France last Sunday. That approach was always going to be a big ask on the soft Longchamp ground, and the sodden turf meant that Japan's four runners could only manage double digit placings in the twenty-runner field.
Titleholder's bold attempt at least gave Japanese fans some hope until the turn into the home straight but Japan's other big-name contender, Do Deuce, was never a factor and struggled at the rear throughout. Yutaka Take said of this year's G1 Tokyo Yushun winner, "the horse didn't run any kind of race," and that was the simple, blunt truth. But the horse's trainer, Yasuo Tomomichi, had a little more insight to offer. "People often talk about the ground being different, but the European horses always seem so strong over distances of 2000 metres or 2400 metres," he said.
Star mare Alpinista wins the Prix de l'Arc de Triomphe for @Luke_Morris88 #QPAT pic.twitter.com/ueqN1RJl9A

— Asian Racing Report (@AsianRacingRep) October 2, 2022
Meanwhile, on the home front, Nakayama on Sunday staged the first Group 1 race since the summer break, and 22,920 people were in attendance, more than a five-fold increase on last year's Covid-affected figure. 
Mask-wearing is still ongoing in Japan but the face coverings couldn't hide the smiling eyes on-course, from racegoers happy to be back 'live' to the purveyors of yakitori in the basement food stalls. Not, perhaps, if you thought Meikei Yell was going to win the G1 Sprinters Stakes, as the unpredictable filly fluffed her lines once again, and underlined her all-or-nothing nature. The four-year-old has won seven of her 13 starts, but finished unplaced on the other six occasions, including at each of her tries at Group 1 level. 
Her jockey Kenichi Ikezoe was at a loss to explain the defeat. "She seemed her usual self and was running well, but from about 500 metres out, the point at which she usually picks up speed, she seemed to have nothing left. 
"I don't know the reason, possibly the short time between races was a factor," Ikezoe explained of last month's G2 Centaur Stakes heroine, after the race fell to the outsider Gendarme, trained by Yasutoshi Ikee.
Michel's testing time
French rider Mickaëlle Michel is a popular visitor to Japan and she stopped off last week to take the full-time JRA jockey licence exam at Shiroi in Chiba prefecture. Due to the coronavirus situation, she's been unable to make it to Japan these past two years or so but is hoping to join Christophe Lemaire and Mirco Demuro and become only the third foreign jockey to pass the test and earn a full-time JRA licence.