How a second-hand dressing mirror helped Horlicks win the world's second-richest horse race
When the local hero Oguri Cap battled Horlicks up the straight in the 1989 Japan Cup, 140,000 fans responded with a noise so loud jockey Lance O'Sullivan described it as "like a physical assault."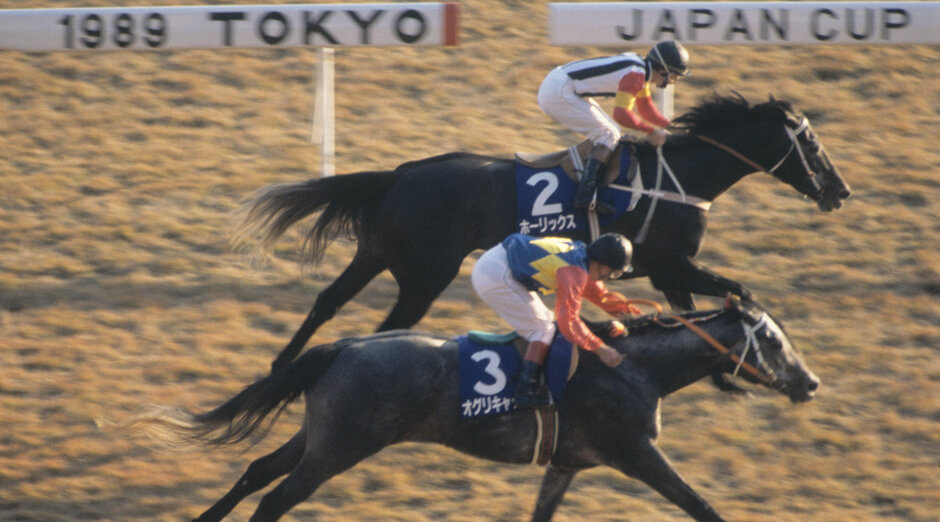 Horlicks holds off the 'Grey Monster' Oguri Cap in the 1989 Japan Cup. (Photo by JRA)
When New Zealand mare Horlicks arrived before the other overseas competitors for the 1989 Japan Cup her handler had an ingenious solution to stop her from fretting due to loneliness. 
A second-hand mirror, smeared with another horse's sweat, turned out to be a key to Horlicks winning the world's second richest race at the time. 
"On the track she was an absolute warrior, and overall she was a straightforward horse, she never had a sore day in her life, but she was going to be on her own there after she arrived," explained Paul O'Sullivan, who was travelling foreman at the time for his father Dave. 
"Where she had been stabled in Melbourne before she travelled, there was a grey horse in the stables next to her that she was buddies with, so I took some sweat and put it all over this old mirror I bought from a second-hand store in Melbourne." 
Once Horlicks arrived, that mirror served as company to break the tedium and ease the anxiety brought on by the unfamiliar surroundings. 
"I tied it to the fence in the paddock she was in, and she could smell the other horse on it," O'Sullivan said. "For the first few days in Tokyo she hardly left that mirror. Then she got a bit more confidence, she would get up and walk around but she would still come back and stand by that mirror."