From Kentucky to Cunnamulla – V J's quest to be king of the Bush
Few horses have covered as many miles on their way to a Group One raceday at Eagle Farm as V J Day, the one-time Kentucky blueblood turned bush hero for St George trainer Pat Webster.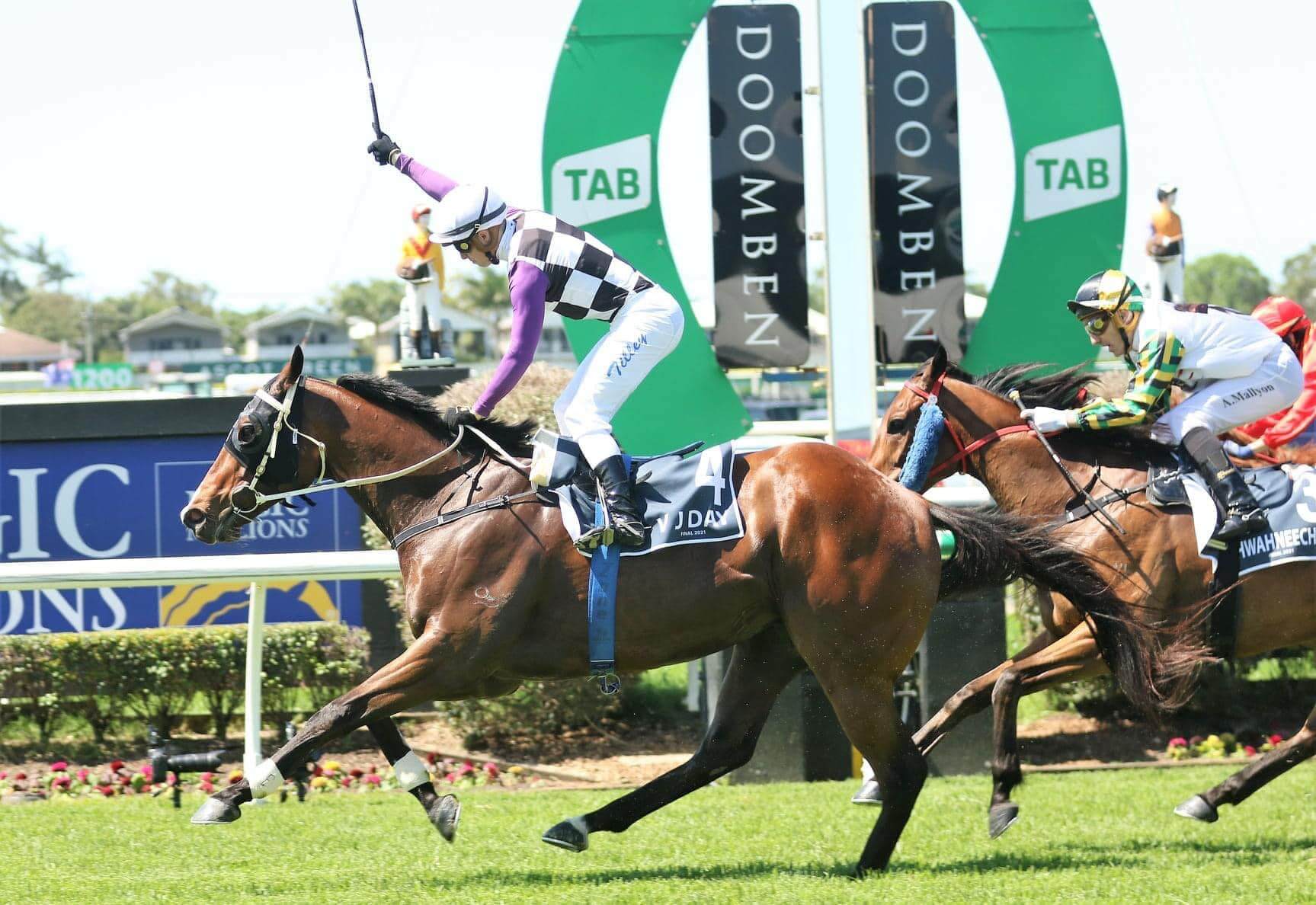 V J Day winning at Doomben (Photo: Pat Webster - Facebook)
Last-start winners from Cloncurry, Chinchilla, Mt Isa, Home Hill, Nanango, Barcaldine, Cunnamulla, Injune, Bowen, Innisfail and Gayndah dot the capacity field for Saturday's Battle Of The Bush at Eagle Farm, with $200,000 on offer for Queensland's outback racing stars.
The concept of offering a championship for bush-trained horses is by no means a new one, but in Queensland, where outback racing has defied the tyranny of distance to prove a heartland for the sports, it resonates particularly well.
The 1000km round trip that Pat Webster – not the Group One  winning-trainer but the part-time horseman, and full-time builder of the same name – will undertake to get from St George to Eagle Farm won't be the longest undertaken by a trainer for the race, but V J Day has claims to be the greatest journeyman in the field.
He also holds the right to be considered the most in-form horse running anywhere in Australia on Saturday, with the American-bred seven-year-old having won 10 of his past 12 starts, a streak going back to his first victory under Webster's care, at Cunnamulla, 12 months ago.
But the extraordinary story of V J Day extends far beyond the 6000 km in float trips to and from the races he has taken in the past year, all the way back to one of the world's premier thoroughbred nurseries.
Foaled at Stonestreet Farm in Kentucky in 2015, he is a son of War Front and multiple Grade One winning mare Sassy Image, giving him one of the richest pedigrees in Saturday's racebook, a program which also features the Group One Tatt's Tiara,  
He headed to Book 1 of the Keeneland September Yearling Sale the following year and, as one of the first lots of over 4000 at the Sale, he was purchased by an emerging Hong Kong-backed outfit with Australian interests named Aquis for US$250,000.