Equinox edges runaway Panthalassa in thrilling Tenno Sho finish
Equinox's late surge proved too much for tearaway leader Panthalassa, with a perfectly timed Christophe Lemaire ride delivering the Tetsuya Kimura trained three-year-old a deserved first Group 1 victory in the Tenno Sho (Autumn).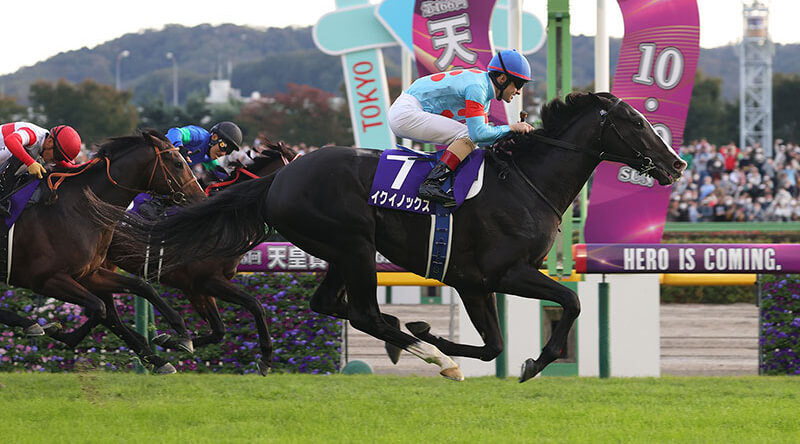 Equinox and Christophe Lemaire arrive just in time to run down a game Panthalassa in the Tenno Sho. (Photo by JRA)
Yutaka Yoshida's brave front-running tactics on Panthalassa almost delivered a Tenno Sho upset, but the well-backed favourite Equinox surged from as much as 20 lengths away at one stage of the race to arrive in time to deliver victory.
Second in both the Satsuki Sho and Tokyo Yushun earlier this year, Equinox was expected to return a winner, but looked far from a sure thing as Panthalassa and Yoshida opened up a huge break rounding the turn.
As many as 15 lengths clear of the chasing pack at one stage, Panthalassa, the winner of the G1 Dubai Turf earlier this year, was still ten lengths in front with 400 metres to go.
It was only 100 metres out that it even looked like Equinox might catch him, but Lemaire never panicked and surged past Panthalassa in the final few strides, winning by one length. Danon Beluga, ridden by Yuga Kawada, also closed off powerfully and finished third, just ahead of Jack D'Or, while Shahryar was fifth.
The solid pace set by Panthalassa – he covered his first 1000 metres in 57.4 seconds – ensured the 2000 metres was covered in a slick time of 1:57.5. the seventh fastest time in the race's history. Equinox powered him in 32.7 seconds for the final 600 metres.
The victory is a breakthrough Group 1 success for the progeny of Kitasan Black, the Japan Cup winning stallion who won this same race five years ago.
It was also the 42nd Group 1 winner in Japan for Lemaire, and his fourth victory in this race in five years. It is a first Tenno Sho (Autumn) win for Kimura, whose Satsuki Sho winner Geoglyph failed to figure in the finish, ending up ninth.
Bred by Northern Farm, Equinox is owned by Silk Racing, who previous won this race in 2019 and 2020 with superstar mare Almond Eye. Equinox has now won three of his five starts, with his other Group win coming in the G2 Nisai Stakes last year.
Tenno Sho Autumn G1 Guide