A Derby day of hope: Take's sixth classic a step on path to Arc redemption
The emotional post-race reaction to Do Deuce's Tokyo Yushun win by the biggest JRA crowd in nearly two-and-a-half years signalled a resumption of regular transmission in more ways than one, writes Michael Cox from Tokyo.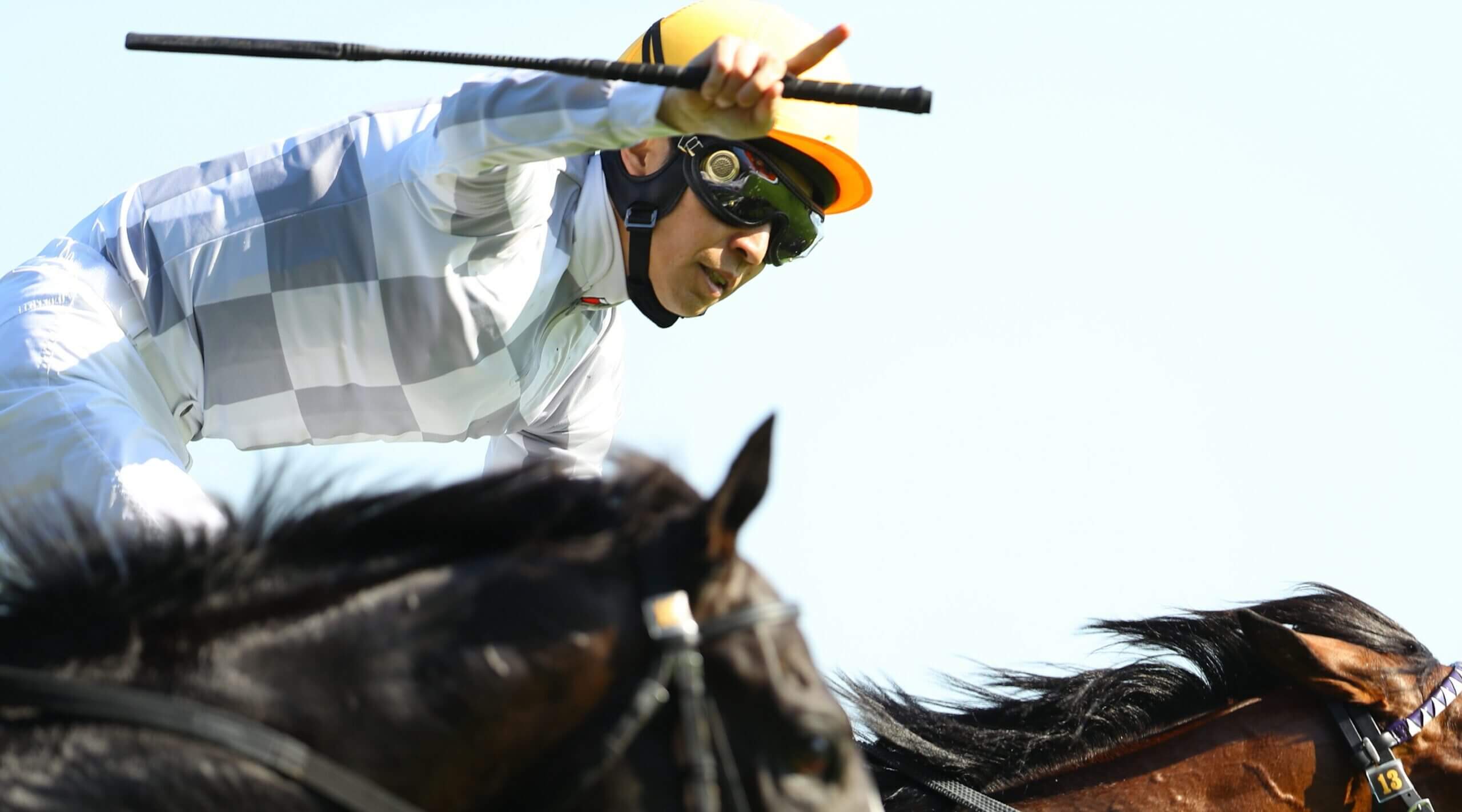 Do Deuce and Yutaka Take win the Tokyo Yushun. (Photo by Shuhei Okada)
There are few things that could signal a return to normality better than Yutaka Take winning a Tokyo Yushun in front of a rollicking crowd at Fuchu. Or provide hope that Japan's painful Prix de l'Arc de Triomphe losing streak could soon be snapped than the stunning performance of Do Deuce. 
Take and Do Deuce's win was like a classic black-and-white film come to life: at once pure racing nostalgia and a glimpse into an exciting future.
Do Deuce's victory gave Take six Derby wins and at least one spring classic in his 20s, 30s, 40s and remarkably – at an evergreen 53 – 50s. Take started building his Derby CV in 1998, a time when Japan's unwanted Arc streak had just hit three.  
This season, The Legend had only ridden 30 winners prior to Derby day. He had three wins from his last 39 rides, including three unplaced efforts early on the card. Yet that just gave the soul-stirring victory even more joy: the messiah had returned, along with the crowds, and in his post-race speech he told the loyal followers he would lead them to the promised land at Longchamp in October.
"The Prix de l'Arc de Triomphe should be a strong option for the owner and will probably be our next target," Take said to an even more rapturous response. 
Sunday's COVID-19 restricted crowd of 60,000 sounded closer to the 140,143 that had chanted his name after Deep Impact won the 2005 Derby by five lengths. The fact the fans needed to enter an online ballot to secure Sunday's tickets bumped it up a few decibels: even the lead horses were getting huge cheers pre-race. And then Do Deuce found gears that other horses can't and sent the masses into delirium.
When Do Deuce let down off a relentless speed and favourite Equinox gave chase –  but couldn't find those same gears – it was less a cheer than it was walls of sound that emanated from the Tokyo Racecourse grandstand.
Perhaps Do Deuce will find Longchamp's mile-and-a-half more testing than Sunday's classic but it won't be through lack of stamina or class. The leader-to-leader 200m splits tell the story of a race that moved with the momentum of a Shinkansen: 12.5 – 10.8 – 11.8 – 12.0 – 11.8 – 11.7 – 12.3 – 12.0 – 11.8 – 11.5 – 11.7 – 12.0. Holding up for a run might have been an advantage, but to pick off runners the way Do Deuce did up the testing Tokyo straight was the sign of a serious talent. 
In October the challenges for Do Deuce will be travel, softer ground, uneven tempo and unfamiliar undulations, all combined with a lack of experience and race craft. But if the ground is relatively good and the tempo true, Do Deuce might find himself feeling right at home. It will be Take carrying the weight of expectations.
Japan's first foray to the Arc was the year Take was born, 1969, when Speed Symboli finished unplaced as a 99-1 outsider. His story has been intertwined with the Arc since. Thirty years later El Condor Pasa produced a performance worthy of winning the race in most years but had the misfortune of bumping into a freak named Montjeu. Earlier in the day Take had won the Prix de l'Abbaye on Agnes World. 
Yet it wasn't until six years later that Japan's tortuous relationship with the Arc had its true origin story, and Take was a central character. Deep Impact and Take were followed by more than 5,000 racing pilgrims to France and it has been estimated that more than 20-per-cent of Japan's population watched the race on television. Those on track left in tears, and were soon to discover further indignity that the horse had tested positive to a banned substance. It was a ruinous day for Japanese racing fans, and the outrageous overseas success elsewhere has only made the spotlight burn brighter on the string of spectacular Arc failures since.