Omega Perfume on path to Japanese racing history, once again
A fifth Tokyo Daishoten is on the agenda later this year as the popular grey heads to Oí on Wednesday for the Teio Sho.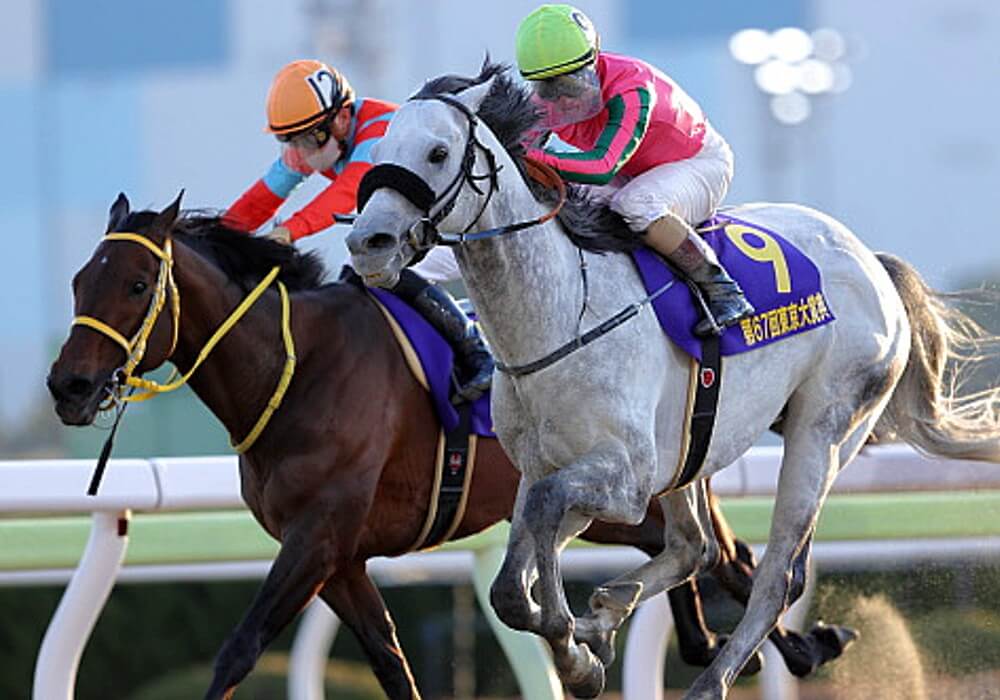 Omega Perfume on his way to yet another win in the Tokyo Daishoten. (Photo by JBIS)
It has become a familiar sight at Oí in late December: as the winter sun dips low, the grey galloper with the dark charcoal mane closes on the front rank into the fourth and final turn and then hammers down for all he is worth under a determined Mirco Demuro.
Four times that has happened: four times in a row Omega Perfume has won the local government administered NAR circuit's only fully-accredited Group One prize, the 2000-metre Tokyo Daishoten. No other horse in Japan's storied racing history has won any individual Group One flat race more than two times, and, for that remarkable feat, the seven-year-old entire enjoys star status beyond the grit and grind of the dirt track scene.
And he is not finished yet. By rights, he should be enjoying his first season at stud, but despite the announcement of his retirement after that famous fourth win, Omega Perfume is still racing. A U-turn by connections saw him return to win the Group Three Antares Stakes at Hanshin in April; this Wednesday he will attempt a second win in the Teio Sho at his favoured Oí and down the line the big aim is a fifth Tokyo Daishoten triumph at the same Tokyo city track.
"I'm just glad he is back and I'm happy I'm riding him," Demuro told Asian Racing Report.
The Italian will take the reins again for the prestigious Teio Sho – designated Listed for international grading purposes – having missed his Antares win due to a commitment to ride in the Group One Satsuki Sho.
"The horse still feels young and fresh, he loves to run and loves what he is doing," Demuro continued. "When they said he was going to retire it was sad news for me because he was still a happy horse and when you find a champion like this, you want to ride it all your life."
🏆 Tokyo Daishoten (G1)
2000m, 136.000.000 Yen
🇯🇵 Oi Racecourse

Omega Perfume (JPN)
(6H Swept Overboard – Omega Flagrance, by Gold Allure)
J : Mirco Demuro
T : Shogo Yashuda
O :Reiko Hara
B : Shadai Farmpic.twitter.com/YPWlcii0mU

— 𝙒𝙤𝙧𝙡𝙙𝙍𝙖𝙘𝙞𝙣𝙜 (@WorldRacing1) December 29, 2021
Star status
In Japan, the JRA's turf megastars hog the spotlight's bright centre but there is still room enough for a standout dirt runner to shine and Omega Perfume is basking in that beam.
"He's very popular because he did something very unusual, so he's famous for that but he's a superstar like maybe Stradivarius in England, he's not a megastar like Sodashi or Almond Eye. He's a dirt horse and that makes a difference," said Demuro.
"He has done his winning mostly on the NAR local racecourses. He never won the Champions Cup, which is the JRA race, and that makes a difference, too. But the Tokyo Daishoten is a tough race to win and the best dirt horses run there, but sometimes people look at the difference between JRA and NAR and local wins are seen to be not as strong, but it's just perception."
Dirt track racing, after all, makes up a sizable portion of the JRA programme and even the great champion Oguri Cap started his career with nine wins from 11 starts on the surface before going on to gain legend status with triumphs in the Arima Kinen, Mile Championship and Yasuda Kinen.
The strength of the dirt scene in Japan has been highlighted at Meydan in the past two years with Chuwa Wizard placing second and then third in the Dubai World Cup. It is a mightily competitive arena with the likes of T O Keynes, Café Pharoah, Gold Dream, Le Vent Se Leve and Chrysoberyl to contend with in recent seasons.