Millimetre imperfect: Is there anything more Zac Purton could have done on California Spangle?
In the first of our ongoing Hong Kong series, our form analyst breaks down Zac Purton's near-perfect front-running ride on California Spangle.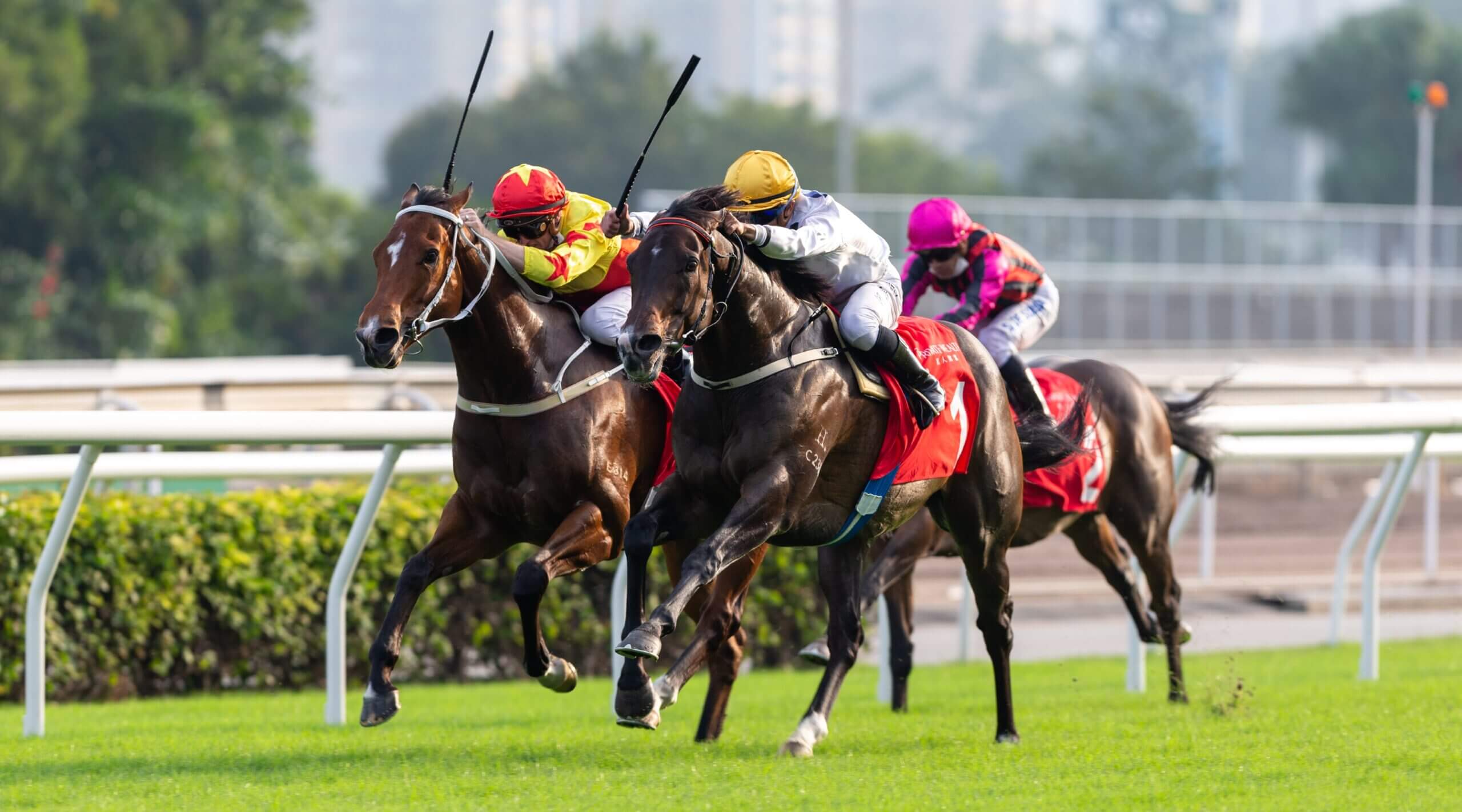 Golden Sixty ranges up to California Spangle in the G2 Jockey Club Mile. (Photo by Lo Chun Kit)
If Zac Purton's 9.9-out-of-10 ride on California Spangle last Sunday's Jockey Club Mile didn't deliver the goods, is there anything he can do to turn the tables come International Day in the G1 Hong Kong Mile? 
It's not often you ride a race as well as Purton did on Sunday and get beaten, but when you're racing Golden Sixty that's what can happen. Caught between a rock and a hard place, Purton's options are limited.  
As good as he is, California Spangle does not have the ability to outstay Golden Sixty and make the Sha Tin 1600m a true test, but he cannot outsprint the champ, either. So what's left? First, let's examine last Sunday's race. 
Purton's plan looked simple enough early, slow the pace down and wait for the right time to unleash the afterburners.  The job was made easier by the fact King's Shield didn't offer any resistance for the lead, so California Spangle idled along early and ran through the first section in 25.31 seconds – more than half a second outside the standard time for a group race.  
1600m-1200m: 
The second section he slowed even more, ensuring the race was going to be a sprint home. They crossed the 1200-800m section in a leisurely 23.92s,  more than 0.70s of a second slower than standard. To use an old racing parlance 'they were crawling' for this quality of racehorse. Now, the next section is where the race really gets interesting. You could say fortunes were won or lost here. 
1200m-800m: 
They worked around the circle at Sha Tin in 23.23s. We would call that bang-on-standard, so, what else could Purton have done better? Well, with the new 200m splits for the sectionals available on the Hong Kong Jockey Club website, we can see from the 600m to the 400m California Spangle runs 11.24s but Golden Sixty runs 11.00s flat. 
800m-400m: 
By the time they flatten out with 450m to run up the Sha Tin straight, Golden Sixty has picked up two lengths on  California Spangle. How Golden Sixty's jockey Vincent Ho is able to do this is key to his victory. Because the pace up front is still slow, Ho is able to make ground more easily, making two lengths without asking his horse for serious effort. The energy conserved, and the proximity to the leader after turning made it possible for Golden Sixty to gun him down. 
Still, it was a serious task. From the top of the straight it was a sprint; California Spangle dashed home in 21.60s for his last 400m, but Golden Sixty has some serious turbo of his own and he was able to run down the leader, despite Purton's 'millimetre imperfect' ride, with a sizzling 21.32s split. 
Last 400m: 
Now, we have nothing but admiration for Purton's attempt here, and he doesn't have eyes in the back of his head (contrary to our thoughts watching him ride sometimes) so he couldn't see where Golden Sixty was, but maybe,  just maybe, if he had have loosened the white leather reins of California Spangle 100 metres earlier and kept that two lengths extra advantage heading for home, the effort of picking up three, maybe four, lengths might have told in the last 50 metres. California Spangle didn't lie down and he kept fighting all the way to the line.  
Other than Purton's execution in front, California Spangle had a few other factors in his favour. Firstly, he was in receipt of five pounds, secondly he had a fitness edge on his rival and thirdly the rail was also in the 'B + 2' position, which favours a front runner more than the 'A' course that will be in use for International Day. Races on the big G1 days, when the rail is in the A – or true – position, are usually more helpful to a horse like Golden Sixty charging down the centre of the track. 
The other different factor on December 11 will be a bigger field and overseas competitors, but who will that favour out of Golden Sixty and California Spangle? The presence of an on-pace runner could be a hindrance to Purton's plan to control the tempo, but a bigger field could give Vincent Ho less freedom to decide where he wants to be in the run.  Still, at level weights on the big day, California Spangle is still stuck between that same rock and a hard place, unless Purton can make it a ten-out-of-ten ride. The room for error is minimal.
So, were fortunes decided between the 600m and 400m on Sunday? There's two things for sure to take out of  the race. Golden Sixty can comfortably wear the crown of champion, a term used far too loosely these days, and, once Purton has cast his eye over the replay, the way he handles the rematch in three weeks will certainly make for salivating viewing.
'Prophet Of Probability' is a professional punter with specialist knowledge of Hong Kong racing. Due to professional considerations, he does not wish to be named.
Without his familiar foe Joao, Zac Purton has a rivalry with the record books