JRA Blackbook: Potential sprint stars cap breakout campaigns with three straight
Three-year-old Aguri showed toughness, Big Caesar brilliance, and both are bound for stakes races in 2023.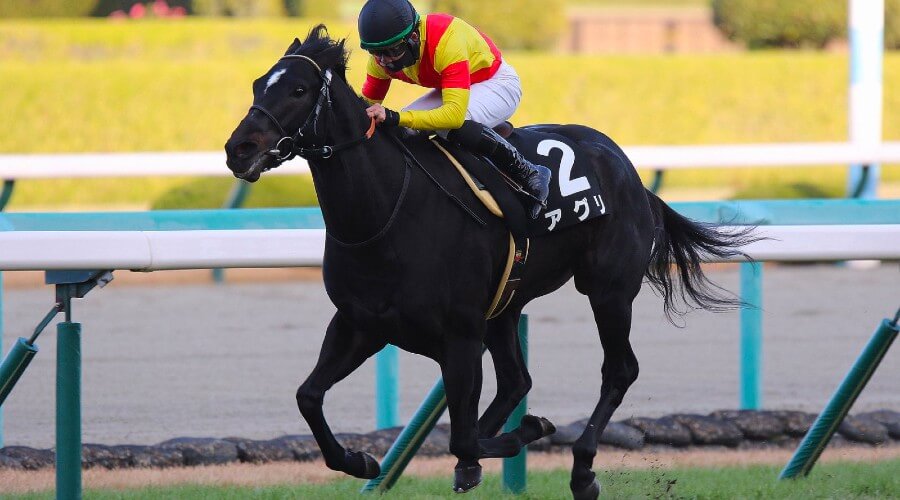 Aguri streaks clear at Hanshin. (Photo by @suigun_photo)
Aguri (R10 Hanshin, Rokko Island Stakes, Class 3 Win, 1400m, December 18)
Aguri has finished the season with three straight wins and the best of Caravaggio's offspring in Japan will now be set for stakes races in the new year. 
The three-year-old has been brought along patiently by Takayuki Yasuda – trainer of Danon The Kid, Danon Scorpion, Danon Smash and of course the mighty Lord Kanaloa – and he now has another potential star on his hands. 
Jockey Kohei Matsuyama was having his first ride on the horse and was impressed by the way he was able to sit on a fast tempo and still kick away while the rest of the on-pace runners faded. 
"We had a good start and stayed behind the leader with good rhythm," Matsuyama said. "He can run under his race pace. His response was very good in the straight and he showed his ability in this race. I think he is competitive in group races." 
Big Caesar (R9 Chukyo, Chukyo Nisai Stakes, Open Class, 1200m, December 17)
Big Caesar ran slick time and won his third straight at 1200m but jockey Hideaki Miyuki believes the two-year-old might be able to stretch to a mile next season. 
Miyuki didn't need to pull the whip in what was a soft win at Chukyo and having campaigned late into the year, trainer Masato Nishizono will likely aim at a race like the Group 3 Aoi Stakes in April at Chukyo, a track where he has now won twice, before considering a step up in trip. 
The overall time of 1:08.0 and final three-furlongs of 33.3s both stood out but Miyuki has been most impressed at the versatility Big Caesar has shown to sit just off the speed – like he did on Saturday – and also lead, as he has done previously. 
"He is a good horse and his finish time was fast," Miyuki said. "He may be suitable for longer distances. He can still improve and I am looking forward to his future."