Joao Moreira: Five 'Magic' moments from his Hong Kong career
Brazilian jockey Joao Moreira turned Hong Kong racing on its head when he arrived in 2013 and didn't stop shaking it up for the best part of ten years. Michael Cox looks back at the Magic Man's five most memorable moments during his storied Hong Kong racing career.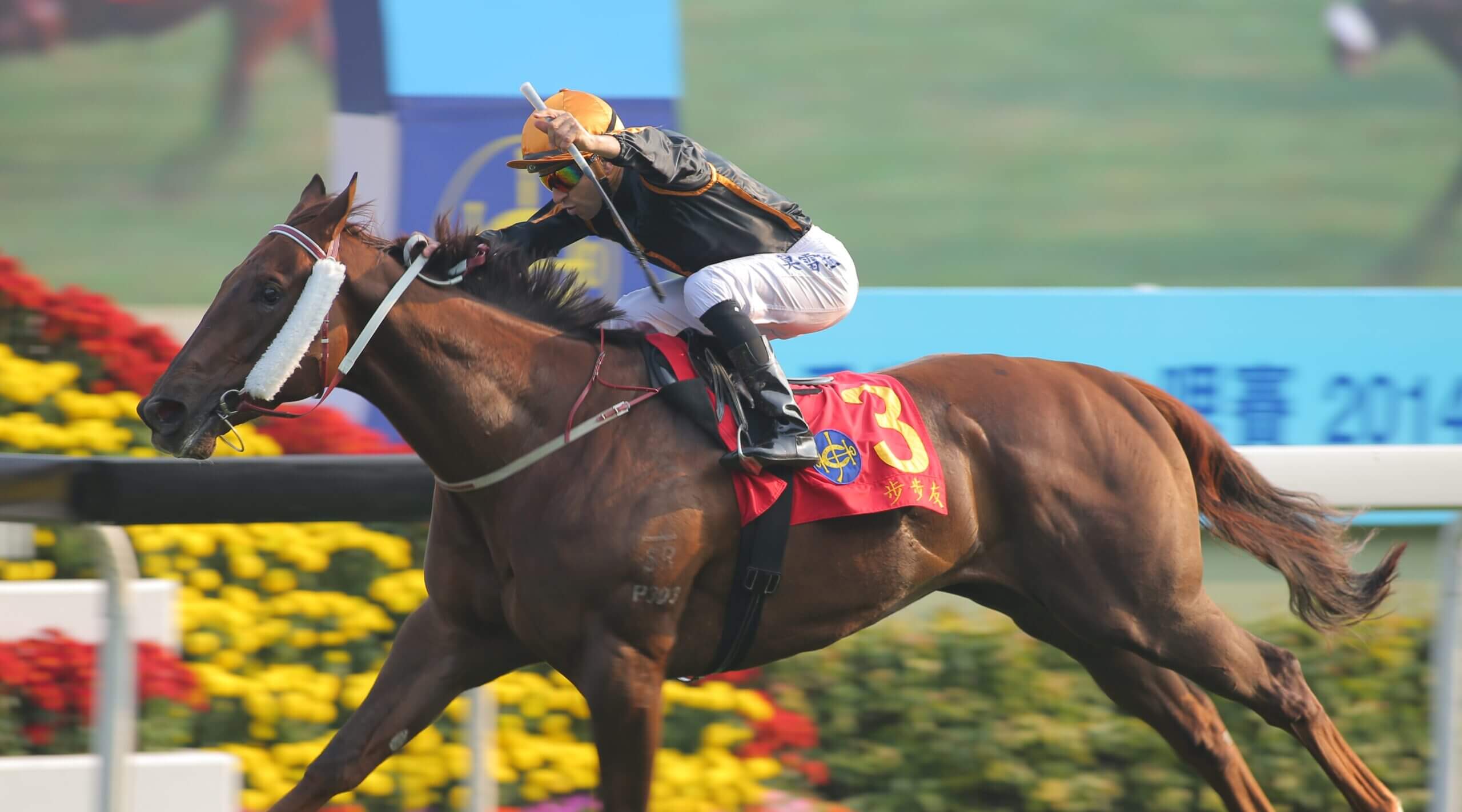 Joao Moreira and his champion Able Friend. (Photo by Getty Images)
5. Designs On Rome wins a thriller, 2014 Hong Kong Cup
It didn't take long after Moreira's arrival in Hong Kong in October 2013 for the comparisons with his great rival Zac Purton to begin. 
One of the criticisms of Moreira was that he wasn't as strong as Purton in a finish, perhaps ignoring the fact that there aren't many jockeys in modern history who have been. 
The 2014 Hong Kong Cup is just one race, but it was a classic, and the finish between Moreira's Designs On Rome and Purton's Military Attack provided some balance to the argument that the Magic Man wielded a feather, not a whip. 
When Moreira sets off from last at the half mile on Designs On Rome and then moves to the hindquarters of Military Attack it starts a two-horse – and jockey – slugfest to the line. As far as 'stick work' is concerned, Purton is relentless, playing Foreman to Moreira's Ali, but it is Designs On Rome who prevails … just. 
4. The whip twirl, Sun Jewellery, 2015
It might seem strange to include a losing ride in a Class 1 handicap on the list (and, spoiler alert, there might be at least one more loss here) but was there a single in-race incident that better exemplified Moreira's freakish skills in the saddle? 
With less than 200m to go in a Class 1, Moreira starts to get busy on Sun Jewellery in pursuit of leader Dashing Fellow. His whip slips from his grasp, twirling into the air and to the opposite side of the horse. Moreira not only catches the whip by its handle with his non-dominant left hand, while perfectly in rhythm and in stride, but brings it down in one motion to give Sun Jewellery a slap on the near shoulder. 
Moreira is one of the best of all-time at changing whip hands fast and in stride, but this was just ridiculous. 
The greatest trick the Magic Man ever pulled? 🪄 #JoaoMoreira #J・モレイラ pic.twitter.com/whmzLWtHRy

— Asian Racing Report (@AsianRacingRep) November 24, 2022
3. Able Friend, 2014 Hong Kong Derby 
As promised, another incredible performance in defeat. John Moore's stablemates Designs On Rome and Able Friend were one-all in the two Derby preludes before this incredible finish. 
Able Friend was dominant at a mile, but up to 1800m in the Classic Cup and Tommy Berry's tactically brilliant ride used his mount's superior staying ability to pull off a famous upset. 
Knowing he could not match Designs On Rome's stamina at 2000m, Moreira was intent on saving as much ground as possible and giving Able Friend cover until as late as possible, so he could unleash the giant chestnut's explosive sprint. 
Even given Able Friend's surprising dexterity for a large horse, Moreira's effort to weave through the field on the 1300-plus pound monster was akin to parallel parking a semi-trailer in peak hour traffic. 
It was ultimately unsuccessful, but beaten rides don't come much better than this. 
2. Glory Vase and Beat The Clock, 2018 HKIR sprint and staying double
In less than an hour Moreira showed his versatility – among a few other underrated attributes – when he won the longest and shortest races on International Day. 
His ride on Glory Vase in the Hong Kong Vase is an incredible display of tactical awareness, aggression and bravery: three qualities that many sell Moreira short on. 
Just like the "not as strong in a finish' arguments, perhaps Moreira suffers by comparison with Purton in these ways too. Who is as good tactically or as aggressive as Purton? 
Luckily Moreira was wearing a jockey cam in both G1s that day and the vision from the Vase makes for heart-stopping viewing. Moreira finds angles and gaps where there don't appear to be any, racing perilously close to heels at times without losing rhythm, never giving an inch when riders stuck three wide try and sweat him out of a spot. 
The section of this video from 1.55 until he finds room at 2.30 is a compelling watch. To call the slither of light he squeezes through a 'gap' is like calling a crack in the pavement a canyon. When Moreira starts looking to his right for room, there is none, and it is pure in-race awareness, instincts and balls of steel that allows him to find space. 
Next was Moreira in one of the highest pressure races in the world, the Hong Kong Sprint, producing a classic sit-and-sprint ride on Beat The Clock. It was the type of ride that made him famous in his native Brazil where he earned the nickname 'Fantasma" – ghost in Portuguese – appearing from nowhere late to snatch the win away from the leading pack. This was the second time Moreira had won two of the HKIR features (2014 Designs On Rome – Cup, Able Friend – Mile). 
1. Eight in a day, 2017
On February 26, 2017, for the first time in nearly one year, Joao Moreira failed to ride a winner at a Hong Kong race meeting. One week later he rode a record eight winners on one 11 race card on a magical afternoon at Sha Tin. 
There were days and nights during Moreira's peak that it seemed like he would ride the winner of every race for as long as he chose too. The racetrack would be abuzz and as his personal win tally grew, the odds of each subsequent runner would shorten as 'all-up' money poured into the pool and punters jumped aboard what they felt was an unstoppable bandwagon. This was one of those days: Moreira pushed aside the previous week's disappointment and won the first four races of the day, and five of the first six (he didn't have a ride in Race 5). He had six wins after Race 8  and had already clinched the all-time record of seven in the second last race of the day. 
Moreira wasn't gunning for a personal record in the last though, he had ridden eight winners twice before; in Sáo Paulo in 2006 and at Kranji Racecourse, Singapore, in 2008, when he rode a perfect eight-from-eight rides (the other race was for apprentices only). 
Racecaller Brett Davis' call of the final race described the atmosphere brilliantly: "a wave of the wand, a puff of smoke and the Magic Man pulls one out of the hat and makes it eight." 
Flashback to March 5, 2017.

Joao Moreira makes it eight wins in a day when Prawn Ba Ba wins in last. Mobbed by press afterwards. #HKracing pic.twitter.com/JZMKBCls20

— Asian Racing Report (@AsianRacingRep) October 9, 2022