Japan's top five Arc heartbreaks
A brief history of Japan's tortured relationship with one of horse racing's most coveted prizes, the Prix de l'Arc de Triomphe.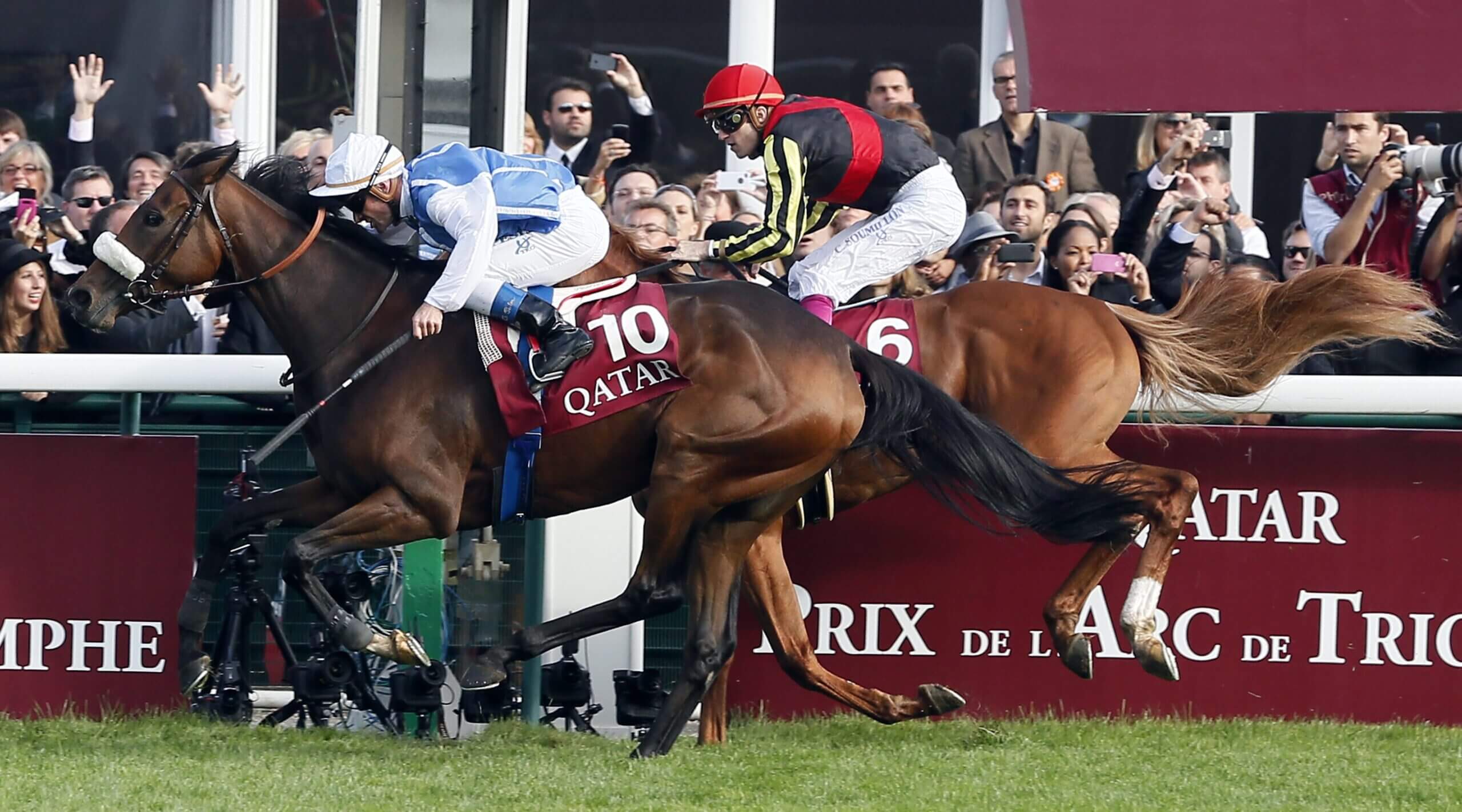 Japanese champion Orfevre is cut down by Solemia in the final few strides of the 2012 Arc. (Photo by Kenzo Tribouillard/Getty Images)
Paris is the city of romance but for Japanese racing fans it is a place of heartbreak. Like an infatuated lover, Japan's horsemen return time after time, earnest in their attentions to the race they covet, besotted with the belief that a breakthrough victory in the Prix de l'Arc de Triomphe will happen this time.   
It was in 1969 that Japan's first Arc runner, Speed Symboli, ran home 11th behind Levmoss; Meijiro Musashi was well beaten when 18th to San San in 1972, and 1986 saw Sirius Symboli finish 14th behind Dancing Brave in one of the all-time great Arcs.
But the quest has really intensified since 1999 and has seen some of Japan's all-time greats try and fail to win Longchamp's great autumn feature. The five encounters below are Japan's biggest heartbreakers ranked in order of pain. 
5. Nakayama Festa – 2010
You'd have struggled to find many suitors swiping right for Nakayama Festa. The son of Stay Gold was a 22-1 shot to hand Japan its first Arc win at Longchamp in 2010, ahead of compatriot Victoire Pisa (his time would come in Dubai the following spring) at 44-1, but Nakayama Festa's odds were some slight on a Takarazuka Kinen winner with course form and he certainly went out and proved it. 
Masayoshi Ebina had the four-year-old in a handy spot approaching the home turn but had to snatch up for a stride as things tightened around him. When the home straight opened up ahead, Nakayama Festa kicked hard for the line, took the lead with 300 metres remaining, lost it to the year-younger English Derby winner Workforce with 150 metres to go, then rallied gamely but failed by only a head in a heart-pounding finish.
The overlooked colt gave Japanese fans about 24 thrilling seconds of tantalising belief, and their closest brush with victory, but it all ended with the usual heartbreak.
4. Orfevre – 2013
Orfevre's second stab at the Arc (we'll get to his first, don't worry) was an anti-climax that left Japanese hearts sinking. The exceptional chestnut had warmed up for his shot at Longchamp redemption with a breezy, three-length success in the Prix Foy at the venue three weeks prior and lined up in the big one as the 2-1 favourite. Hopes were rising skyward.