Japanese interest is keen but elsewhere Hong Kong's 'invited' list gets cold response
The Hong Kong Jockey Club is having to look beyond its first-choice invitees for its International Raceday but a rise in initial entries after two years of Covid suggests things should be better again next year.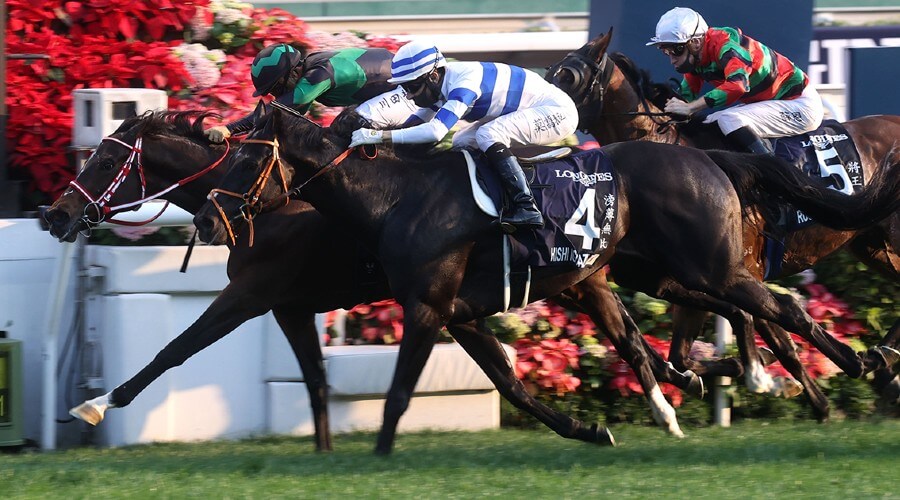 Loves Only You holds of Hishi Iguazu in an all-Japanese finish to the 2021 Hong Kong Cup. (Photo: HKJC).
It's looking a lot like next month's international races at Sha Tin will be another Hong Kong-Japan mash-up, with just a little Germanic quality thrown in and a mild twist of Ballydoyle as usual.
While the expected Japanese contingent looks strong – appealingly so – barely a scraping of the Hong Kong Jockey Club's first choice invitees from Europe will be landing at Chek Lap Kok airport the first week in December, and Australian interest appears to be minimal.
Of the 25 overseas horses the HKJC took the unusual step of announcing as being invited back on 28 October, ten were trained in Japan and two in the US. But of the 13 Australian and European-trained invitees, only Germany's top-class Mendocino is confirmed, while any or all of Stone Age, Broome (slated for the Japan Cup too) and Order Of Australia (not on the aforementioned invited list) are being prepared for a probable tilt by Aidan O'Brien: all others are either ruled out or have doubts hanging over them, including Ballydoyle's Tuesday.
Deauville Legend is 'very unlikely' to be taking his Melbourne Cup form to the Vase, trainer James Ferguson told Asian Racing Report, while Jean-Pierre Gauvin said by phone that Iresine is already 'in a field' for a couple of months enjoying downtime; William Knight's Sir Busker is 'not going' to the Cup; crack mare Dreamloper, a broodmare prospect, just sold for big money at Keeneland to Katsumi Yoshida while Saffron Beach, another mare with high breeding value, will sell at Tattersalls December Mares' Sale on November 29, leaving her participation in the balance, and Kinross was declared doubtful for the Mile after his Breeders' Cup run.
As for the Sprint invitees, American star Golden Pal's disappointing Breeders' Cup seems to have been his last race as he has a box ready for him at Coolmore's Ashford Stud in Kentucky; Australia's star sprinter Nature Strip is another enjoying paddock rest, Eduardo is not expected to travel north, and Everest winner Giga Kick's trainer Clayton Douglas has been reported as outlining the Lightning Stakes and Newmarket Handicap as his next targets.