Homan's JRA horses to follow – September 6
Yet another member of Japan's talented family of all-white horses makes her mark and deceased sire Duramente gets a two-year-old stakes winner.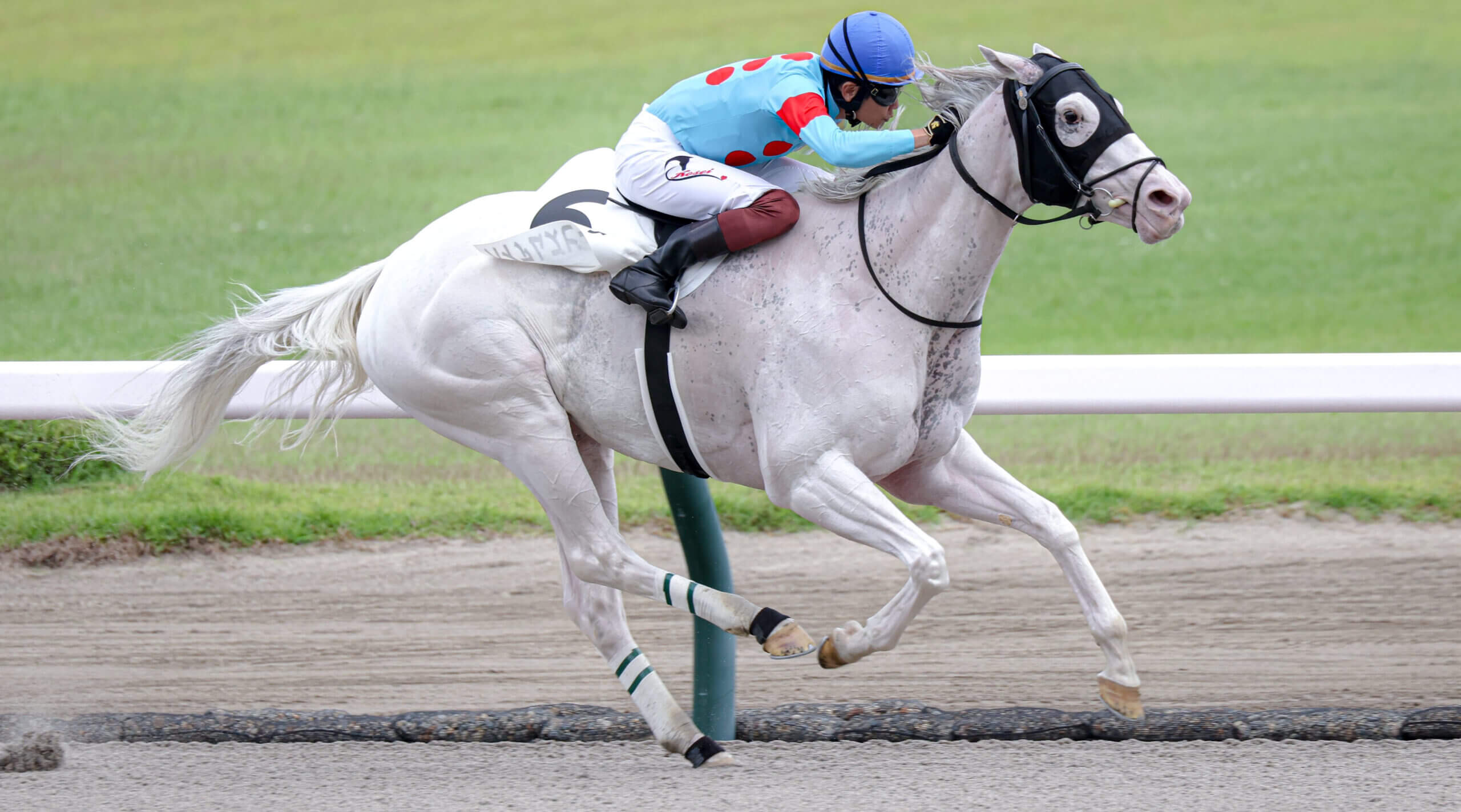 White filly Hyams Beach wins at Sapporo. (Photo by @pfmpspsm via Twitter)
Hyams Beach (R8 Niigata, Class 1, dirt, 1200m)
The wins from Japan's all-white family just keep coming. Like many of the 'unicorns', Hyams Beach relished a switch to the dirt. 
Hyams Beach won a newcomer and had raced well on turf in three starts since, but trainer Kiyoshi Hagiwara (Danon Kingly, Normcore) must have had a clue that the three-year-old would produce something on dirt given the family history. 
Outside of Sodashi's triple group 1-winning exploits on turf, the white family is best known for acting on dirt, including Hyams Beach's dam Yukichan (2008 Kanto Oaks). 
Hyams Beach jumped clean and controlled the race throughout, stretching to a decisive winning margin of five lengths. 
Jockey Kosei Miura was surprised by the big filly's gate speed and believes Hyams Beach is bound for graded dirt races. 
"I think her flexibility is better than I thought," he said. "I decided to take the lead and she did it easily. Her stride is large and I think she is competitive in the upper class dirt races."
Dura (R11 Sapporo, G3 Sapporo Nisai Stakes, 1800m, September 3)
There is always a hint of sadness when another talented two-year-old by Duramente is successful.
Dura's Group 3 breakthrough came a year to the week that her father died of colitis, a death that left another hole in the Japanese breeding ranks after the loss of Deep Impact and King Kamehameha in 2019. 
The Sapporo Nisai Stakes has been a strong pointer to future stardom in recent years; both Sodashi (2020) and Geoglyph (2021) won classic races in their three-year-old season.