Homan's JRA horses to follow – July 5
A flying front-runner could not have been more impressive at Kokura on Sunday.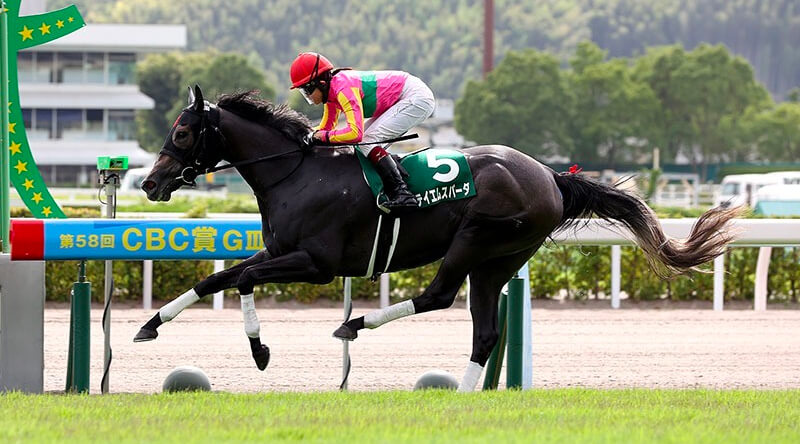 Seina Imamura and the flying machine T M Spada. (Photo by JRA)
T M Spada (R11 Kokura, 1200m G3, Sunday July 3)
This win attracted a lot of attention for the rider: the leading 18-year-old rookie Seina Imamura, especially because it was her first Group race win, in her first Group race, controlling from in front. 
Imamura is clearly a rising star but the performance of T M Spada suggested the horse that carried her to victory is one to follow as well. 
T M Spada may have had just 48kg on her back in the G3 CBC but there was a lot to suggest that the three-year-old will win when she climbs up to G2 level. 
First of all, the incredible winning time of 1.05:8s broke the 1200m track record set by First Force in 2021. That would be impressive enough on its own, but it was only two weeks ago that this horse was winning in Class 2. That indicates that there is some serious upside with this filly. 
Imamura's post-race comments also indicate the front-running filly, who ripped through the first 600m in 31.8s, is running on raw ability. 
"The front runners have the advantage in the races this week," the jockey said. "I would like to let her run with her pace with less intervention. I think I will get my first Group winner in the last 100m when watching the monitor near the line. It is the best result to win with her in this way. It is my pleasure to win a race in front of the racing fans." 
This was also the first stakes-level win for T M Spada's sire Red Spada. 
As for Imamura, she debuted in March and is already the top rookie in JRA this year with 19 wins.  
1.05.8 for 1200m, a new all-🇯🇵 record and super rookie female jockey Seina Imamura wins at her first ever ride in a Group race!

G3 1200m CBC (Hcap) wired by 3f 5.T M SPADA (Red Spada) who carried just 48kg #HeroIsComing pic.twitter.com/gim9rvFEm2

— Graham Pavey (@LongBallToNoOne) July 3, 2022
Sea Wizard (R5 Hakodate, Newcomer, Sunday July 3)
Again, this was a race in which there wasn't just attention on the winning horse, as yet another white horse descendent of The Opera House, the Gold Ship colt Aoraki, stepped out on debut. Aoraki finished fourth but upstaging him, and his other more fancied rivals, was outsider Sea Wizard. 
Jockey Suguru Hamanaka took Sea Wizard to the front and controlled this race from the outset. The performance still required a decent amount of gate speed, and a solid turn of foot. Sea Wizard's final 600m was the second fastest of the day.