Art House aims to banish a lingering Shuka Sho spectre
The highly-regarded Art House will attempt to thwart Stars On Earth's Triple Tiara bid and gain Shuka Sho recompense for her mother and her connections.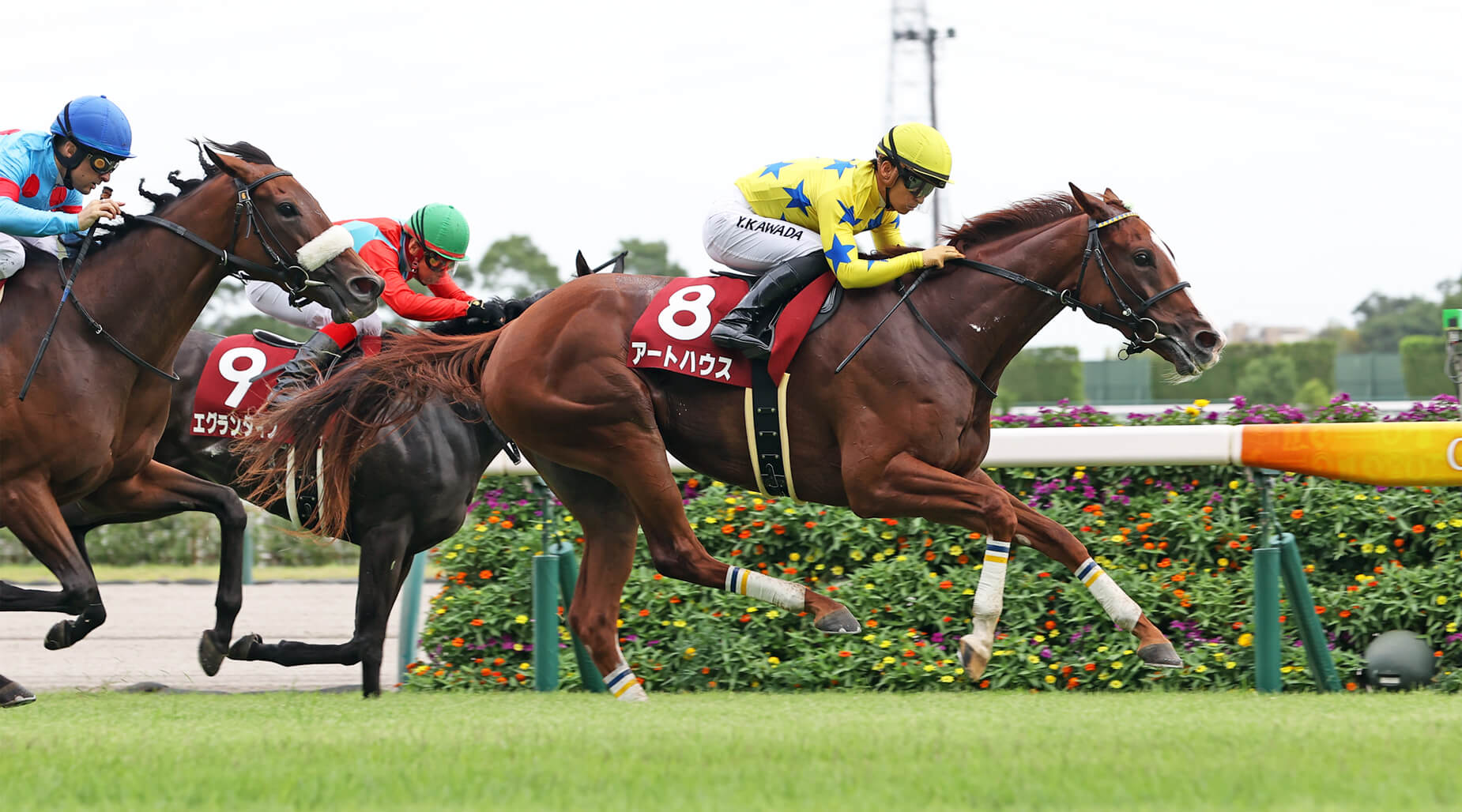 Art House and Yuga Kawada take out the G2 Rose Stakes. (Photo by JRA)
Mitsu Nakauchida and Yuga Kawada are looking to Art House to accomplish what her mother could not when she takes her place in opposition to the Triple Tiara-seeking Stars On Earth in Sunday's G1 Shuka Sho at Hanshin.
The JRA's champion trainer last year, Nakauchida was in his third season when he sent out Art House's dam, Pearl Code, to contest the 2016 Shuka Sho. The white-faced brown filly, carrying the yellow silks of one of her handler's earliest supporters, Sheikh Fahad Al Thani, closed tantalisingly under a Kawada drive to lead with 50 metres remaining. But victory was not to be: Vivlos charged right on by and consigned Pearl Code to second-place.
The filly never again came so close to winning a Group race but her first foal, Sheikh Fahad's homebred Art House, has already surpassed her mother, having won the G2 Rose Stakes last month to keep alive the dream that she just might be able to give Nakauchida and Kawada their first Shuka Sho win.
Pearl Code's defeat has played on Kawada's mind ever since, so much so that Nakauchida told Asian Racing Report that the star jockey opted to ride Art House in the Yushun Himba (Oaks), despite having won the Oka Sho (1,000 Guineas) aboard Stars On Earth. That decision looked good for a few strides when Art House vied for the lead with 400 metres to race in the Tokyo classic, only to falter as she faded to seventh while Stars On Earth ran on strongly for the win under Christophe Lemaire.
"Yuga Kawada chose our filly in the Oaks," Nakauchida said. "He used to ride Art House's mother and he was still regretting that she finished second in the Shuka Sho; now we have a chance to train her foals and this is the first one. He had that thought, so he chose our horse."
Pearl Code raced only five times prior to her Shuka Sho assignment and Art House has the same number of runs on the board, although she posted a debut win as a juvenile this time last year, whereas her dam did not step out until after she had turned three.   
"Her mother came to hand late in her three-year-old season, at this time of year," Nakauchida said. "Art House came to hand a little bit earlier than her mother, obviously, because she ran in the Oaks, but she wasn't as ready as we had expected, if we think back on it now. But after the summer, she developed really nicely and that showed in the Rose Stakes: she will definitely improve for that."
Nakauchida himself rode Art House in her final fast work at Ritto on Wednesday morning and was pleased with how the striking, white-faced chestnut moved.
— Team Iwata (@JayRAye02) October 12, 2022
"She galloped very nicely," he said. "She worked five furlongs in 67 seconds and finished in hand in 11.8 seconds, but I was just holding her.
"She's a little bit quirky, sometimes she gets grumpy and doesn't want to go, but once she does get going, she can be keen, so she has a little temperamental thing. But she doesn't show that in her races."
Art House's sire Screen Hero won a Japan Cup over 2400 metres, but the filly seemed not to see out the mile and a half of the Yushun Himba and Nakauchida believes she will be better suited to the Shuka Sho's 2000 metres.
"I think 2000 metres is her best trip and she will cope with 1800," he said. "I think a mile and a half will be too long for her."
And in that drop back in distance lies his hope that Art House will be able to turn around form with not only Stars On Earth but also the Oaks second and third, Stunning Rose and Namura.
Stunning Rose warmed up for the Shuka Sho with a good win in the G3 Shion Stakes last time, a race Deirdre won en route to winning the 2017 Shuka Sho.