WATCH: "Very concerning" ride under investigation after jockey appears to slow down, wait for rivals
Sheldon Chickeness' ride on King Witt at Assiniboia Downs last week raised more than a few punters' eyebrows, and has since become the subject of an investigation.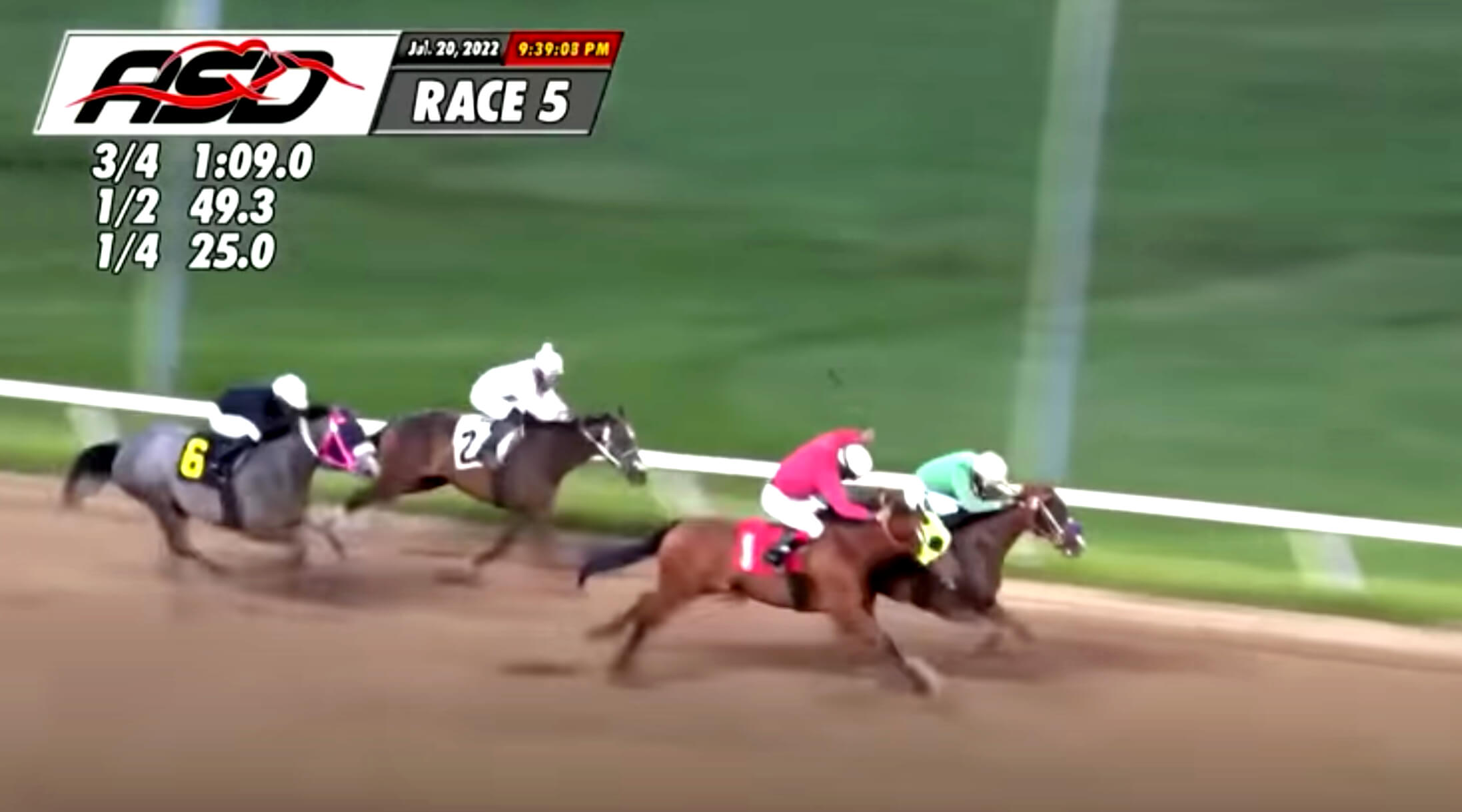 King Witt (red jacket) rallies but has to settle for a narrow, controversial second.
The "unusual nature" of jockey Sheldon Chickeness' ride in the fifth event at Assiniboia Downs, Winnipeg, Canada on July 20 has become the subject of an investigation after viral footage of the event caused widespread disbelief amongst racing fans on social media.
Chickeness, riding three-year-old King Witt from the inside draw, appeared to be building an insurmountable lead in the middle stages of the 1500m dirt maiden, with the gelding travelling strongly out in front.
With the others seemingly floundering behind him, Chickeness had a bucketful of horse approaching the final turn but, after several protracted looks over the shoulder and what appeared to be an obvious 'downshift' in gear, quickly surrendered his lead to the chasing pack.
Still looking over his shoulder whilst several other runners swept on by, Chickeness eventually clicked up King Witt again in the straight, with the son of Five Demon Bag rallying 'valiantly' to go down narrowly by a neck to Mucho Express. You be the judge:
King Witt was fancied in the market and jumped at approximately $5.00, with the odds-on favourite Zuri Risasi (blue jacket, white cap) finishing unplaced.
Surprisingly, the race was given the all-clear in the subsequent stewards' report. However, Manitoba Jockey Club's chief executive Darren Dunn has since requested a review from the province's gambling regulator.
"The unusual nature of the stretch drive has caused us to reach out and make this request.
"When I watched the race in real time, my first reaction was that the jockey was pulling the horse up due to a potential injury. When the jockey re-engaged the horse after the balance of the field caught up and then began to aggressively ride the horse to the finish line, the sudden change was very concerning."
As for King Witt, who was perhaps fittingly foaled on April Fools' Day 2019, last week's monumental stop-start effort will surely see him the subject of more additional interest – and strong betting support (jockey change dependent?) – than your average ten-start maiden might expect to garner when he next faces the starter.